The Pro Armor Force 13″ Steering Wheel is a great OEM replacement for those drivers that want quicker, less fatiguing, control while riding.
The OEMs have gone through great effort to make sure every aspect of today's modern UTVs are completely usable and comfortable to drive for 99% of buyers. Most people are actually happy with a completely stock machine, but let's be honest… most of us want to customize and make our rigs unique and personalized to our taste and driving style.
Here at SXS Guys, we like to ride fast! Fast through the trails, fast in the whoops, through trees and on the sand. During a full day of riding, it can feel like a full upper body workout. Once you start to feel steering fatigue, the amount of movement required to make a full turn, maneuver or adjustment can become exaggerated. Many times, this results in the use of ghost granny knob, taking one hand off the steering wheel. This is unsafe and increases the likelihood of wheel slip.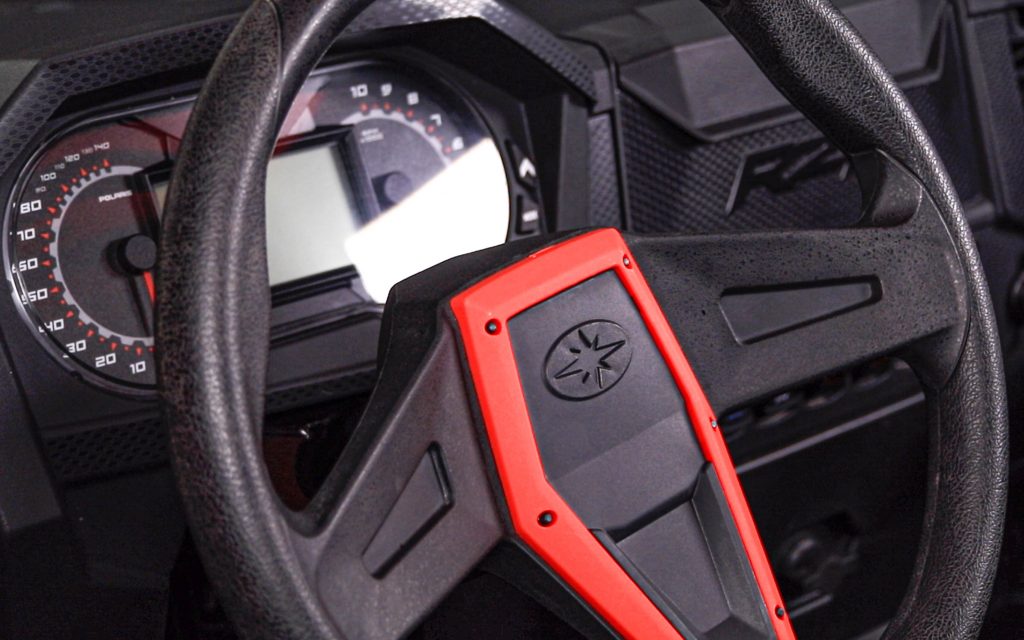 The OEM steering wheel on our 2019 RZR XP® 4 1000 test unit measures in at 14″ and is a really great solution for the task of meeting as many needs for as many riding styles as possible. While feeling very solid, having a great grip and shape, the OEM steering wheel features plastic details and isn't the most eye pleasing. While you might not know it, the 14″ diameter of the factory steering wheel is also not the best solution for fast and tight maneuvers. Enter the Pro Armor Force 13″ steering wheel.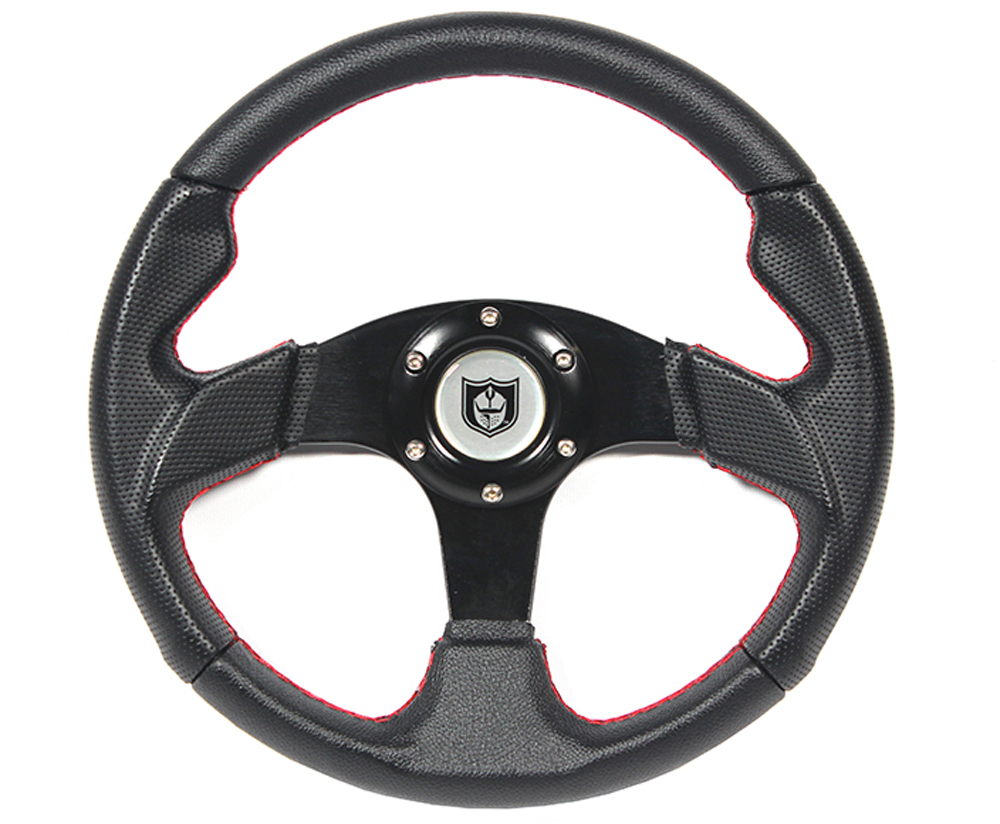 Pro Armor 13″ Steering Wheel
We purchased the Pro Armor Force steering wheel from 4WheelParts.com and it arrived a few days later at my office. The steering wheel retails for $69.96 USD and is also available directly from ProArmor.com and your local SxS dealer.
The Pro Armor Force steering wheel is constructed from a stamped steel frame featuring rounded edges and a brushed finish. The grip is made from dimpled vinyl at the 2 through 4 o'clock and 8 through 10 o'clock positions and a faux leather pattern at top and bottom. Securing this vinyl around a solid molded ring is a strong threaded stitching available in both Black or Red variants. We opted for the Red stitching to match our RZR's Red-on-Black theme.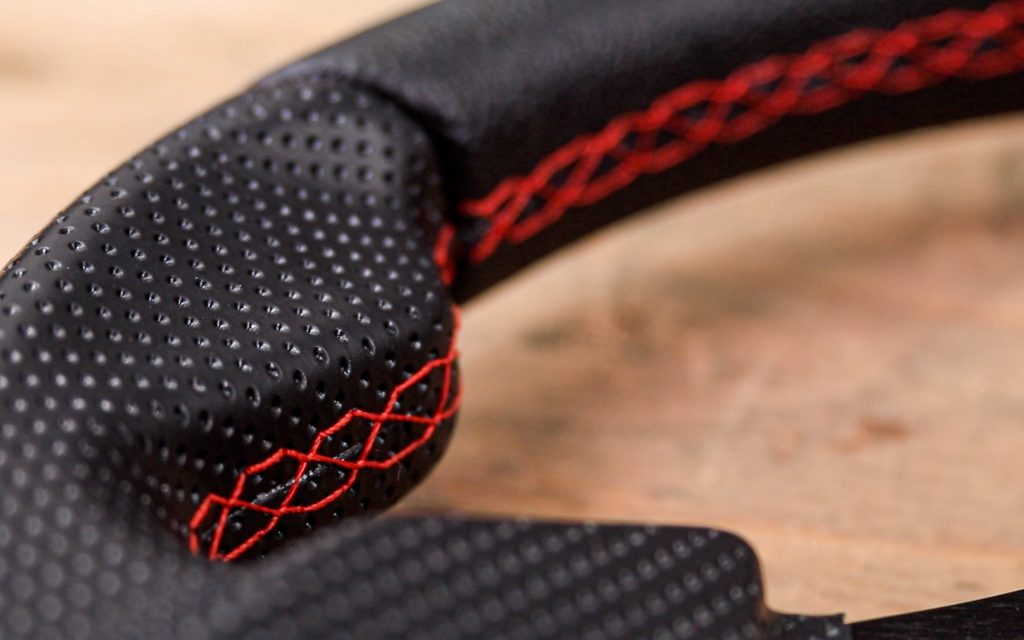 One of the standout features of this steering wheel is the thumb grips. I didn't think these would be as noticeable as they ended up being. They are much larger than the grips on the OEM steering wheel and great in the hand. Many like to grip their thumbs around the steering wheel, but you can actually have more grip and control using your thumbs on a grippy surface.
Adapting from Splined Steering Columns
The Force steering wheel is a 6-bolt mount pattern and requires an appropriate hub to adapt the splined steering column to the given bolt pattern. We chose to use the official Pro Armor Steering Wheel Hub adapter. The hub retails for $49.95 USD and is available at ProArmor.com, 4WheelParts.com along with your local dealer.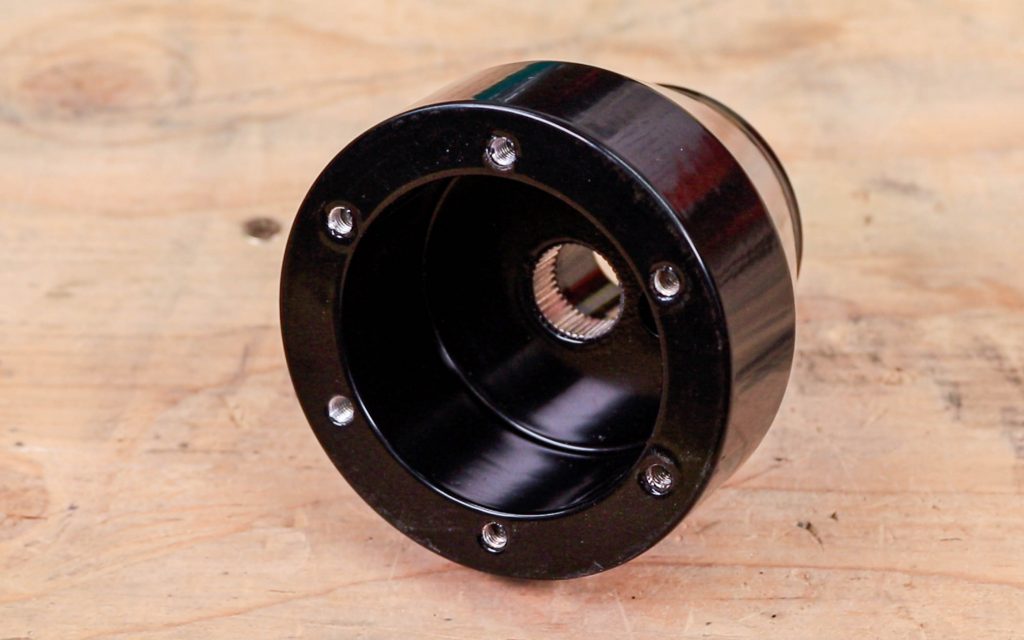 The Pro Armor Force steering wheel also features a horn button. This is something I would like to more as an option for UTVs. The center of the steering wheel has a spring loaded pressure plate that when fully depressed makes contact with a rear element, closing the circuit on two spade connectors on the back of the hub.
Note: the Force steering wheel comes with two wire connectors to extend the steering wheel's connection through an installed adapting hub. The Pro Armor steering wheel hub also has holes available for these wires to pass through to the steering column.
Steering Wheel Installation
To install the Pro Armor steering wheel, the first step is to remove the OEM steering wheel. On Polaris RZRs, you first remove the beauty ring from the center spoke and then the black branded insert. Once that's off you'll have full access to the 24mm hex nut that holds the steering wheel to the splined steering shaft.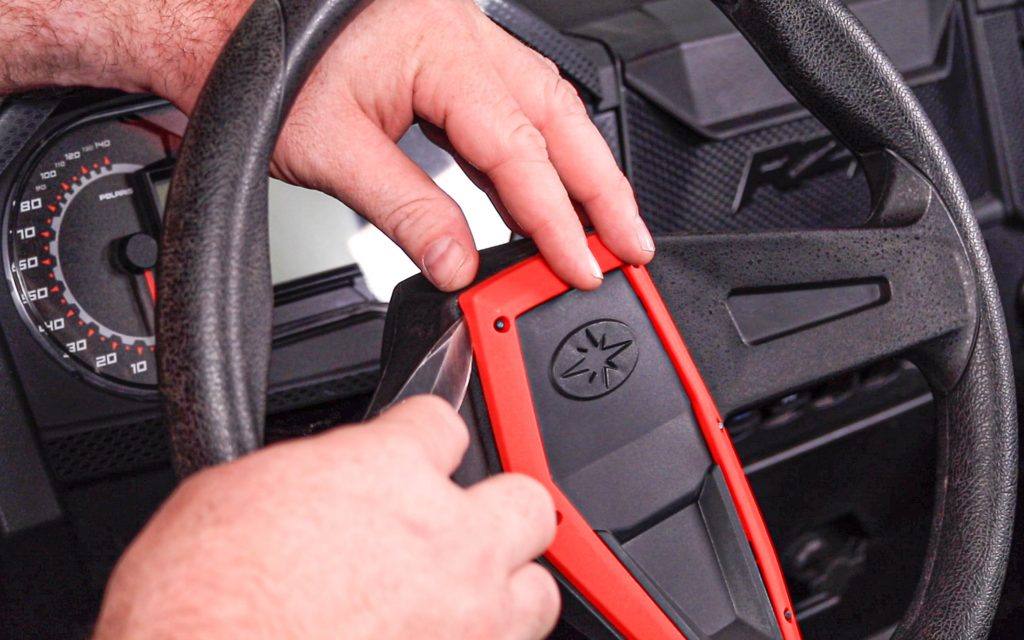 Removing the OEM Steering Wheel
The next thing you'll want to do, before ratcheting off the nut, is to turn the steering wheel completely to the driver's side. The reason for this is because you will, most likely, not be able to hold the steering wheel in place while breaking loose the nut holding the steering wheel down.
Tip: Mark top-dead-center (TDC) with either a piece of tape, pencil or other non-permanent method to align the new steering wheel after you remove the OEM wheel!
Once you've removed the steering column nut, you'll need to remove the steering wheel. The wheel will not want to come off easily. If it does, you may want to inspect the splines of the steering column for damage!
We recommend purchasing a steering wheel puller tool. Many shop guys will already have a universal puller tool, but they can be cumbersome to work with steering wheels. We recommend purchasing one of these Polaris/Can-Am specific steering wheel pullers. We purchased this version by UTV Wolfpack from Amazon.com for $21 USD.
Once you've tightened the steering wheel puller down, you simply ratchet the center bolt until the steering wheel is pulled free.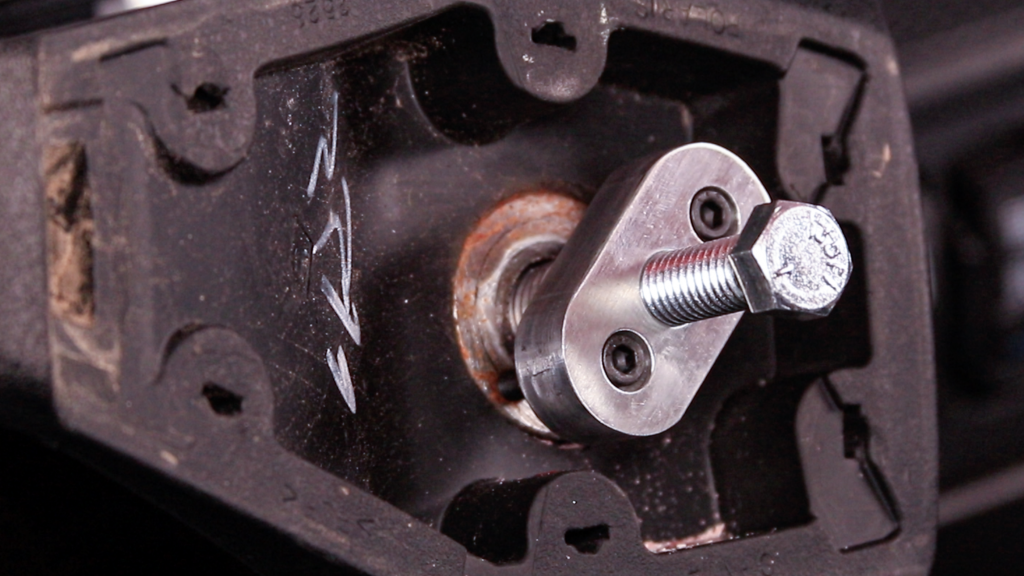 Installing the Hub Adapter
Once you have the steering wheel free, move the steering wheels back to center, bringing the TDC back to the 12 o'clock position. This is important to align your adapting hub correctly. Once aligned, bolt down your adapting hub with the original steering column nut. Our Pro Armor Steering Wheel Hub included washers that are available to add additional depth to the nut if your steering wheel has a shallow collar.
To fully tighten the steering column nut, turn the tires of the unit all the way to the passenger side. This will allow you to apply adequate pressure to secure the new steering wheel to the steering column.
Installing the Steering Wheel
Once the adapting hub is secured, you can then return the steering column back to TDC. At this point your steering wheel should match up to the hub's bolt holes with the top-center of the steering wheel aligning at 12 o'clock. If that's the case, you'll proceed with securing the steering wheel to the hub with the provided bolts.
If you will be utilizing the horn button on your steering wheel, make sure your wires are connected and have enough slack to be turned fully to the driver and then passenger sides without snagging.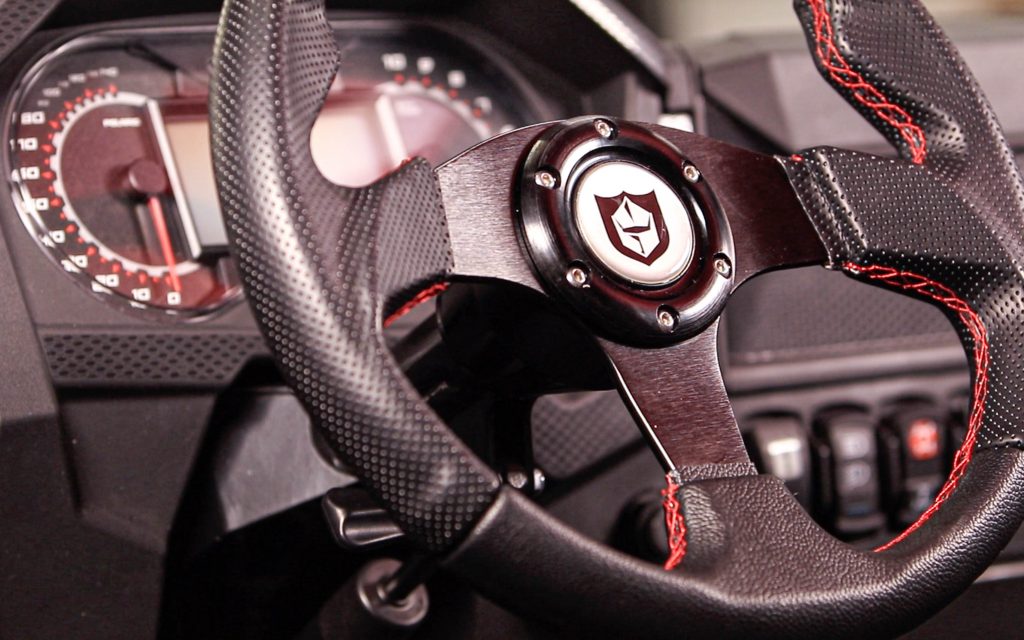 Once the steering wheel is installed, it's recommended to do some full strength pushes and pulls to discover any hidden slop in the splines. If there's any movement, revisit all bolts and nuts to verify they are fully secured.
Force Steering Wheel Testing
To test the Pro Armor Force Steering Wheel, we first started with some basic driving. This resulted in a noticeable difference in hand and thumb placement. It was enough it took a few minutes to adjust. After that it was no problem and we ended up loving the additional surface area of the molded thumb pads.
Low Velocity/Large Adjustments
After crawling around for a little bit, it was quite obvious that the reduction in steering wheel diameter wasn't going to be for those that do a lot of low velocity steering. The additional torque and precision required to do rock crawling maneuvers, mud trudging and property traversing would be better served by 14-15″ steering wheels. The 13″ form factor, at slow speeds, feels like you've lost some power steering torque; not a great experience.
Medium Velocity/Quick Adjustments
To further test out the 13″ steering wheel form factor, we took my son out to the local off-road park. We instructed him to simply go where ever he wanted, change directions, through trees and don't always follow trails. Our task was to follow him as close as safely possible with one hand filming him with a GoPro on a selfie stick and the other hand steering our 2019 RZR XP® 4 1000 test unit.
This was an interesting test. At moments we were at speed and things seemed as relaxed as expected. Sometimes there were moments of slow maneuvering around trees or obstacles and single handed operation became difficult. The same was experienced with going slowly over whoops creating lots of sudden whipping and jerking. At faster speeds you'd be dealing with bouncing and rear-end kick out. I can't say that I'd recommend the 13″ form factor for riding in these conditions on a frequent basis.
Fast Driving/Endurance
For our final set of tests, we went deep into the "Panhandle" of North Idaho for a 90+ mile day ride. We mixed it up with fast paced logging road action, quick and narrow side excursions, overgrown exploring and riverbed rolling.
This type of environment, the quick pace, fast reaction times, snappy back and forth… much like racing on a track, was where having a smaller hand-to-radius ratio made the biggest difference. Over the course of these 90+ miles, we never felt like our arms were tired or over taxed. Corners felt well controlled, never over steered. The response from the wheels was present by not over powering.
After the long ride, we were pleasantly surprised at the form and function of the Pro Armor Force Steering Wheel. It really made a difference from the OEM options. Once we went to load up however, we were quickly reminded that slow paced, parking lot trailer jockeying, was not something you could just do with a pinky any longer…
Conclusion
After spending a few rides with the Pro Armor Force 13″ Steering Wheel, we can definitely say that we're a fan. The reason is because of what style of driving we typically display. We're always looking to go faster, tighter and exploring new jumps. The 13″ diameter lends itself to these types of conditions.
We were also pleasantly surprised with the build quality and looks of the Pro Armor steering wheel. The red threading definitely ties right in with the look and feel of our test unit, but furthermore, the grip has been wonderful. We've tested it in dry, wet and muddy conditions; with and without gloves. All we can say is, you'll forget about your grip slipping at the far end of the turning radius when trying to whip it around in the mud! We never had a grip failure or lost confidence in what we were trying to accomplish.
We can't recommend the Pro Armor Force Steering Wheel enough… as long as the 13″ form factor is right for your riding style. You can purchase the Pro Armor Force Steering Wheel from ProArmor.com, 4WheelParts.com and your local Authorized Pro Armor Dealer.
Applicable Links
Pro Armor Force 13″ Steering Wheel
Pro Armor Steering Wheel Hub Adapter
UTV Wolfpack Steering Wheel Puller
Pro Armor Force 13" Steering Wheel
Looks

Features

Easy of Install

Overall Value

Satisfaction of Purchase
TLDR:
The Pro Armor Force 13″ Steering Wheel is a great OEM replacement for those drivers that want quicker, less fatiguing, control while riding. The 13″ frame is best suited for faster, at speed, maneuvers but is more work for crawling type control.
You might also like
---
More from Reviews
---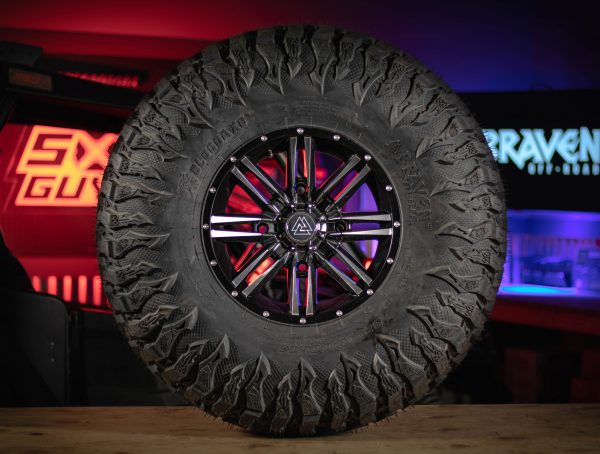 Braven Offroad is a new brand in the UTV tire market, but a well-established manufacturer of ORV tires looking to …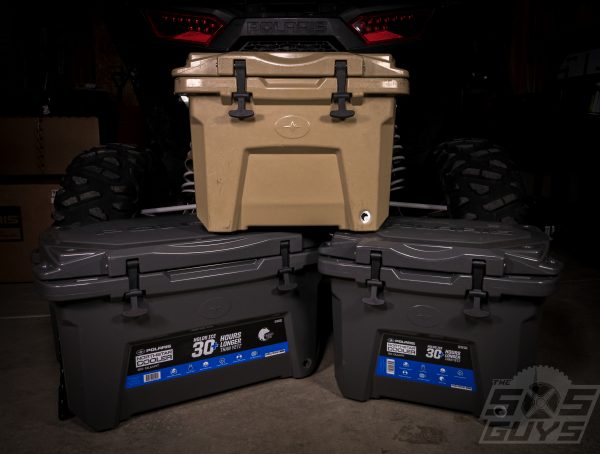 The Polaris Northstar series of coolers are a rugged, high performing, hard cooler for all of your offroad needs. Before …
Editor Picks
---