Today Segway Powersports launches the all-new 2024 Super Villain SX20T UTV platform including gas-only and hybrid versions! Segway made a splash back in 2019 when it announced the Villain SX10 side-by-sides with both a gas and hybrid option. Unfortunately they never launched the hybrid in North America. This time around, Segway is looking to make a statement piece with their latest efforts into the powersports market!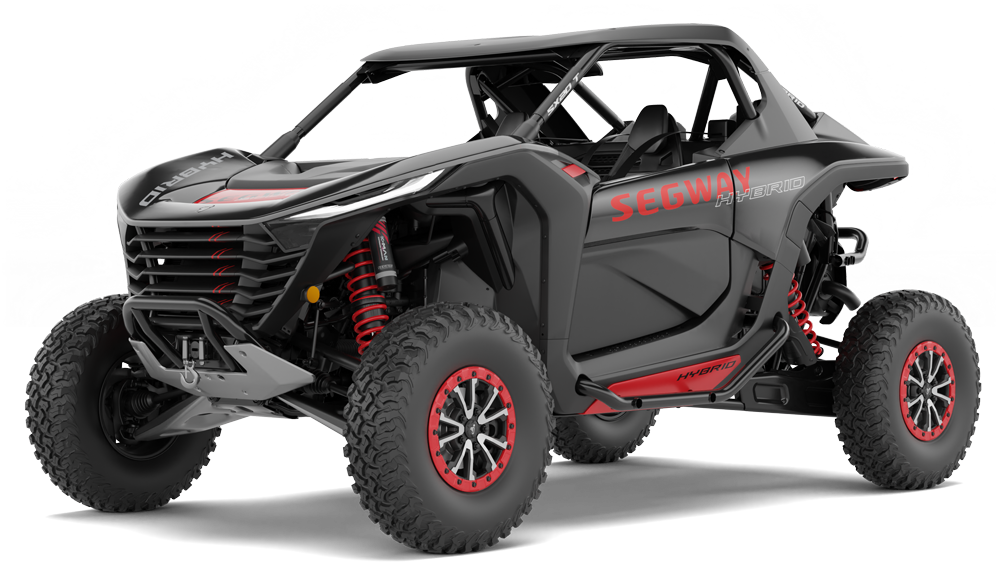 Segway SX20T Specifications
SX20T Hybrid
SX20T
SX10 WX
Engine
2.0L Inline 4-Cylinder
2.0L Inline 4-Cylinder
999cc Parallel 2-Cylinder
Hybrid Motor
70 kW
–
–
Onboard Battery
7.9 kWh Lithium
–
–
Total Horsepower
330 hp
235 hp
105 hp
Transmission
6-Speed Automatic
6-Speed Automatic
CVT
Manual Shift
Paddles on Steering Wheel
Paddles on Steering Wheel
N/A
Curb Weight
3,196 lb
2,755 lb
1,894 lb (Dry)
Power/Weight Ratio
0.103 hp/lb
0.083 hp/lb
0.055 hp/lb
Top Speed
93 mph
93 mph
N/A
Wheelbase
104.5"
104.5"
102″
Dimensions (LxWxH)
140.5″ × 76″ × 71.6"
140.5″ × 76″ × 71.6"
132.9″ × 72.8″ × 72.8"
Ground Clearance
14.6"
14.6"
14.2″
Front Shocks
K-Man 2.5 Coilover w/ Piggyback Reservoir
K-Man 2.5 Coilover w/ Piggyback Reservoir
Segway 2.5 Coilover w/ Piggyback Reservoir
Rear Shocks
K-Man 3.0 Coilover w/ Piggyback Reservoir
K-Man 3.0 Coilover w/ Piggyback Reservoir
Segway 2.5 Coilover w/ Remote Reservoir
High Speed Compression Damper
Manually Adjustable
Manually Adjustable
Manually Adjustable
Low Speed Compression Damper
Manually Adjustable
Manually Adjustable
Manually Adjustable
Rebound Damper
Manually Adjustable
Manually Adjustable
Manually Adjustable
Front Wheel Travel
20″
20″
16″ (72″)
Rear Wheel Travel
21″
21″
18″ (72″)
Wheels
15″ Cast Aluminum
w/ Beadlock
15″ Cast Aluminum
w/ Beadlock
14″ Cast Aluminum
w/ Beadlock Option
Front Tires
8-Ply Rated
32X10R15
8-Ply Rated
32X10R15
8-Ply Rated
30X10R14
Rear Tires
8-Ply Rated
32X10R15
8-Ply Rated
32X10R15
8-Ply Rated
30X10R14 (72″)
Front Suspension
Dual A-Arm w/ Lower Shock Mount
Dual A-Arm w/ Lower Shock Mount
Dual A-Arm w/ Upper Shock Mount
Rear Suspension
Trailing Arm w/ Triple Radius Links (Radius & Toe)
Trailing Arm w/ Triple Radius Links (Radius & Toe)
Trailing Arm w/ Triple Radius Links (Radius & Toe)
Anti-Sway Bar
Front & Rear
Front & Rear
Front & Rear
Bed Capacity
300 lb
300 lb
198 lb
Payload Capacity
740 lb
740 lb
573 lb
Fuel Capacity
11.9 gal
11.9 gal
11.6 gal
Winch Included
4,500 lb
4,500 lb
4,500 lb
Infotainment
10.4″ Color Touch Screen
10.4″ Color Touch Screen
10.4″ Color Touch Screen
Bluetooth
Yes
Yes
Yes
Stand Alone GPS
Yes
Yes
Yes
Cellular Connectivity
Yes
Yes
Yes
Navigation
Tethered & Offline
Tethered & Offline
Tethered & Offline
Car Tracking via App
Yes
Yes
Yes
Rollover Notification
Yes
Yes
Yes
Post-Ride Stats
Yes
Yes
Yes
Spec Comparisons
You can check out a one-to-one spec comparison of the Segway Super Villain against these other UTVs: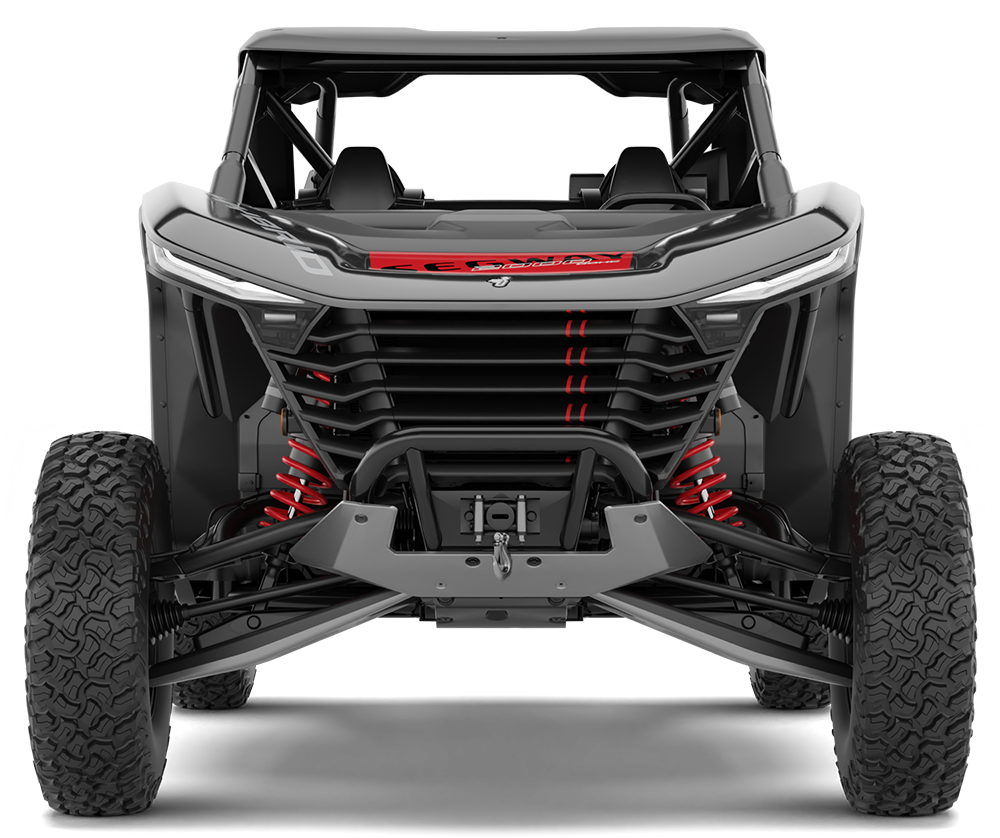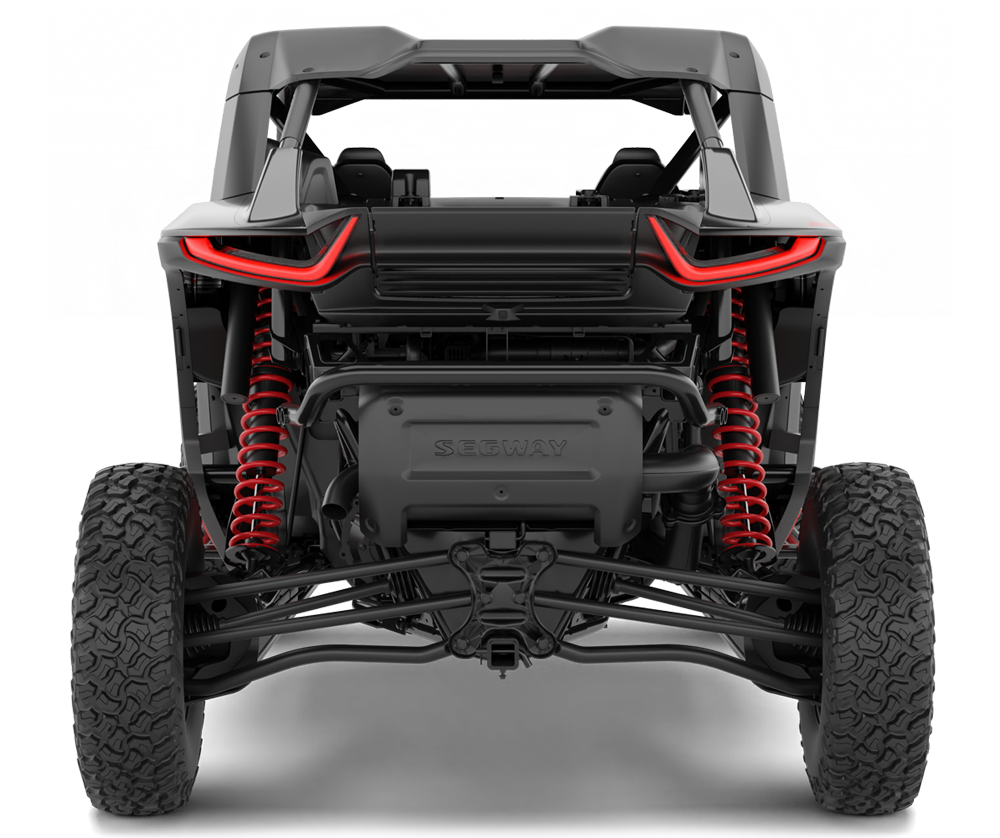 Unknown Competition, Expanding Industry
In the world of 225 hp RZR's and 240 hp Maverick R's, the side-by-side industry has recently become obsessed with power-per-dollar when buyers look at the price tags reaching north of $45,000… stock! There are endless conversations on social media, and garages nationwide, about the need for a more affordable contender in the market. With traditional competitors, like Honda, Kawasaki, and Yamaha, not really pushing to compete with big power and suspension options from Polaris and Can-Am, who is able to jump in the mix?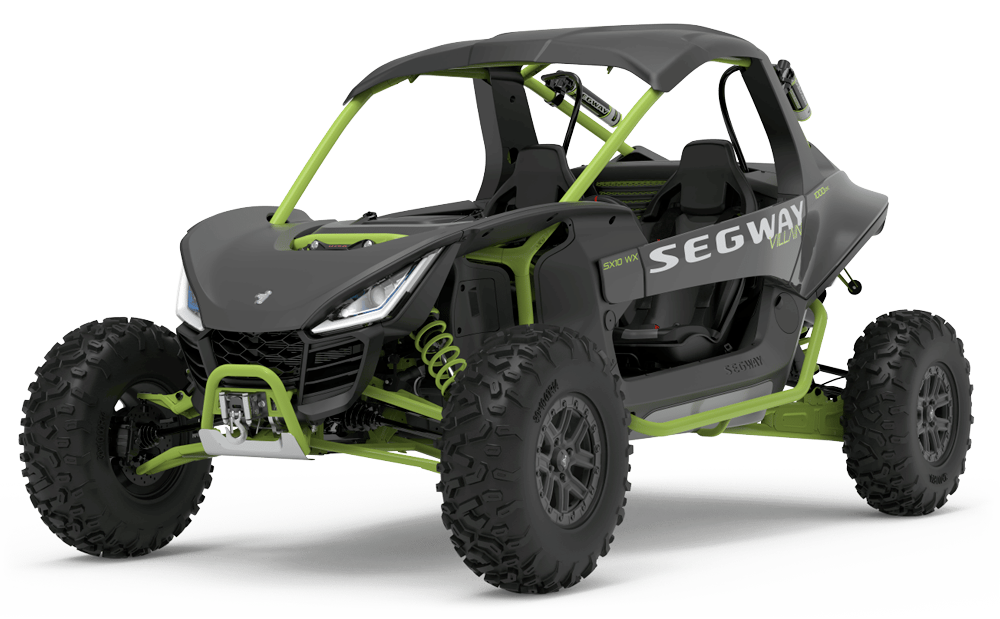 The Segway Powersports Villain SX10 WX is a 72″ wide, 105 hp, naturally aspirated UTV that have been found for purchase, from a growing dealer network, at prices (including incentives) south of $18,000. If you were to conceptualize it without seeing it, you could call it a spaceship version of a 2018 72″ Maverick X3 without the turbo. If you haven't ridden in one, you might just be missing out on one of the biggest bangs for your buck in the side-by-side world… if you don't need four seats.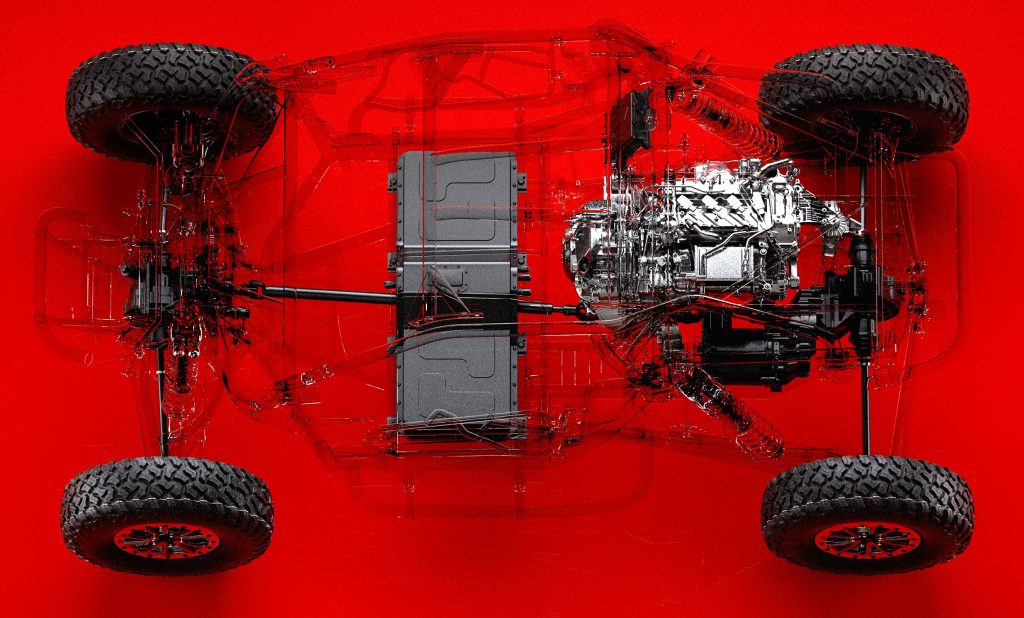 Industry Firsts Are Not Exclusive
In our industry, we're used to seeing "industry first" plastered all over new models from Polaris and Can-Am. Every once in a while you'll see marketing from other brands try to compete in the Super Sport segment, usually resulting in a complacent color refresh or mild spec bump. While Segway never launched the hybrid Villain in North America, they are looking to make up for lost time and bring true "industry firsts" back!
With the launch of the 2024 Super Villain SX20T, Segway truly brings an industry-first, factory-turboed, 2.0L 4-cylinder UTV with an option for a hybrid version! Add to that platform an 8-speed automatic transmission! That's THREE industry firsts in one product launch! Additionally, if you consider their large screen infotainment system with offline maps, Bluetooth, vehicle tracking, rollover alerts, driving modes, EPS modes, and more… They truly are the only one giving Polaris Ride Command a run for it's money! Yes, while the Maverick R has BRP's new infotainment system, it does lack a lot of features and requires your mobile phone for mapping and tracking. Each of these firsts are a big deal, so let's take them one-by-one.
The First Factor Turbo 2.0L Engine
In recent years it has become well known that, in the North American market, there has been an unspoken gentleman's agreement that the manufacturers would not develop a UTV over 1000cc. This would create a consistency in the market, maintain competitive threshold, and most importantly not create friction with a regulation-happy government. Segway was never at that campfire.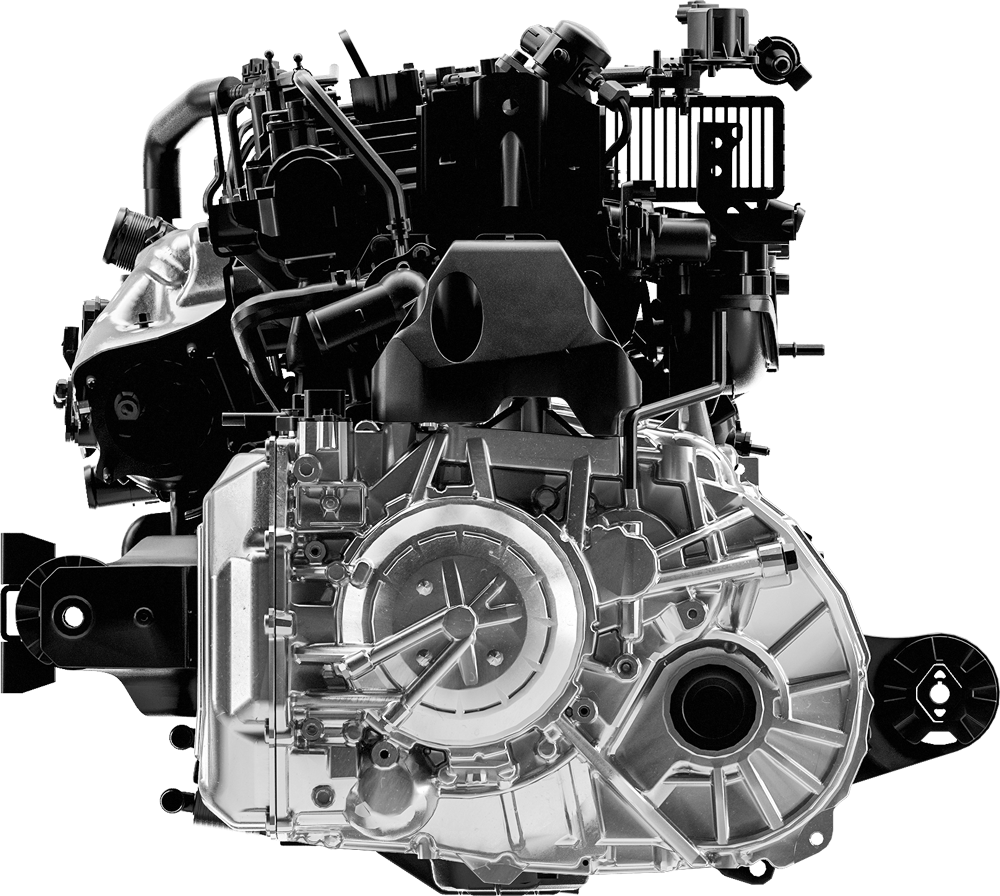 After Polaris broke the 1.0L glass ceiling Can-Am said they were sticking to the agreement; for better and worse. This left Polaris standing alone upon the 2.0L mountain they built. Segway is in no way hesitant to push the boundaries of what can be done in a UTV as they try to make a name for themselves in the market. Today's the day that there's a contender in the 2.0L market… and they are not to shabby at their tech either!
The introduction of the SX20T brings the industry's first factory turbo 4-cylinder engine putting out 235 horsepower! This is what many people were hoping Polaris was going to release in the Pro R's sophomore year, but that's yet to be seen and an open door for Segway to step through. We don't have torque numbers yet but looking at the PWR numbers, it should be just under that of the RZR Pro R.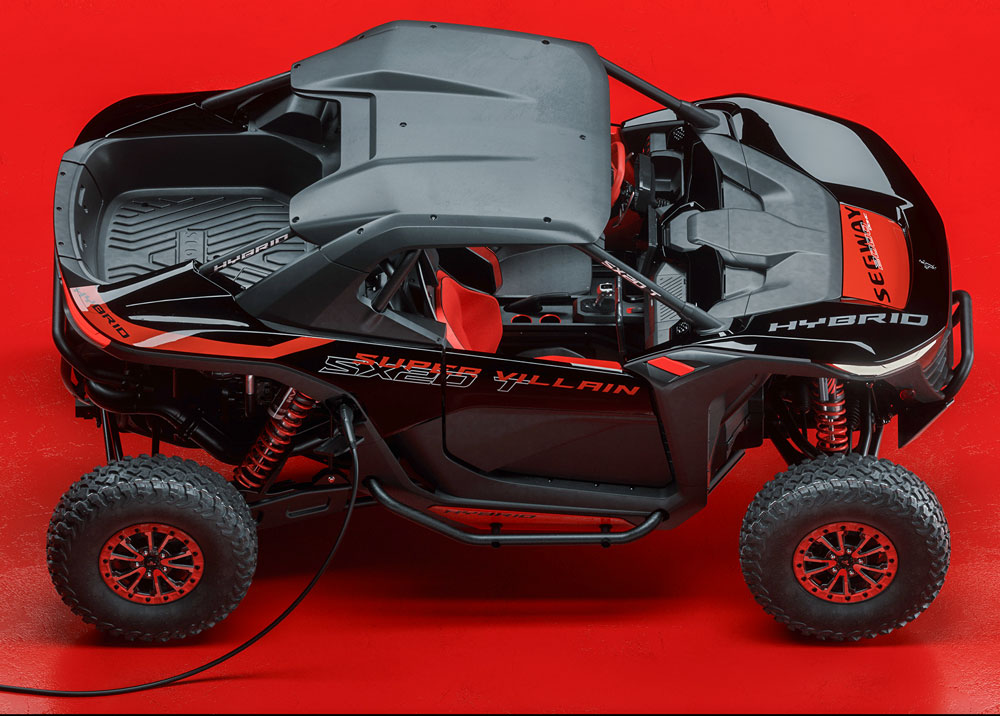 An Offroad Hybrid Torque Adder
The 2024 Segway SX20T Hybrid consists of the same 2.0L engine from the gas version and adds to that a 70 kW electric motor powered by a 7.9 kWh battery. To be clear, this is a power-adding hybrid, not a fully electric UTV. Upon acceleration the electric motor will draw power and assist in the low end torque demand. At full drive where the assist is not required, the batteries get recharged both from the 4-cylinder engine and any power generated from regenerative braking. The Super Villain also has a charging cable that can fully top off the batteries at home. Again, this is a power adder, not a full battery tray. At only a 441 lb increase, this is a pretty impressive tradeoff for the assisted torque adder. The big question is can this new power and tech be tuned by the aftermarket?!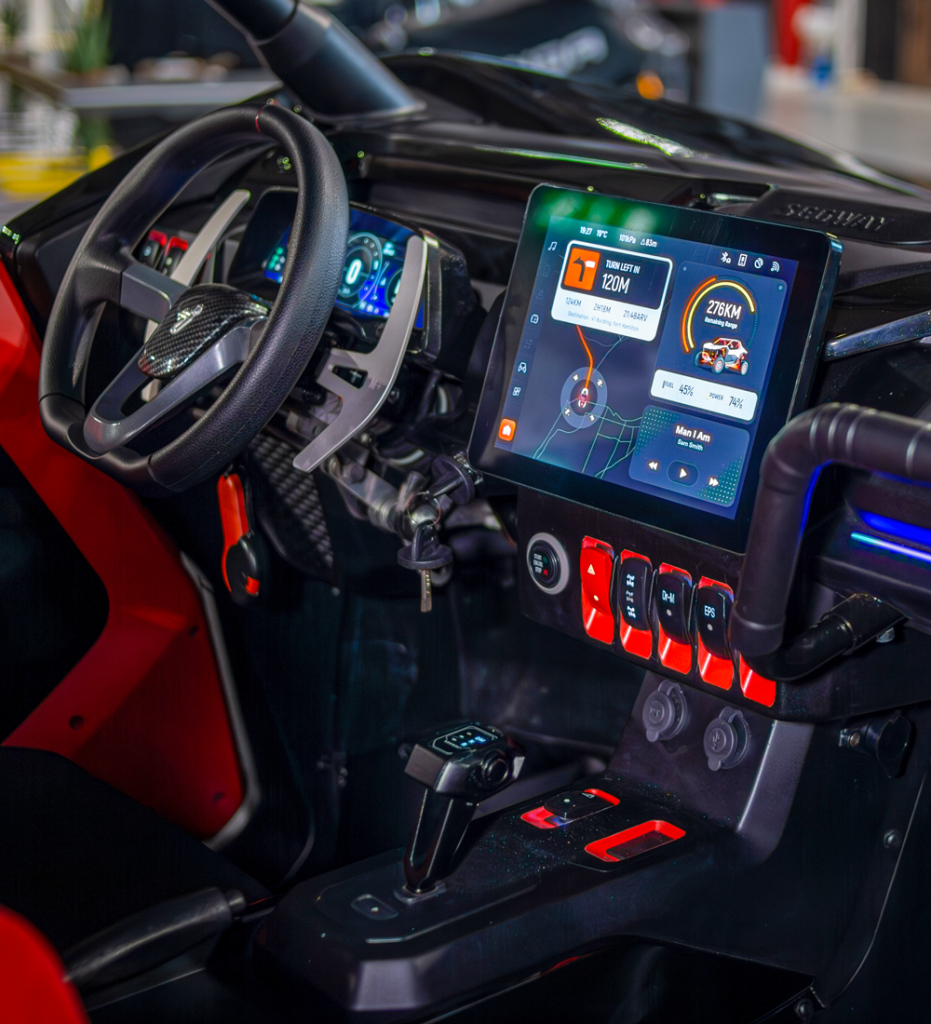 6 Gears of Freedom
Along with multiple power options, the Segway SX20T earns its "T" moniker because it has an 6-speed automatic transmission! With the Yamaha YXZ starting the trend with their 5-speed (more recently a 6-speed), and Can-Am dropping their 7-speed transmission this year… we now have the Segway's first 6-speed automatic transmission. There's an electronic shifter on the center console for Reverse, Neutral (yes there's a parking brake), and Drive. Once in drive there there are two paddle shifters on the steering column driving in manual gear selection or overriding automatic drive is possible.
Suspension Is Important
We all know that more power is more better, right? But without proper suspension handling the power, nobody is having fun. Thankfully, they pull their geometry ideas from their SX10 model and beefy things up a bit. The front suspension features a dual a-arm design with boxed lower arm. The front shocks mount to this lower arm behind the axle, not over it like the RZR Pro R. The rear suspension features a trailing arm with three radius links; one for toe much like the early Maverick X3's.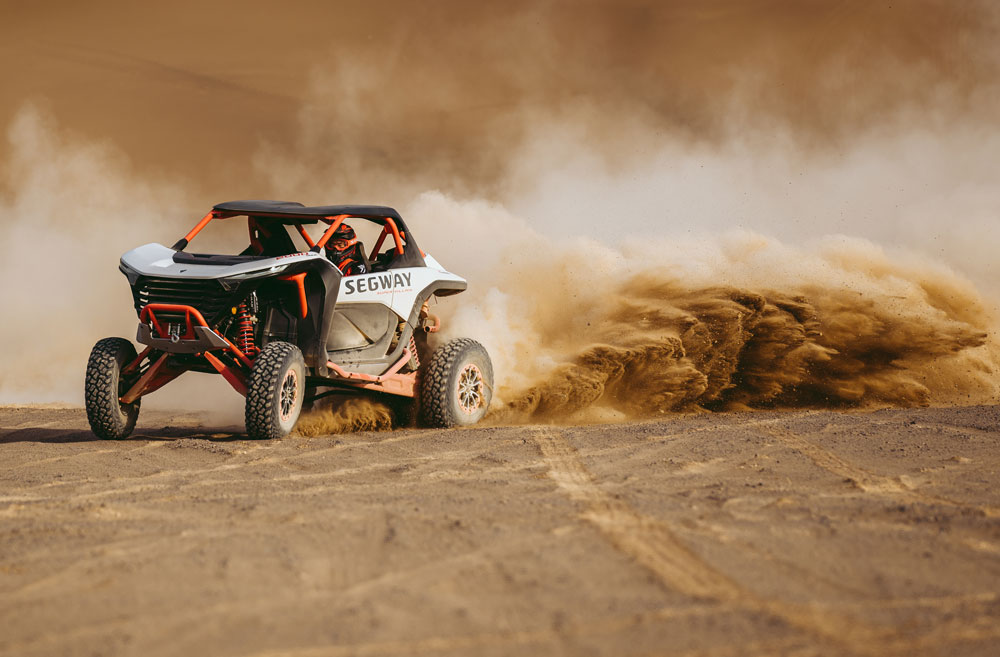 Teamed up with the suspension components is a full kit of K-Man coil over shocks. The front have 2.5″ piggybacks and the rear departs from the SX10's remote reservoirs and mirrors the front with 3.0 piggybacks. Each shock features high and low speed compression damping adjusters along with rebound adjustment. I've been told they feature Eibach springs, but we have not seen that in the official press release. We don't know much about K-Man but they have R&D facilities in Shanghai and the UK with manufacturing in Jiangsu.
We do not have any opinion on a shock package we've never heard of or ridden in. We can say that we've ridden in an SX10 WX and those shocks seemed to be fairly competent and on par with any of the modern non-smart shocks. Add to that the inclusion of both high/low speed compression and rebound control, these larger shocks should do the work. Hopefully the aftermarket shock tuners, like channel partner MTS Off-Road, can get their hands on them soon for a fully customizable tune!
32 Is The New 29
Rolling the all-new SX20T down the road is a set of 15″ cast aluminum bead lock wheels wrapped in 32×10 8-ply rated tires. The exact brand and model have not been included in the press release, but we'll update the article when we find out. Our suspicion is that they are different per region.
Let's just call out that we're finally getting an industry putting decent sized tires on UTVs from the factory now?! Hopefully we never see sub 31″ tires on a sport side-by-side ever again!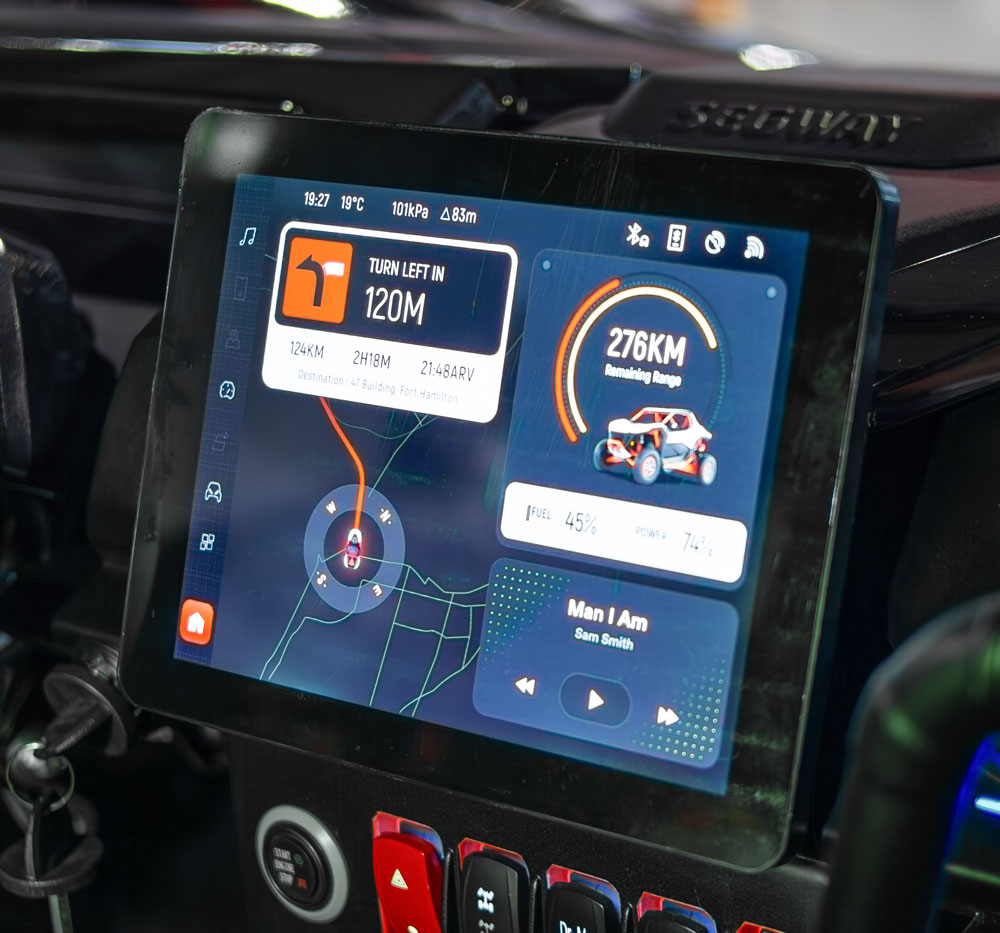 Technology is the Glue
The one trick that Segway has up its sleeve is their prowess on software development. The large color touch screen has everything you'd expect out of a modern super-sport UTV. Integrated GPS and cellular, Bluetooth, offline maps, car tracking, system gauges, customizable ride modes, customizable EPS modes, rollover notification, and tons more! The phone app that works in tandem with the car system is also feature packed and useful. You can even track your speed over time etc. It truely is the only system "challenging" the Polaris Ride Command. Can-Am will have it's day when they catch up on the development cycles, but for now… Segway has the hot tech!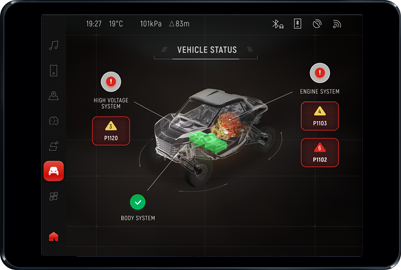 Time Will Tell
We all want, and have been calling for, real competition in the super-sport market from the Asian manufacturers… SURPRISE! We've now got a manufacturer willing to play ball! Segway has been spending most of 2023 building their North American dealer network and you will begin to see more and more of them on the trail. With the release of the SX20T, we're sure to see those dealership applications increase! There are rumors on the horizon of some new models coming from various competing brands, but for now… Segway is the ONLY manufacturer willing to go to the 2.0L dance. We can't wait to get our hands around those paddles and see what it's all about!
Pricing is not currently available. I was told they'd be available for Q2 of 2024, but their keynote said they would available Q4 of 2024. Does that mean the gas-only in Q2 and the hybrid in Q4? Does that make the hybrid a MY25 model? I'm not sure, but we'll find out! Let's hope this isn't a 2019 repeat!
Segway Super Villain Photos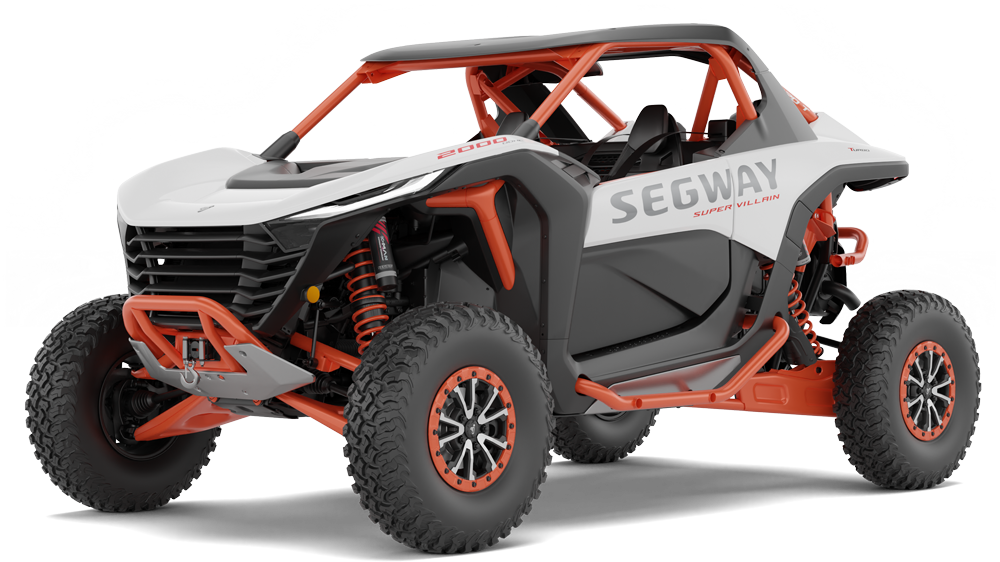 You might also like
---
More from Annoucements
---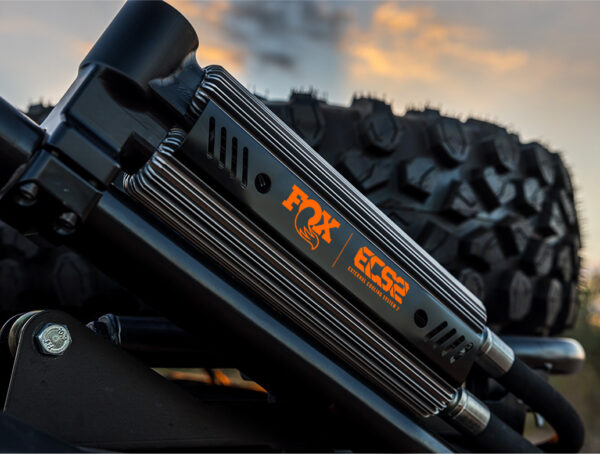 Fox Factory, Inc. has just released their all-new ECS2 UTV Shock Cooler system! This is an after-oem upgrade and replaces …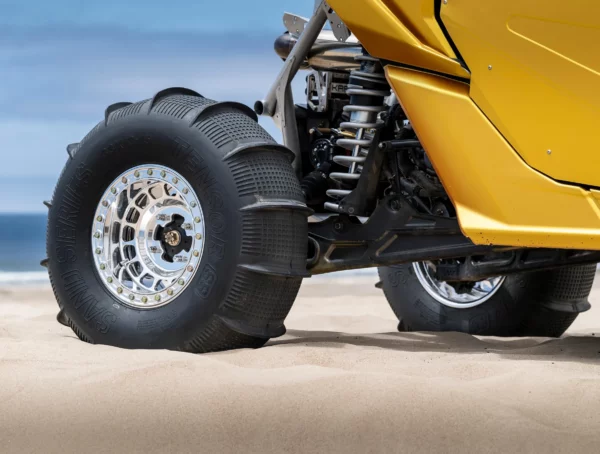 Tensor Tire, most well known for their desert-focused DS "Desert Series" and DSR "Desert Series Race" tires, has today launched …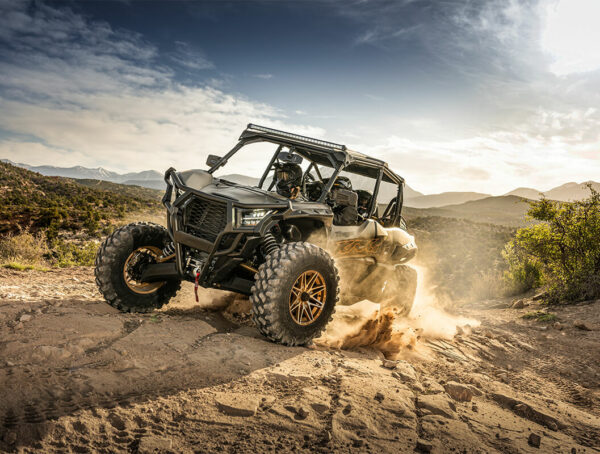 Today Kawasaki has launched what is, as many would say, the long-overdue 4-seat Teryx KRX4 1000! Let's take a look …
Editor Picks
---