In the world of UTV tires, things do not change often. Manufacturers do not come and go nor change up their product lines very often. Once in a while, we'll get a new outer diameter option or a new compound variant, but rarely a new competitor and tread design. Enter Braven Offroad Bloodaxe R/T tires and Ironside wheels!
Follow Braven Offroad: Website | Instagram | Facebook | YouTube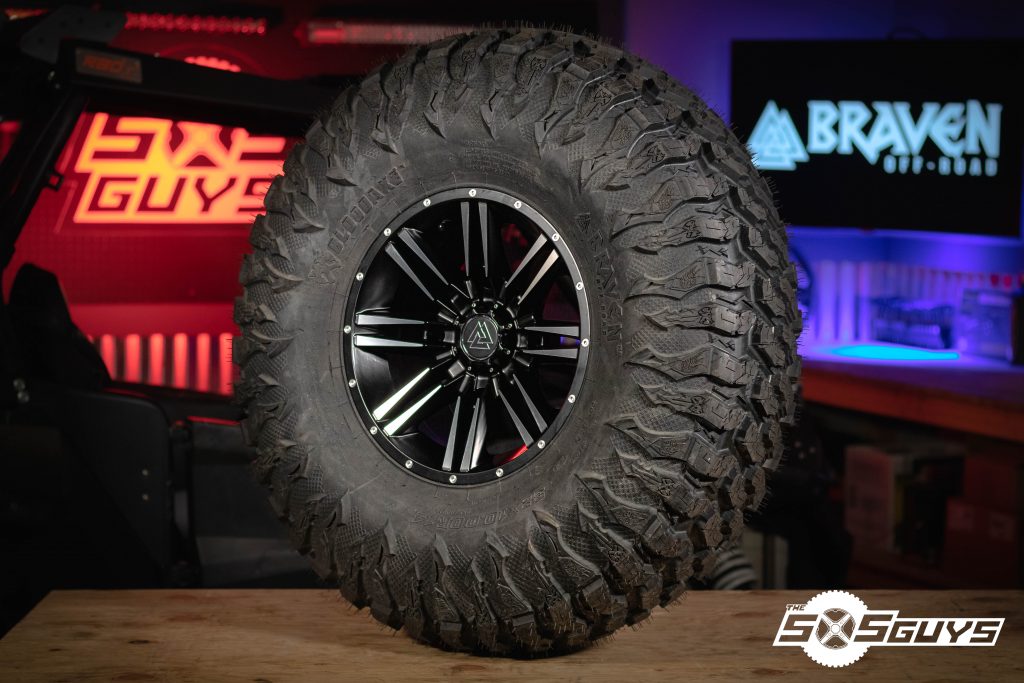 Braven Offroad is a relatively new brand, but a well-established company. Braven is the new ORV sister brand to Pit Bull Tires; known mostly for their ATV and LT tires. With the explosion of the UTV market, the Braven branding brings a competitive new product set focused on off-highway, non-track specific, tires available in larger sizes with a more modern tread selection.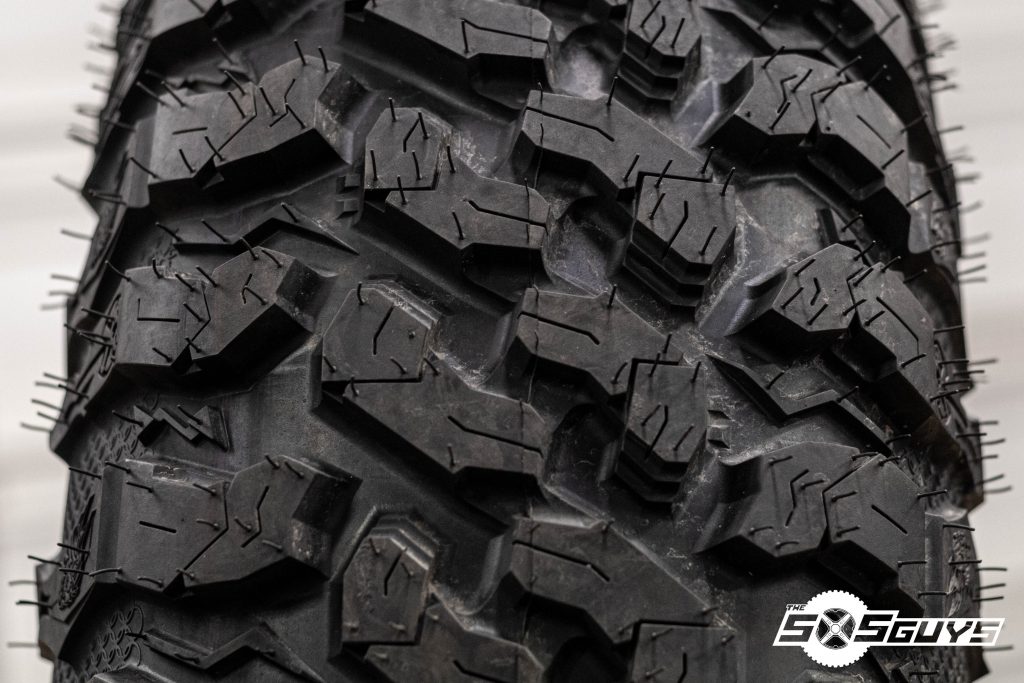 Today we are pleased to bring you our long-term review of the Braven Offroad Bloodaxe R/T hybrid tires. The Bloodaxe tire is the second tire to be produced by Braven Offroad. The first being the Berserker tire; a boxier profile and larger lug option. We were provided five Braven Offroad Bloodaxe 32x10r14 tires to put through the wringer and provide feedback.
Full Disclosure: We reached out to Braven Offroad in late 2020 about sponsoring our Polaris RZR for the 2020 Idaho BDR run and in return, we would provide a long term review of the tires. Braven Offroad sponsored this review by supplying the tires and wheels for the trip and thus our long term review. Our reviews are fully independent and our views are our own. Braven Offroad did not receive prior access to this review, nor did they provide any editorial requirements. We completely respect and value our partners, and our viewers, and try to provide completely independent experiences and opinions for our industry. If you have any questions or concerns, please Contact Us.
Bloodaxe Series Tire Specifications
| | | | | | | | | |
| --- | --- | --- | --- | --- | --- | --- | --- | --- |
| Size | PR | Tread Depth | Width | Diameter | Max Load @ 22 psi | Max Wheel Width | Speed Index | Weight |
| 28×9.00r14 | 8 | 19/32″ or 15mm | 8.94″ or 227mm | 29.06″ or 738mm | 855 lbs | 7″ | 75J | 14.98 lbs |
| 30×9.50r14 | 8 | 19/32″ or 15mm | 9.25″ or 235mm | 31.02″ or 788mm | 975 lbs | 7″ | 79J | 16.98 lbs |
| 30×9.50r15 | 8 | 19/32″ or 15mm | 9.25″ or 235mm | 31.02″ or 788mm | 955 lbs | 7″ | 78J | 17.23 lbs |
| 32×10.00r14 | 8 | 19/32″ or 15mm | 10.24″ or 260mm | 32.68″ or 830mm | 1000 lbs | 8″ | 80J | 19.79 lbs |
| 32×10.00r15 | 8 | 19/32″ or 15mm | 10.24″ or 260mm | 32.68″ or 830mm | 1000 lbs | 8″ | 80J | 19.64 lbs |
| 35×10.00r15 | 8 | 19/32″ or 15mm | 10.39″ or 264mm | 35.43″ or 900mm | 1000 lbs | 8″ | 80J | 21.83 lbs |
The Braven Offroad Bloodaxe tire series comes in sizes from 28″ up to 35″ and as we all know, 35″ is the new 32″… The Bloodaxe tires feature a round profile, 8-ply carcass, DOT rating, and an aggressive tread pattern. The high lug count also wraps the sides of the tire with aggressive sidewall lugs to provide more bite for crawling and additional protection when rubbing against abusive terrain.
True Measurements
The Braven Offroad tires measure, basically, true to size! If you've been following the offroad industry's tires over the last few years, you know that the stated measurements and the real world measurements do not always line up. The Braven Bloodaxe tires, again we have 32x10r14, measured in at exactly 32″ tall when mounted to our RZR with 12 psi! This was measured with a level at the top lug. With the wheel on its side, measuring with a straight edge across the widest point (the side lugs), the Bloodaxe tires measure in right at 10.5″.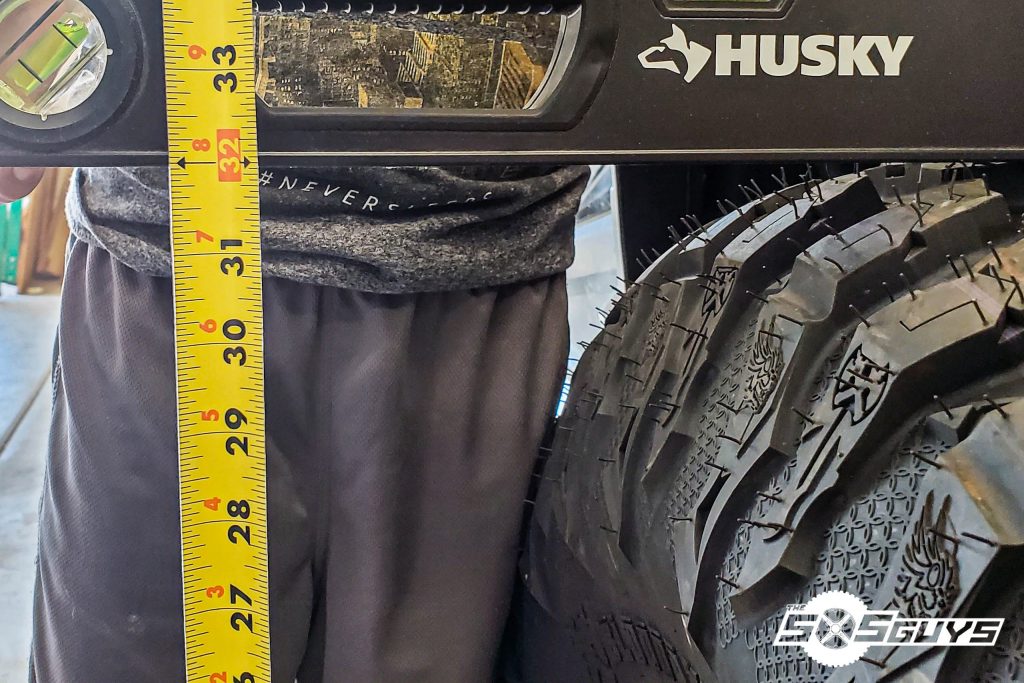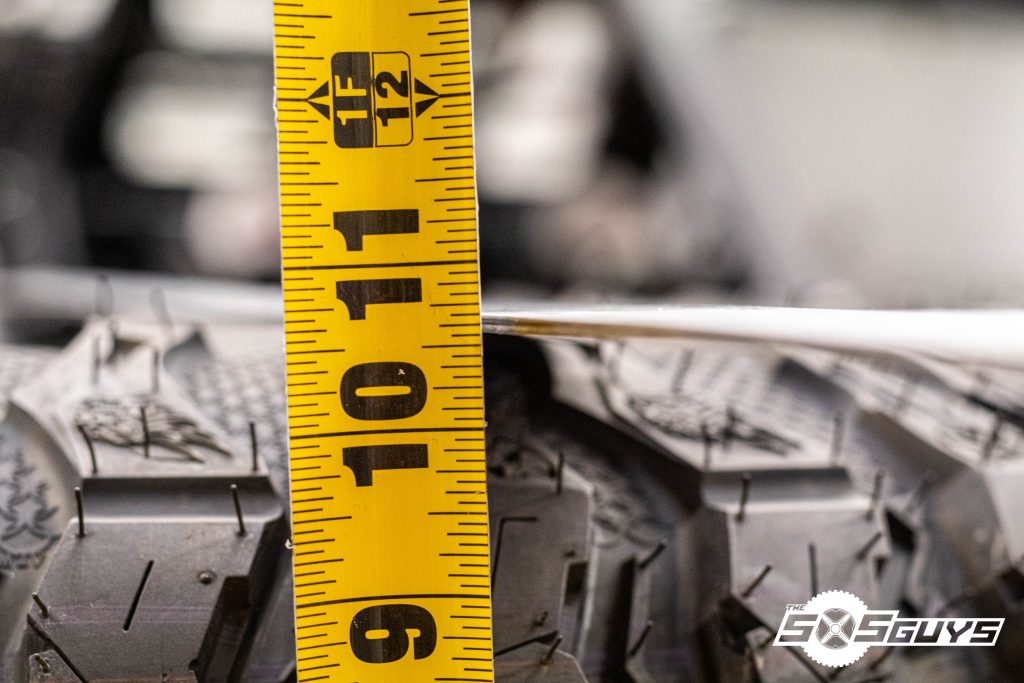 We measured the tread depth at three locations: the center lugs along the radius, the outer lugs right before the transition to the sidewall, and then the sidewall protecting lugs at their tallest point. The tire was measured off of a vehicle and was pressurized to 12 psi. As stated on Braven's website, the tires should have a tread depth of 19/32″, or 15.08mm, as measured by the radius of the tread design vs the radius of the carcass.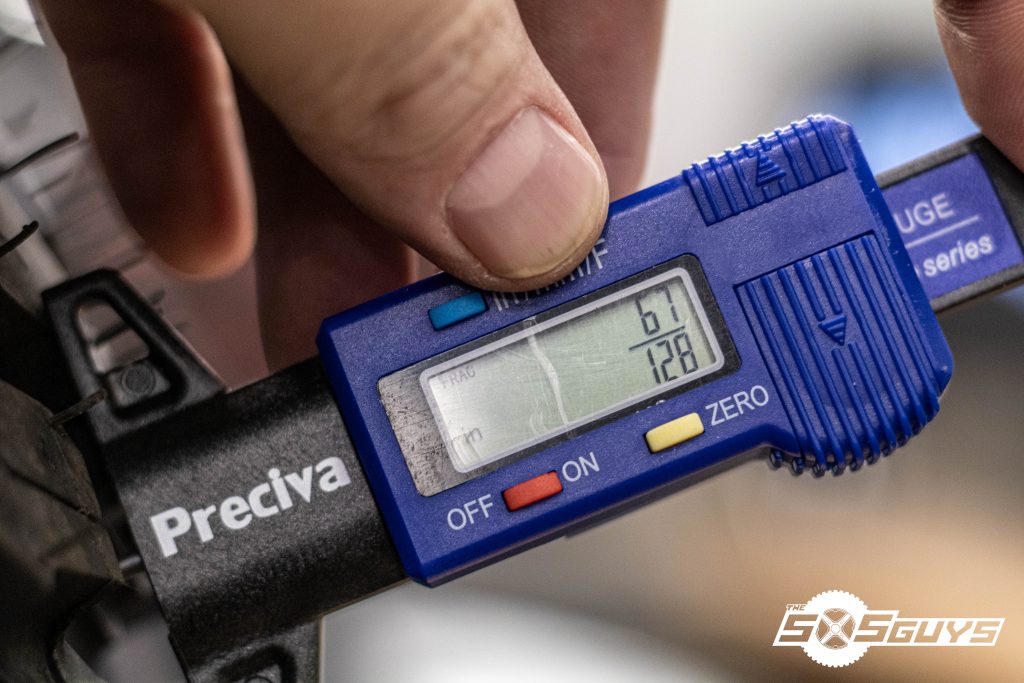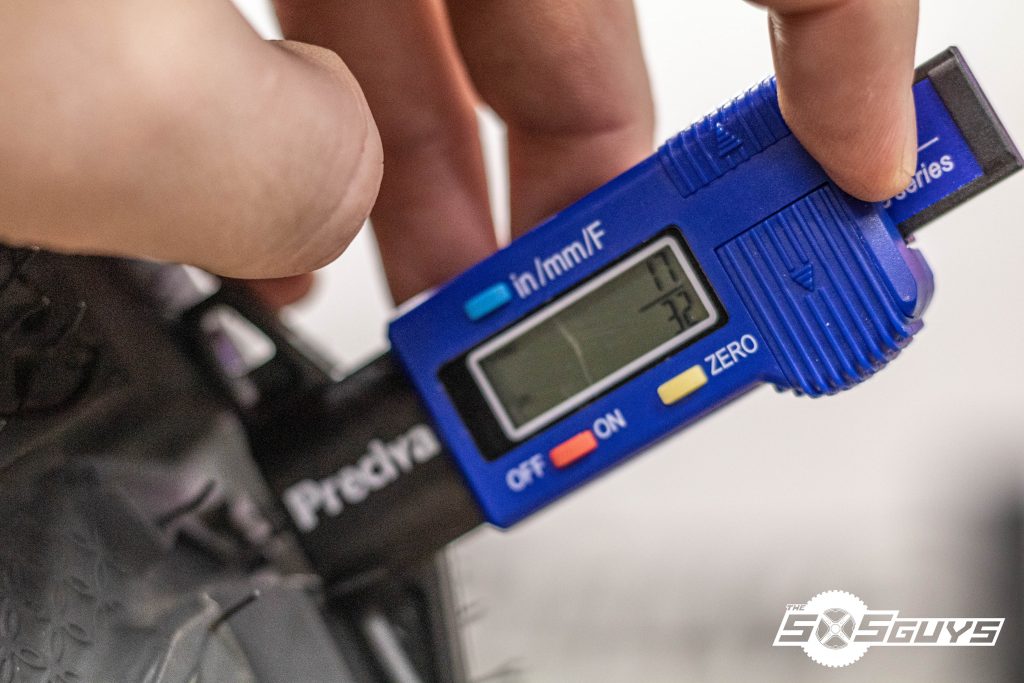 At the center of the tire, the tread depth measured 67/128″ or 13.3mm. That's a difference of 1.78mm from the stated depth and within the expected margin of difference for measuring lug to lug vs the calculated radius of a tire's design. At the outer transition, we measured a lug depth of 17/32″ or 13.49mm and a difference of 1.59mm from the center measurement. This means that the tread lugs maintain a different arch across the carcass than the lug blocks. This is actually not a bad thing and provides more on the outside where you typically need it most.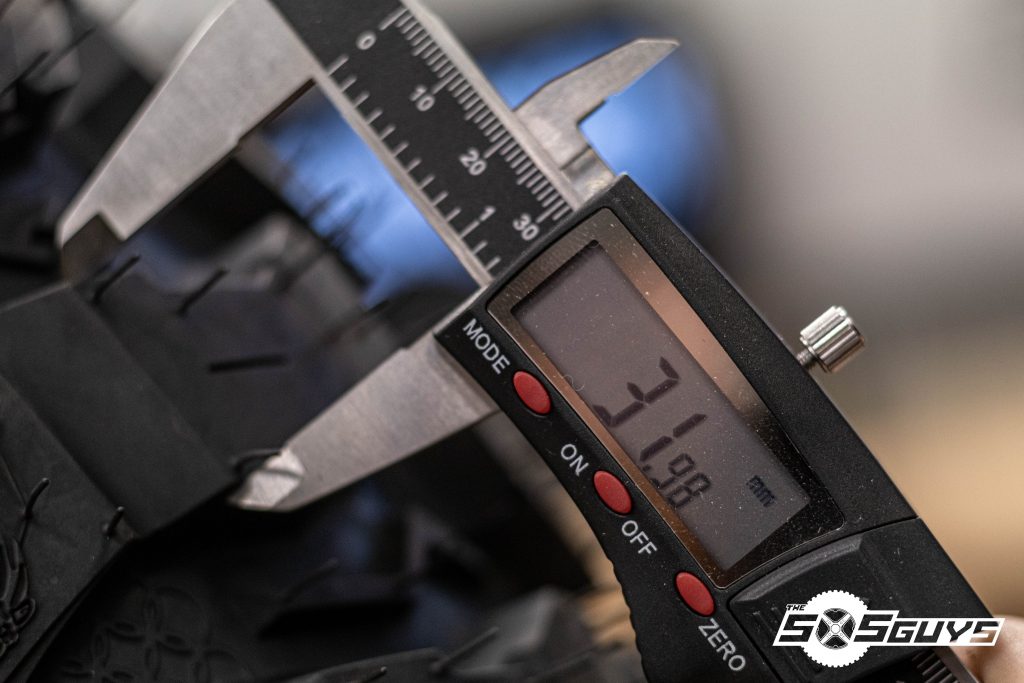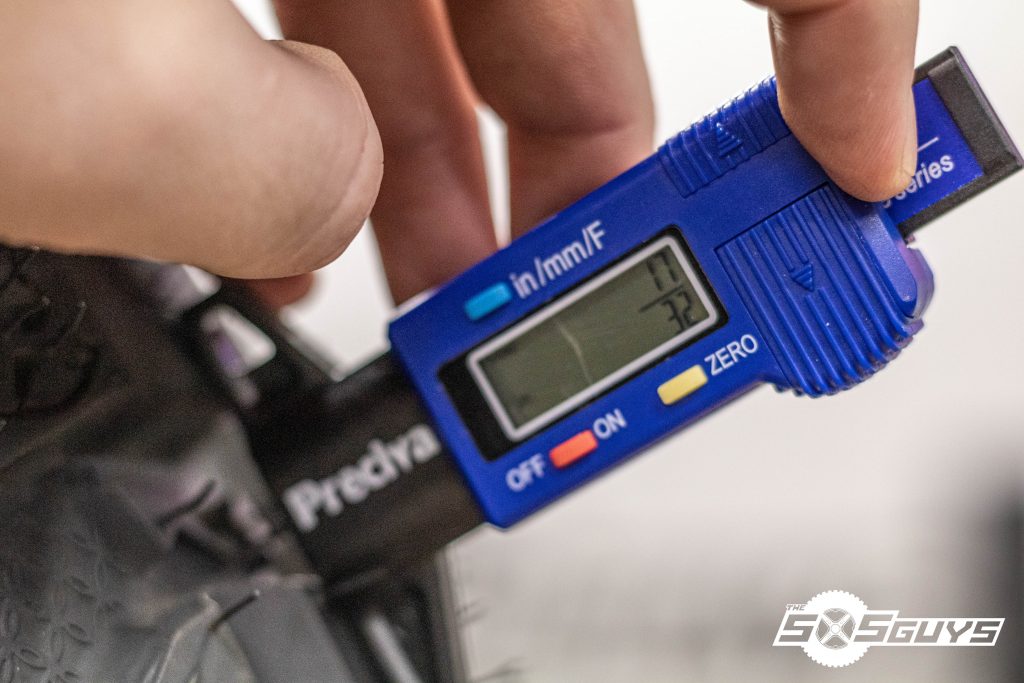 As for the lugs themselves, they are spread far enough apart that they have enough clearance for clearing mud and debris while at the same time having a considerable amount of surface contact. The largest measured lug gap measured in at almost 43mm and the narrowest gap at just over 12mm. At their thickest, the lugs were about 32mm wide and 19mm narrow at the smallest point. The lugs also feature about a 25% siping. While this is a great feature for the first 25% of the tire's life, it would have been nice to have seen a 50% depth.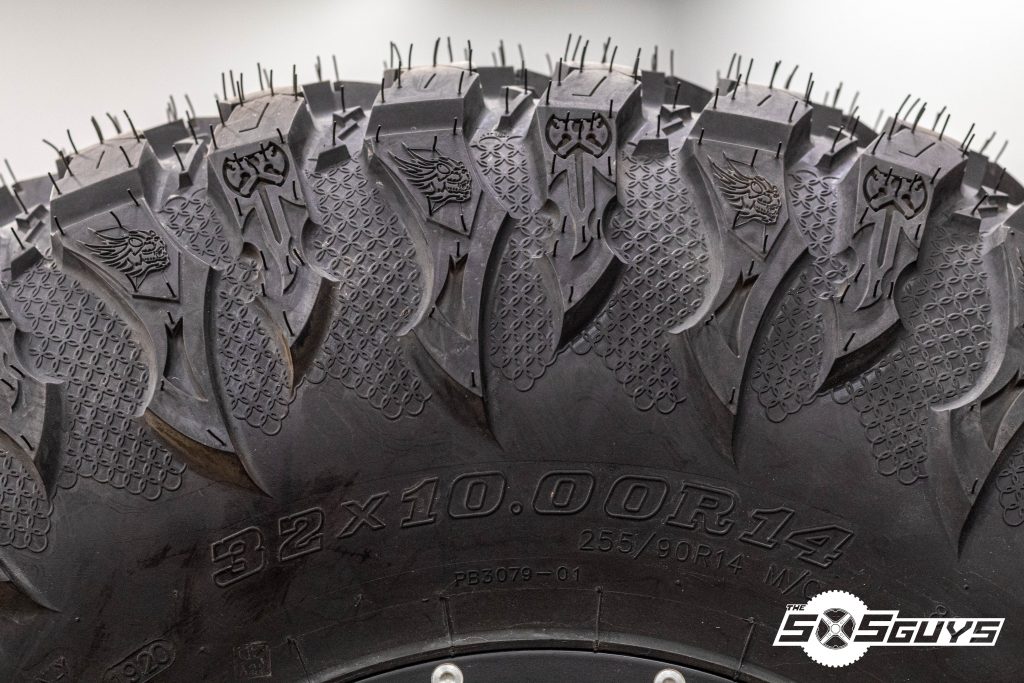 The sidewalls are protected by aggressive blade-looking tread extensions that are scalloped. This makes for a very aggressive looking tire, even at a standstill! At the highest point of the side lugs' scallop, we measured 9/32″ or 7.14mm. Additionally, the Braven Bloodaxe tires feature a raised lightning bolt design for additional clean-out assistance and a Celtic texture providing additional surface protection.
Mounting & Weigh-In
Before we get into the weight of the tires and wheels, I'd like to make time to shout out Jeremy Kaufman and his team at Perfection Tire of Rathdrum, ID. They are a dealer for Braven Offroad tires and took time out of their busy day to let us come down, film, and mount our Braven Bloodaxe tires onto Braven Ironside wheels. They did an awesome job and went out of their way for us!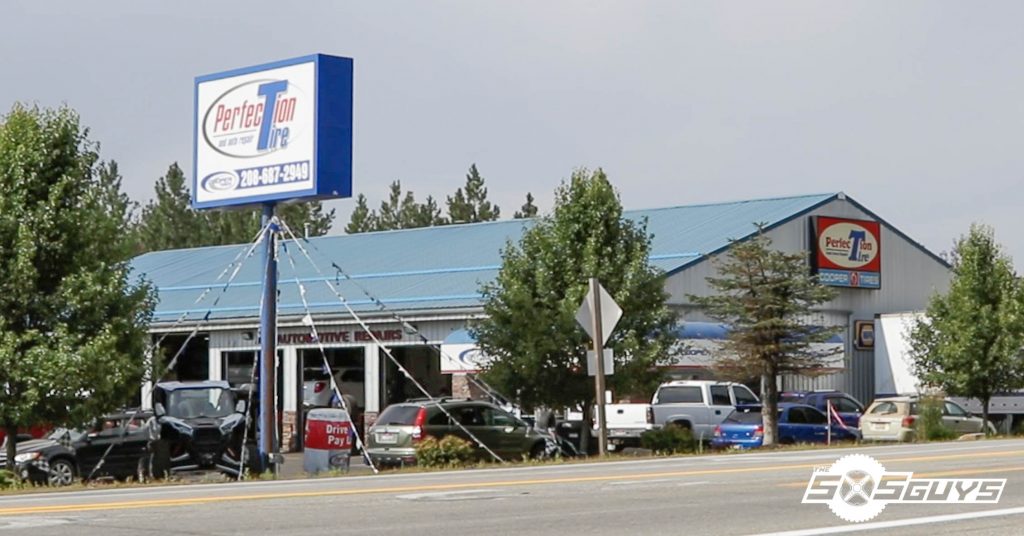 The first thing we did before mounting the Bloodaxe tires was to weigh them. We didn't have an official shop scale to use across the board, but we utilized a brand new scale from a local retailer. The Braven Bloodaxe carcass weighed in at 42.4 lbs. which is 1.2 lbs. lighter than the stated 43.6 lbs. on the Braven website. Obviously, weights can vary from tire to tire, but it's good to see they're not being overly optimistic on their specs (unlike some other tire brands). For comparison, a new OEM takeoff MAXXIS Carnivore 31x10r15 6-ply weighed in at 34 lbs.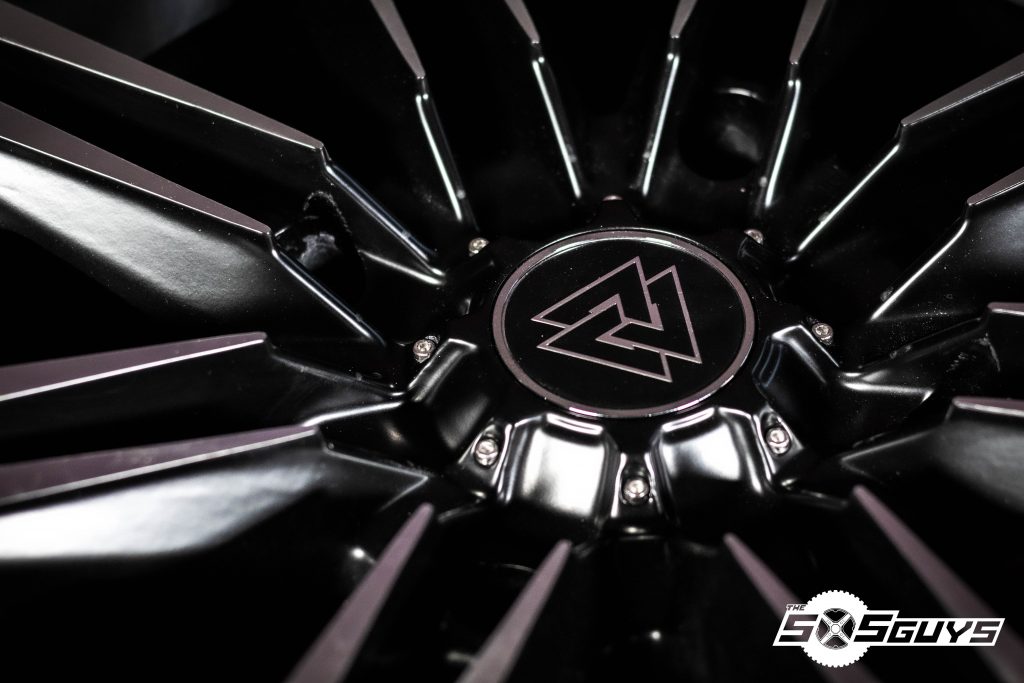 To mount these tires, Braven provided a set of Braven Ironside wheels measuring in at 14×7, with a 4+3 offset, and in 4×156 stud pattern to fit our Polaris RZR. These wheels are simple but beautifully aggressive and pair perfectly with the aggressive look of the Braven tires. The wheels are made from a semi-lightweight alloy and weighed in at 16 lbs. Additionally, you'll need new lug nuts as the Ironside wheels require splined style nuts. Again, thanks to Jeremy's team for providing these as this wasn't stated on the Braven website.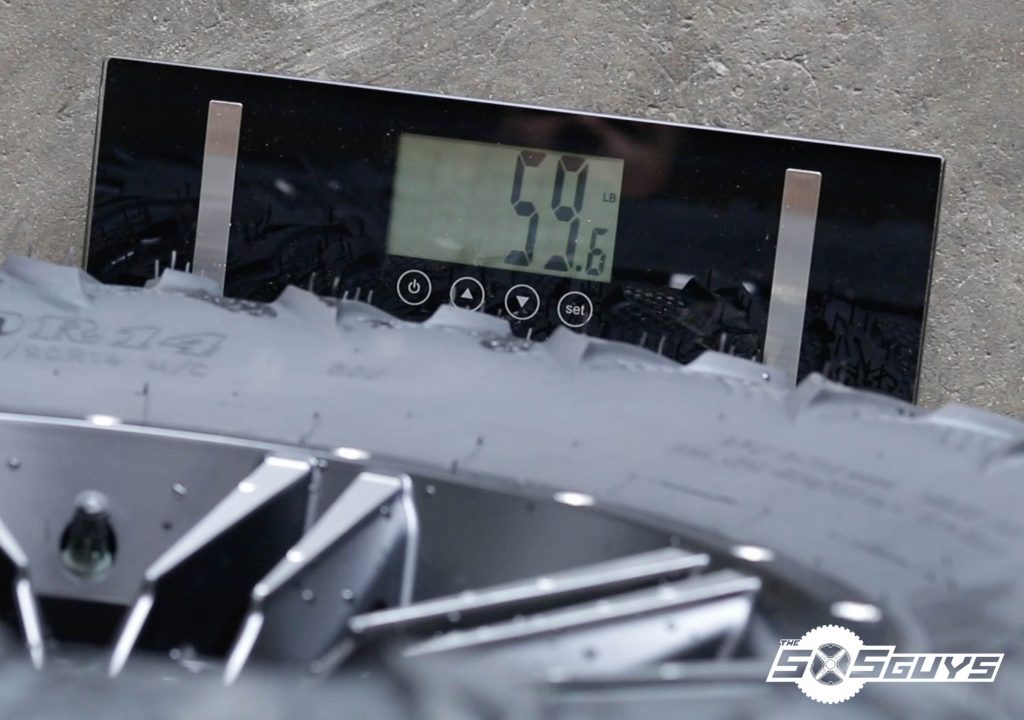 After mounting the Braven Bloodaxe tires to the Ironside wheels, they totaled 59.6 lbs. The 1.2 lbs difference would be made up for by differences in tire molds and that it was weighed wet after mounting, added valve stem, and balance weights. For comparison, a brand new stock ITP Coyote 32x10r15 8-ply tire and wheel package off of a Polaris RZR Turbo S weighed in at 57.6 lbs. That's exactly 2 lbs. difference for a carcass that has a 14″ wheel vs. a 15″ wheel, and the Braven is a much bigger tire side by side!
Rubber Compound Durometer
Using a Shore A durometer, I measured the tires 5 times around the tire resulting in measurements of 65, 63, 64.5, 63.5, and 65 HA. I would chock most of the variation up to having to press the hold button when taking the measurements and would be willing to bet this is rated as a 65 HA compound. For reference, 65 HA is in the middle range of rubber compounds found in this style of ORV tire. For comparison, a new Polaris RZR takeoff of a front MAXXIS BigHorn 29x9r14 measured in at around 60 HA on the Shore A scale.
What does this mean? This means that we should expect a decent tire life out of a compound that will be stiffer when its colder, softer when it is warm, and bring a somewhat plush ride. A stiffer durometer would put the tire into a more LT feeling carcass.
First Impressions
Once mounted, the RZR had a much more impressive stance. This might be obvious to most that a bigger tire will provide more presence… but we had just taken off a set of undersized 28″ tires and so the difference was night and day. In comparison to the OEM MAXXIS BigHorns, the profile is very similar to the front 9″ wide tires where the shape is rounded and provides a smooth transition from center to sidewall. The biggest difference is that the BigHorns have much larger tread gaps and thus fewer lugs. The additional lug count on the Braven tires will provide a quieter and smoother roll down hardpack and paved surfaces. From the side, the Braven tires are super aggressive looking and will impress at any show-n-shine event.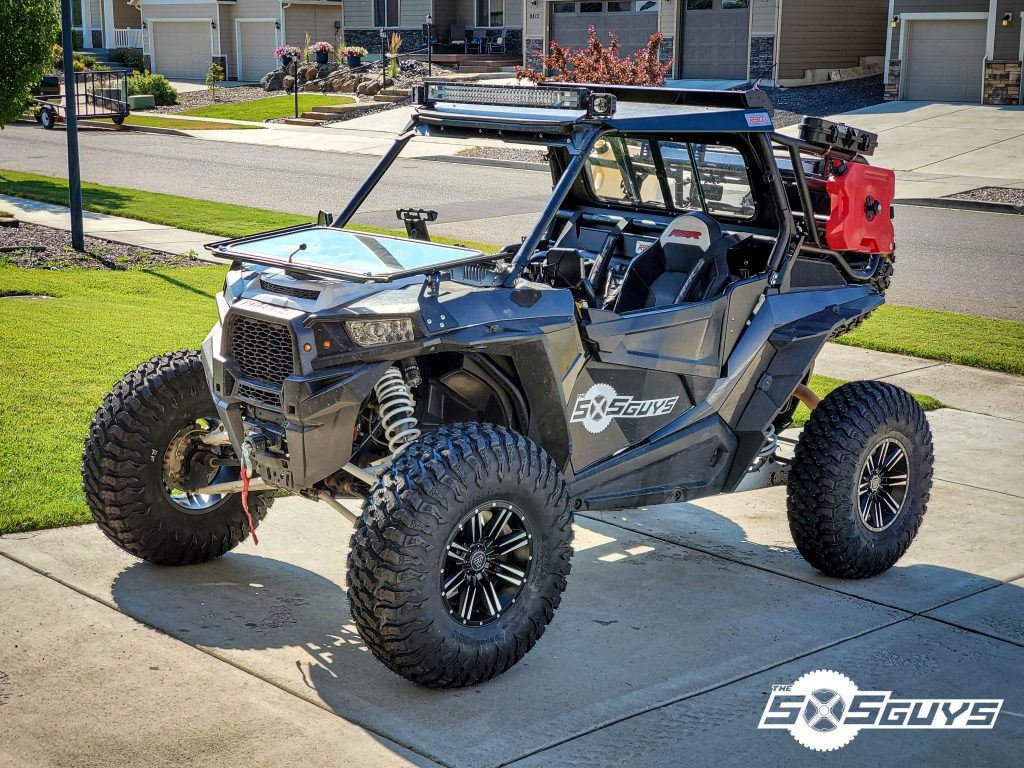 We also really liked the Braven Ironside wheels in combination with the Bloodaxe tires. The sharpness of the machined spokes combined with the scalloped blade-shaped sidewall lugs provides a very aggressive look even while standing still!
Driving around the neighborhoods, the Braven tires felt smooth and plush. There was no loud tread noise on the pavement either… They seemed to not even be there. This is a different experience coming from a tire like BigHorns that have a spread out lug pattern and can get quite noisy at speed.
We started our journey with the tires at 15 psi with the intention that it would give us better handling for the first leg of pavement we'd be hitting, and then we could air down once we were mostly on trail.
Long Term Testing
We mounted and installed the Braven Offroad Bloodaxe tires and wheels in late July and proceeded to travel 1,500+ miles on the Idaho BDR in mid-August. We have since put on additional miles on local trails and features. This is obviously not your standard press photo-shoot and review… Below is our experience of relying on these tires for an epic, never before done, journey that took us from Mountain Home, ID to Jarbidge, NV and then to the Porthill, ID/Canada border crossing; cutting through Montana!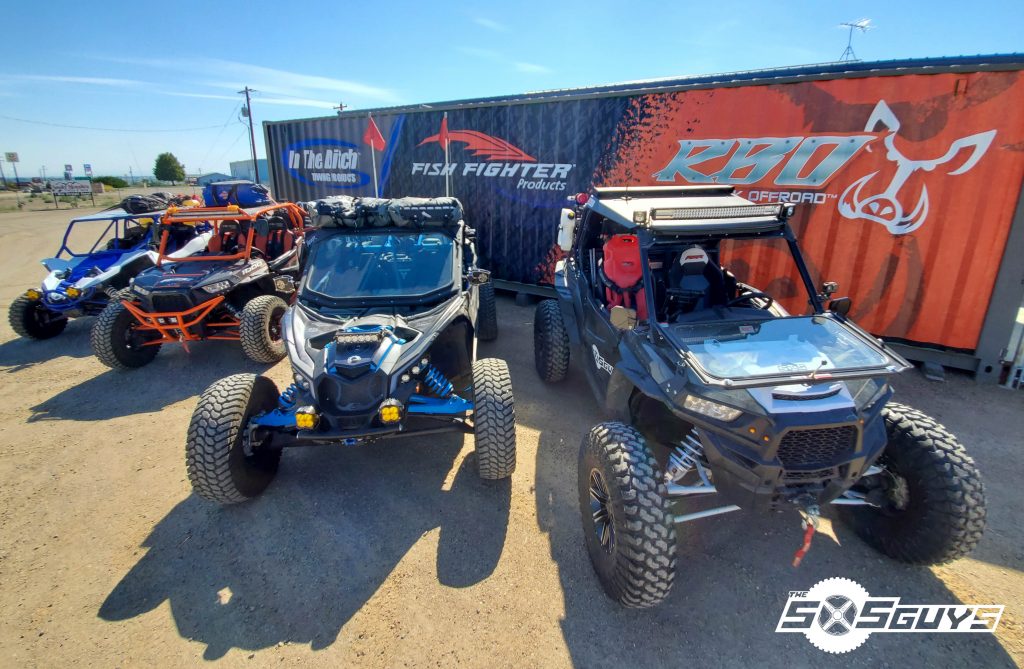 This trip started in Mountain Home, ID where we unloaded at the Razorback Offroad headquarters. Shout out to Chuck Ceccarelli for helping us unload in his parking lot! From there we drove on pavement through town and then headed South to Jarbidge, NV. This route was just over 100 miles and about 25% pavement. We frequently reached speeds of 60mph and averaged 30mph+ with over 2,000 feet of elevation change.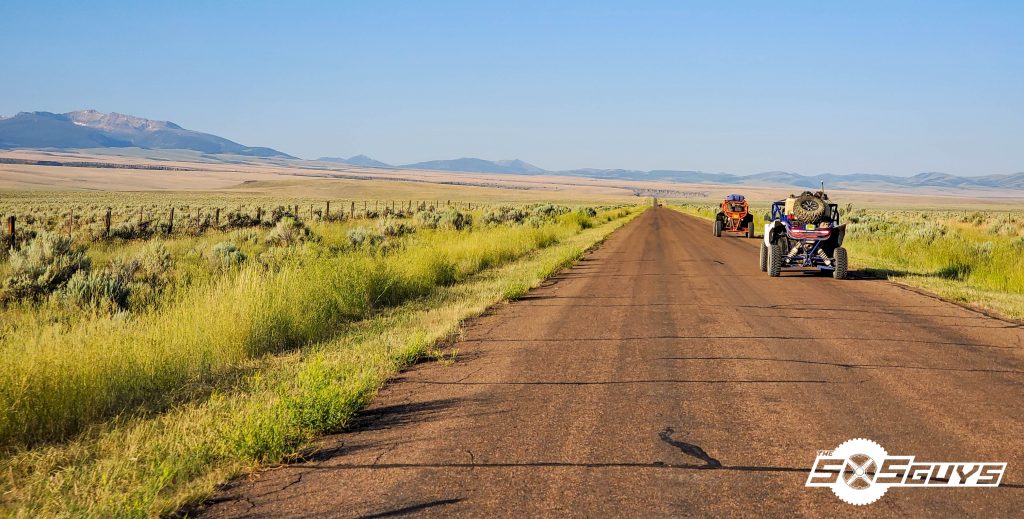 From Jarbidge, NV we headed North through the Sawtooth National Forest and camping at the Trinity Lakes campground; an elevation change of over 5,500 feet! This was just over 230 miles of ~60% hard-pack farm roads, ~20% pavement, and ~20% mountain trails. This was a very hot ride including temperatures of over 100°F. As this was our first day really have some time on pavement, the first thing I noticed was that you could instantly smell the rubber heating up. This is a sign that the tires, while DOT rated, might not want to be on hot pavement for extended amounts of time. Once we hit the mountains, it was certainly a relief in temperatures and knowing we weren't going to be smoking the tires anymore.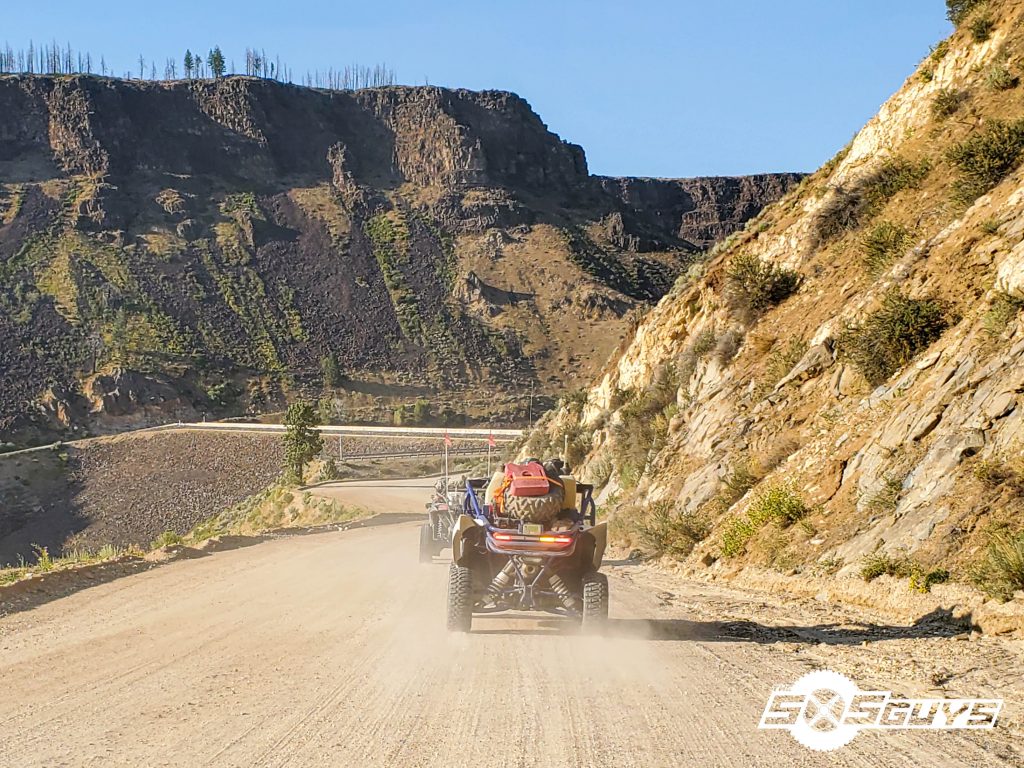 From Trinity Lakes, we traveled North, just under 200 miles out of the Sawtooth range, and into the Payette National Forest, West of the Frank Church wilderness areas. This was almost 100% groomed Idaho trails. The next day we headed over 200 miles to Riggins, ID and then to just West of Elk City, ID. This trip had a number of diversions that were taken and we ended up traveling near half of that ride on pavement at high speeds. These two sections had us at over 6,000 feet of elevation change.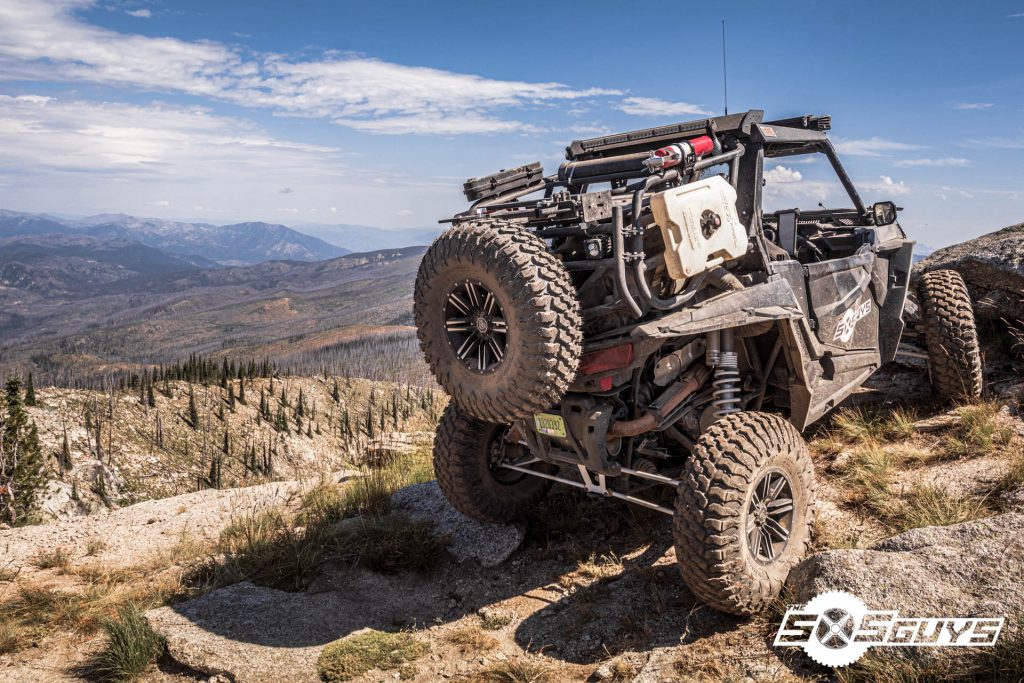 It was at this point we were noticing significantly more wear on the tires in the center of the tire and versus the outside transition and we decided to air down to 12 psi mid-day. It was also at this time we noticed a pin-hole leak in one of the treads of the rear passenger tire (the most abused tire). A quick plug from our PowerTank Pro Plug Kit and we were fixed in less than five minutes.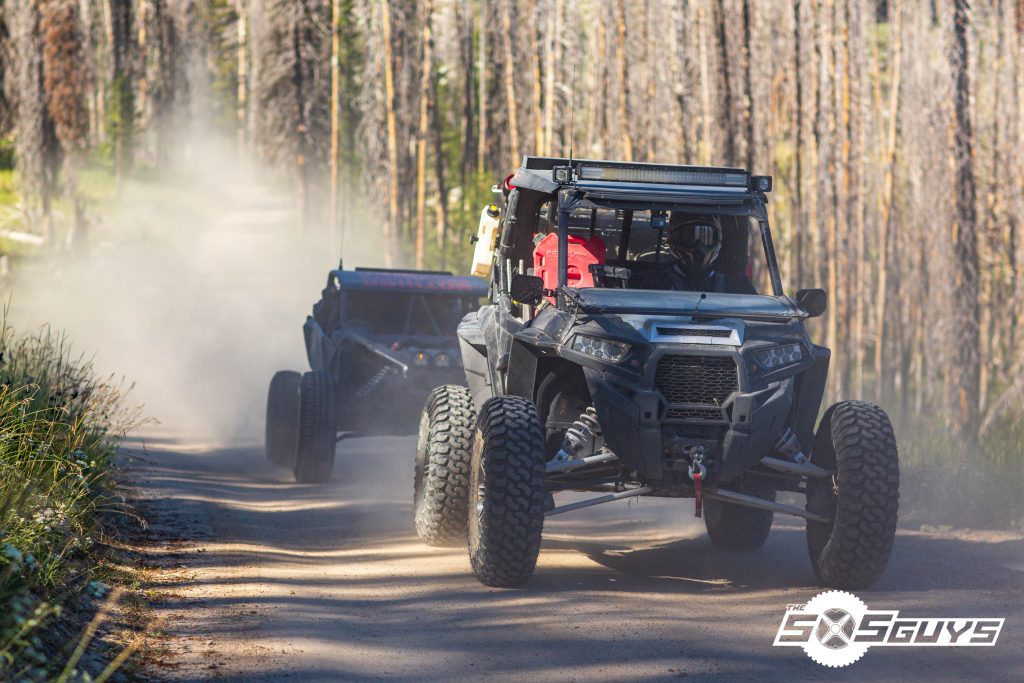 Once we cleaned up camp the next morning, we traveled over 200 miles East through Elk City and all the way to Darby, MT, North to Lolo, MT and then we crashed just West of Lolo! This was a brutal run for the tires and where I believe most of the wear on the treads happened. This was almost all pavement and at high speeds, frequently over 50-60mph, for extended amounts of time. While we did stop to let clutches and belts cool down, the tires never really got a break! This was about the point where I apologized to the RZR and tried to convince it tomorrow would be a better day…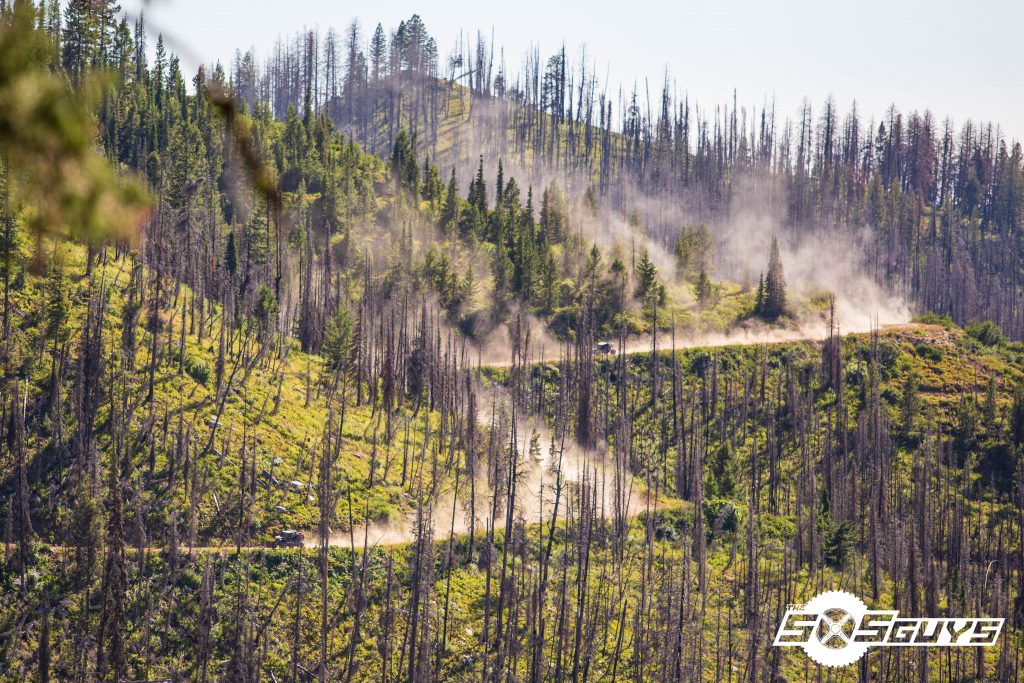 Over the next two days, we traveled over 325 miles North through Pierce, ID, across the Dworshack Reservoir, through Wallace, ID and camped just South East of Lake Pend Oreille. We experienced mostly hard-pack dirt trails and over 5,000 feet of elevation change. This round of travel also included multiple sight-seeing stops and a significant night ride.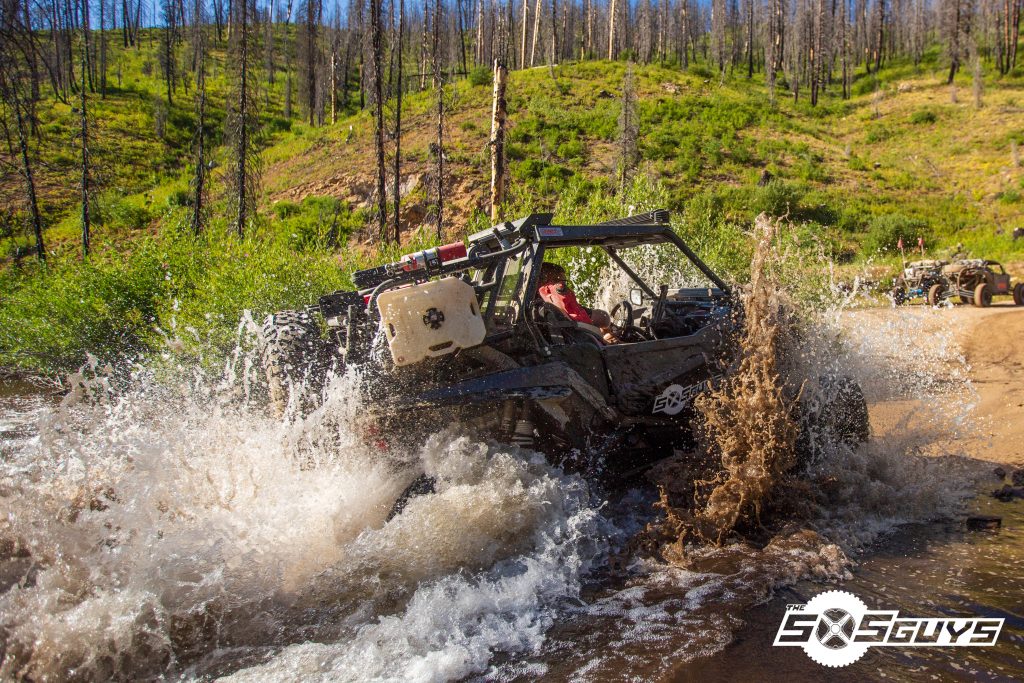 The last leg of the trip took us over 165 miles North to the Canadian border to which over half of that was paved roads. We then had to travel another 15 miles on pavement to park the vehicles overnight before trailering home.
Overall this was an amazing trip with unforgettable memories. To get to amazing places and do amazing things, you need an amazing tire. The Braven Offroad Bloodaxe tires performed exactly how you would expect them to behave and were a pleasure to drive on.
Handling Characteristics
The Braven Bloodaxe tires feature an awesome lug pattern around the entire profile that ensures tons of grip at any speed. The Bloodaxe tires never slipped unexpectedly, never spun out through a turn, the frontend never slid through a turn nor provided a situation where I felt like I wasn't in control.
Some people prefer a more square profiled tire as it can provide a more stable feeling experience and more traction as more lug is making contact with the surface. I'm not really sure where I fall on that topic, but I never had any issues getting around corners, over obstacles, through water crossings, etc. The Bloodaxe always felt well planted, never squishy on the sides nor stiff in the middle. The Braven Offroad Bloodaxe tires are a great compromise between plush comfort and nimbleness.
Durability
Trail debris was never a concern and we never had a catastrophic failure or puncture. On a lot of these high elevation transitions, you will encounter a large amount of tree fall and debris associated with the clearing of the trails. We never had any of these clippings puncture a tread surface or sidewall. With our BigHorns, we've replaced multiple tires due to these conditions.
We did have a single pinhole puncture that was slowly leaking. The only way we found this was seeing bubbles form from being wet. I'm pretty sure I know exactly where this happened… There was a small series of fast and frequent switchbacks where there was a man made drainage on the side of the trail. I hung the rear passenger tire off of the trail and into the drain allowing the drain to carry the rear end of the car around the corner. This was an exhilarating experience but I'm pretty sure there was some man-made debris in there that ultimately punctured the tire.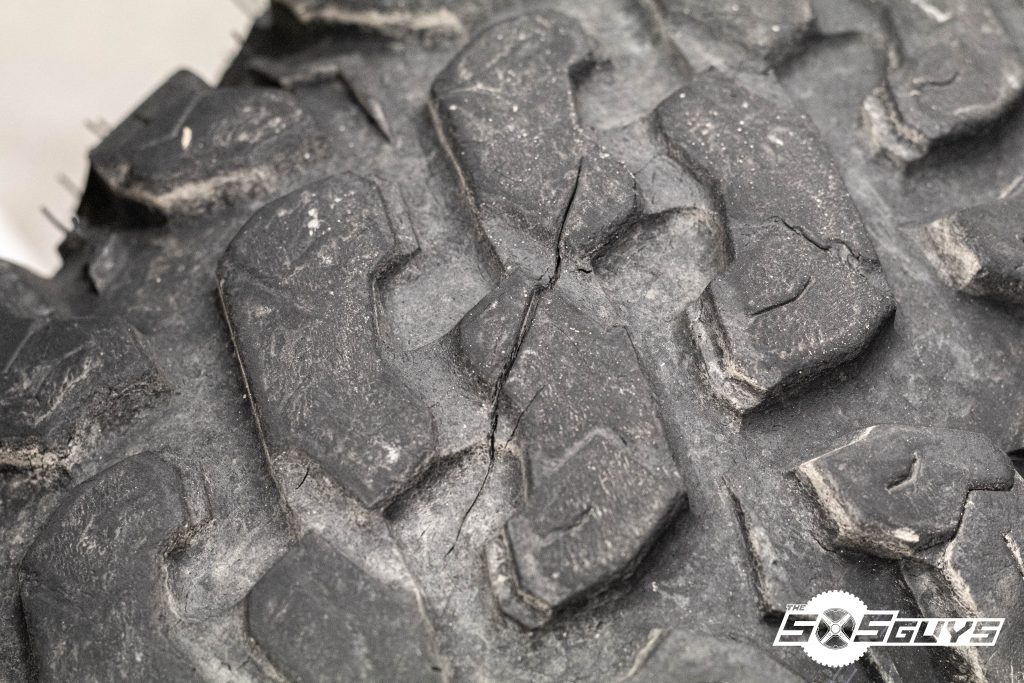 This was also right before we aired down and the stiffer tire probably was easier to penetrate at speed than a softer carcass would have been. This was a quick fix with a single plug. To this day, that plug is still there and none of the tires have had any further punctures. There is a single gash in the tread of one of the tires, but it has not further expanded or degraded.
Tread Wear
We truly put these tires through an abusive trip. Most peoples tires don't see this kind of abuse through their lifespan, let alone through the course of eight days! Over the course of the entire trip, we never rotated or swapped out tires. This was to provide a real example of wear and tear on tires in the rear, where they are more prone to spin and slide, versus the front directional tires that will be more prone to impacts and flat spots from sudden stops.
The front tires did the best as they had an obvious amount of less abuse. The center lugs measured around 27/64″ with the outside measuring at 31/64″. This means that the centers wore down 19.4% at the center and 8.8% at the side transition.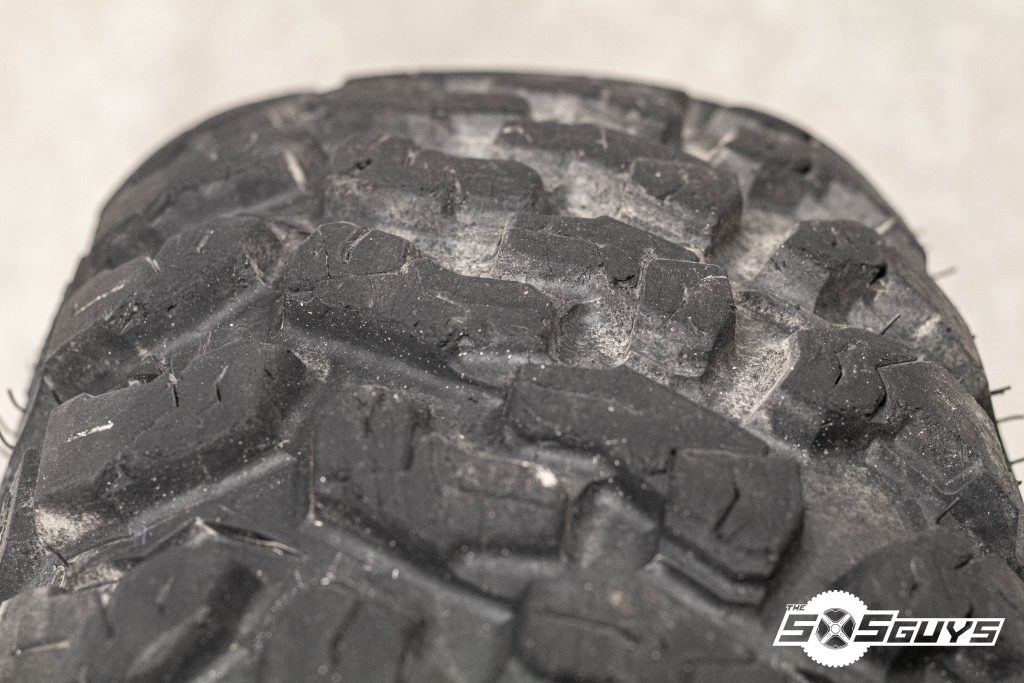 The rear tires did twice the work and thus had twice the wear and tear. The rear's center lugs measured in at 39/128″ and 55/128″ at the outside transition. This translates into 41.8% wear at the center and 19.1% wear at the outside transition.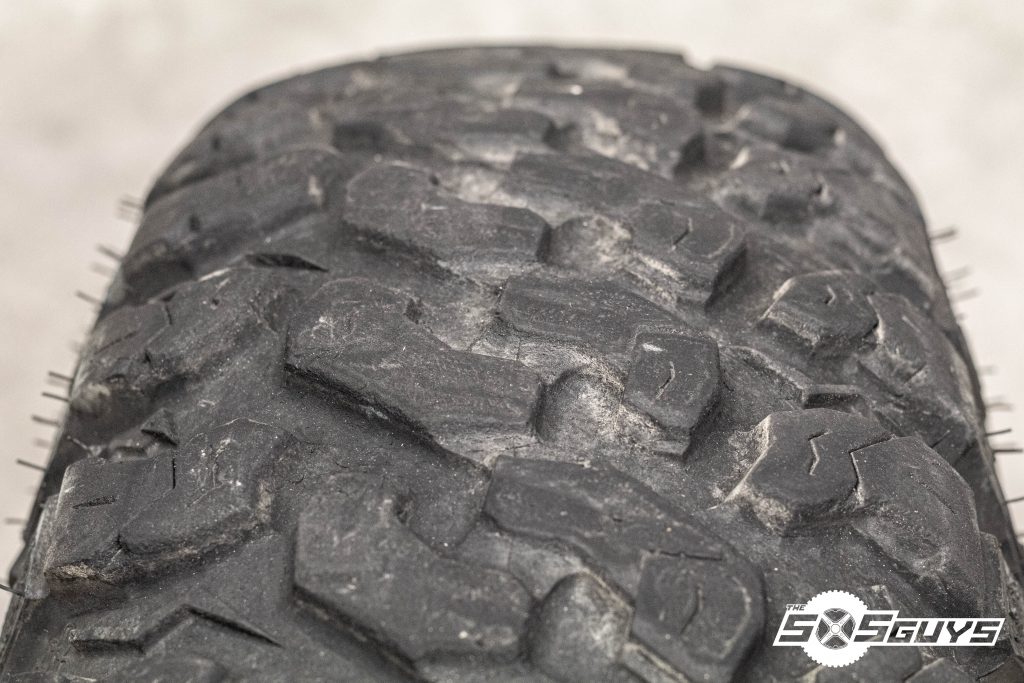 These numbers directly reflect the abuse we put the Bloodaxe tires through. With extreme amounts of high-speed pavement driving over the course of our trip, we'd expect to see more wear in the middle of the tire. With the initial portion of travel at a higher PSI than the rest of the trip, we would expect that these center and outside proportions would have been more balanced if there was less PSI in the tires from the beginning.
Conclusion
The Braven Offroad Bloodaxe tires are truly a great tire for any UTV looking to slay the trail. If you've been on the fence about this new brand or the new tire options they bring to the market, don't be! They are a great tire for all types of aggressive riding. They are soft enough to grip anything and provide a plush ride, but stiff enough to handle most impacts and abuse. We had the meatier 32r14 version of the tire and it never felt squishy or out of balance.
With a retail price of just over $230/ea for our 32x10r14 tires, does the price tag justify the investment? Well let's compare a couple of popular 8-ply tires with similar tread patterns:
Braven Offroad Bloodaxe R/T – Retail: ~$230/ea @ 42.4lbs (weighed) – Wears awesome and looks badass! Does well in most riding conditions including airing down for rocks and snow.
Tensor Regulator A/T – Retail: ~$250/ea @ 44 lbs (advertized) – Wears well with a more square profile. Doesn't have an as aggressive sidewall lug and is too stiff to do well when you need to air down.
Tusk Terrabite Radial – Retail: ~$165/ea @ 39.6 lbs (advertized) – Wears ok, but the compound can feel slippery at times. Effective design, but can be prone to gashing in some conditions and can have problems clearing debris in some conditions.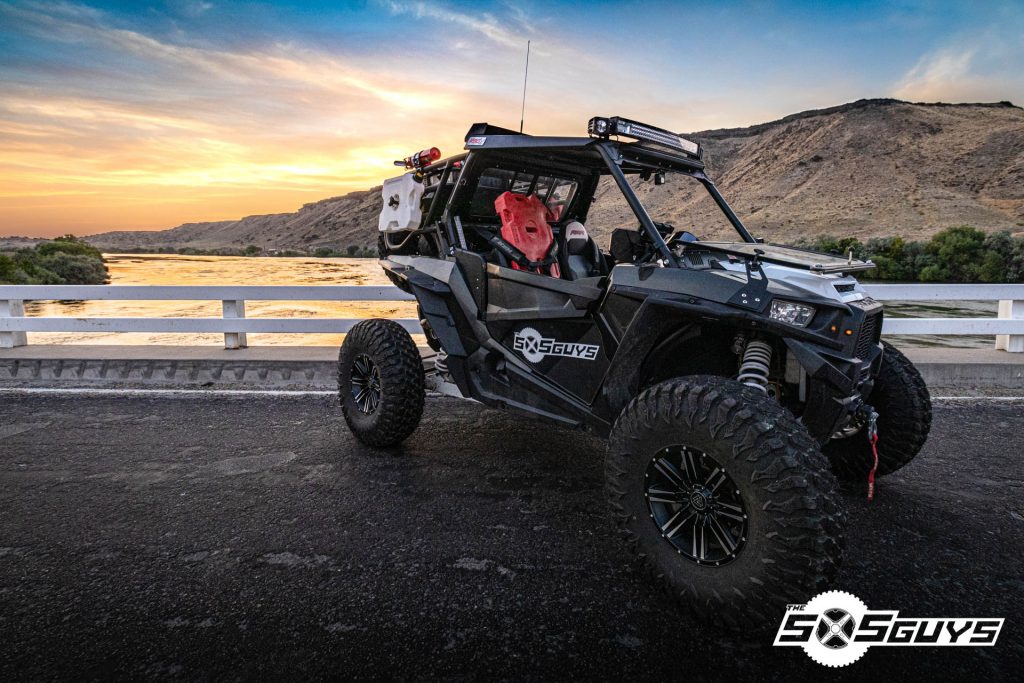 As you can see, the Braven Offroad tires position themselves right alongside other premium UTV tire manufacturers. While not cheap, we think this is positioned well based on their true-to-size ratings, decent carcass weights, killer looks, and great tread wear characteristics. If you consider these tires survived our crazy trip, and that if you didn't abuse them for hundreds of high-speed miles on the pavement as we did, these Bloodaxe tires would probably only be worn down 15-20%… They would be good for another 2,000-3,000 miles! The Bloodaxe's are a hell of a tire!
We've put these tires through hell week on-trail and they've rewarded us substantially. With badass performance and killer looks, the Braven Offroad Bloodaxe R/T tires are a perfect match for today's hybrid UTV enthusiast! We can't wait to try out their Berserker tires! …maybe 35's? Stay tuned!
You might also like
---
Editor Picks
---