You might not know who Invictus Offroad is, but they've come out swinging into the UTV accessory market with a new MOLLE compatible storage system for Polaris RZR UTVs. We take a look at both the door and behind the seat MOLLE storage systems, provide and introduction to MOLLE and install these systems.
Full Disclosure: Invictus Offroad sponsored this review by supplying the product and accessory product to test with. Our reviews are fully independent and views are our own. We completely respect and value our partners and our viewers. If you have any questions or concerns, please Contact Us.
Introduction
Invictus Offroad is a newer player in the UTV accessories market. Founded in 2017, this New Hampshire based company has come up with a handful of MOLLE compatible wraps and skins for Jeeps, Roxors and Polaris RZR UTVs.
Knowing that they wanted to create high quality, precision made, products, Invictus Offroad partnered with Cole-TAC. Cole-TAC is manufacturer of high quality tactical shooting accessories. Providing a fully functional, high quality, manufacturing process, Invictus Offroad is able to quickly design and fabricate precision made products in conjunction with Cole-TAC.
What is the MOLLE System?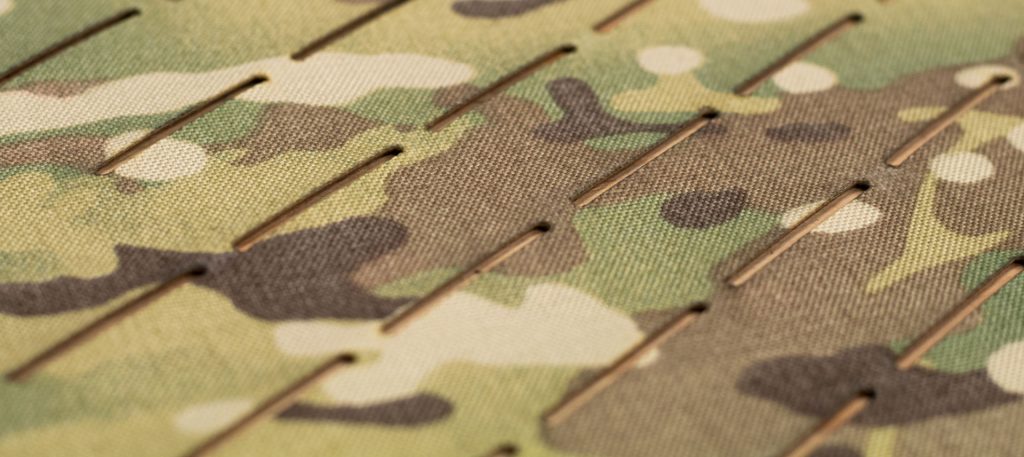 MOLLE is actually an acronym for Modular Lightweight Load-carrying Equipment. Originally developed for the military, NATO armed forces use this mount system across almost all of their load bearing baggage, harnesses and other tactical gear.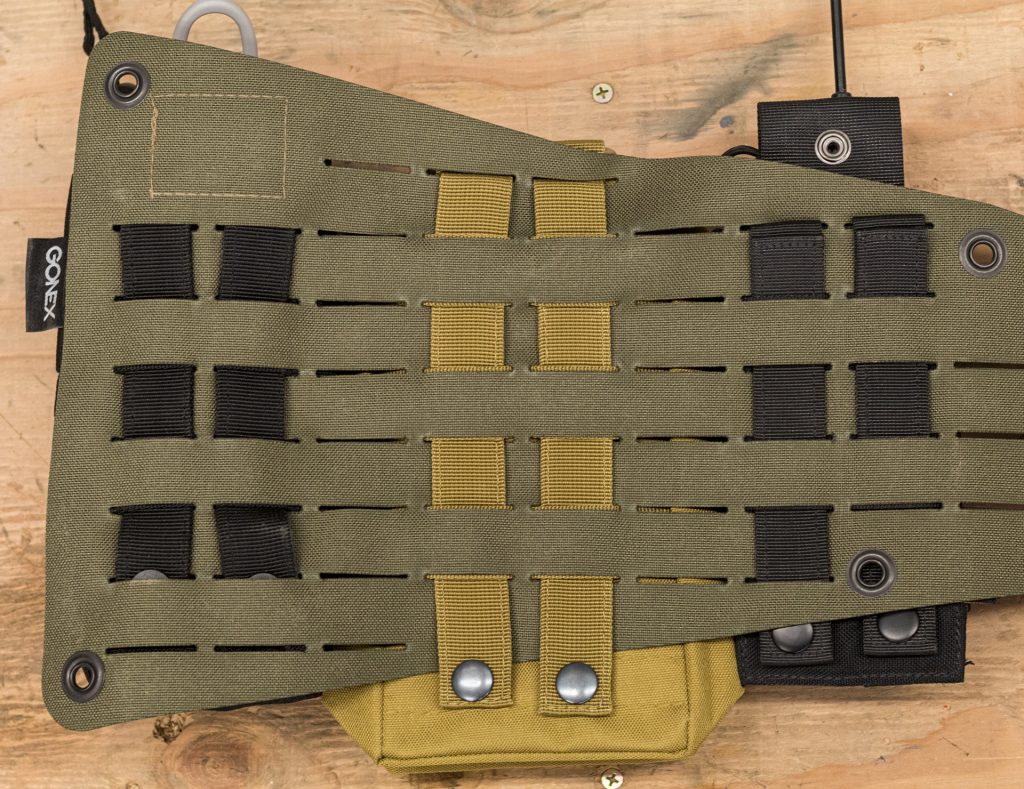 What is important here isn't the MOLLE system specifically, but the Pouch Attachment Ladder System (PALS). PALS is the system of interwoven strapping that literally brings both a MOLLE/PALS compatible accessory and a mounting system together in an integrated way that is nearly impossible to separate. All accessories typically have two or more straps that interweave between the cross straps on the accessory and the slots on the mounting surface. This results in a sewn-in design that is impossible to be remove accidentally.
MOLLE Door Storage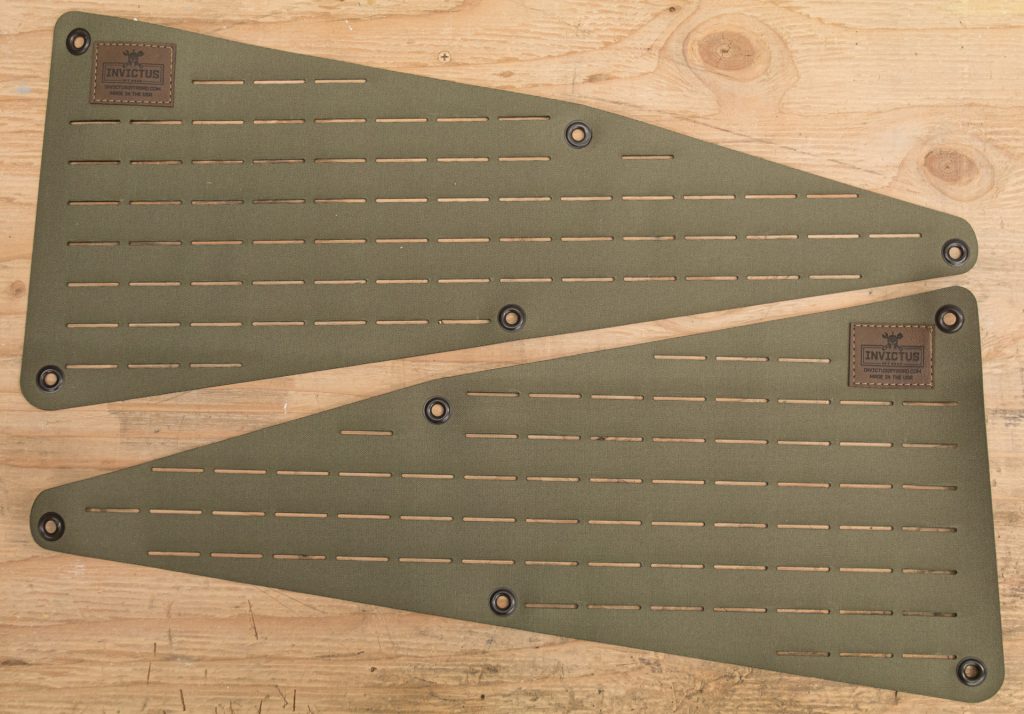 Invictus Offroad offers MOLLE compatible door storage systems for OEM Polaris RZR doors. They are available in upper door only, lower door only and full door skins. These are only for use with the OEM Polaris doors. The riveted eyelets are specifically placed for mounting to factory screw locations. The upper door skins are great if your machine did not come with lower half doors and you want to add some additional storage to your rig. These can also work if you have 3rd-party doors that utilize factory mounting points upon the OEM upper doors.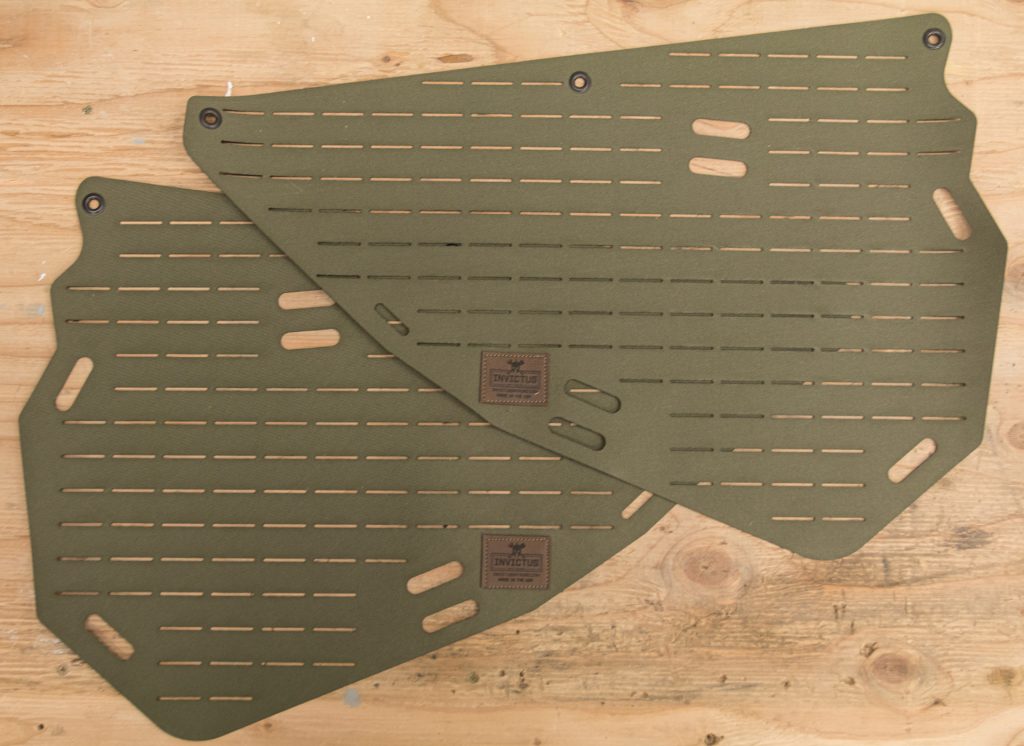 The lower door skin options are a great option if you have OEM lower doors but are currently utilizing and upper door bag system or knee pads. The top of the skins have riveted eyelets for mounting to the factory upper doors and then utilize slots in the skins to facilitate velcro straps to go around the bar in the lower factory doors. It's important to understand that the upper mount points are what bear the weight of the load applied to the skin. The lower velcro strap mounts are for stability.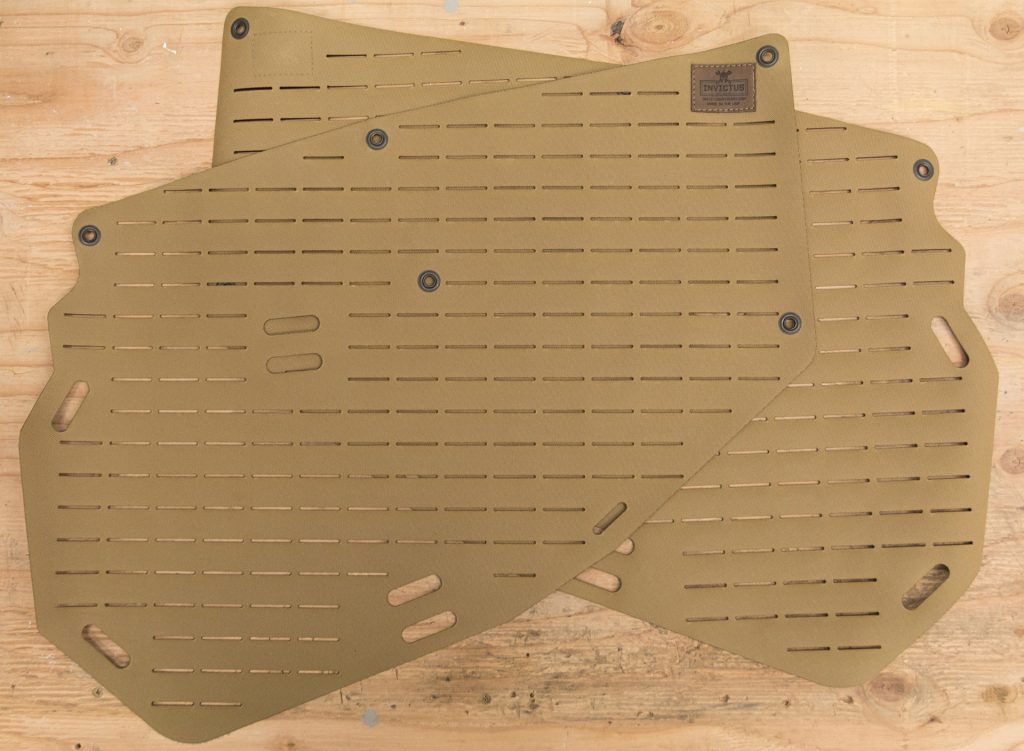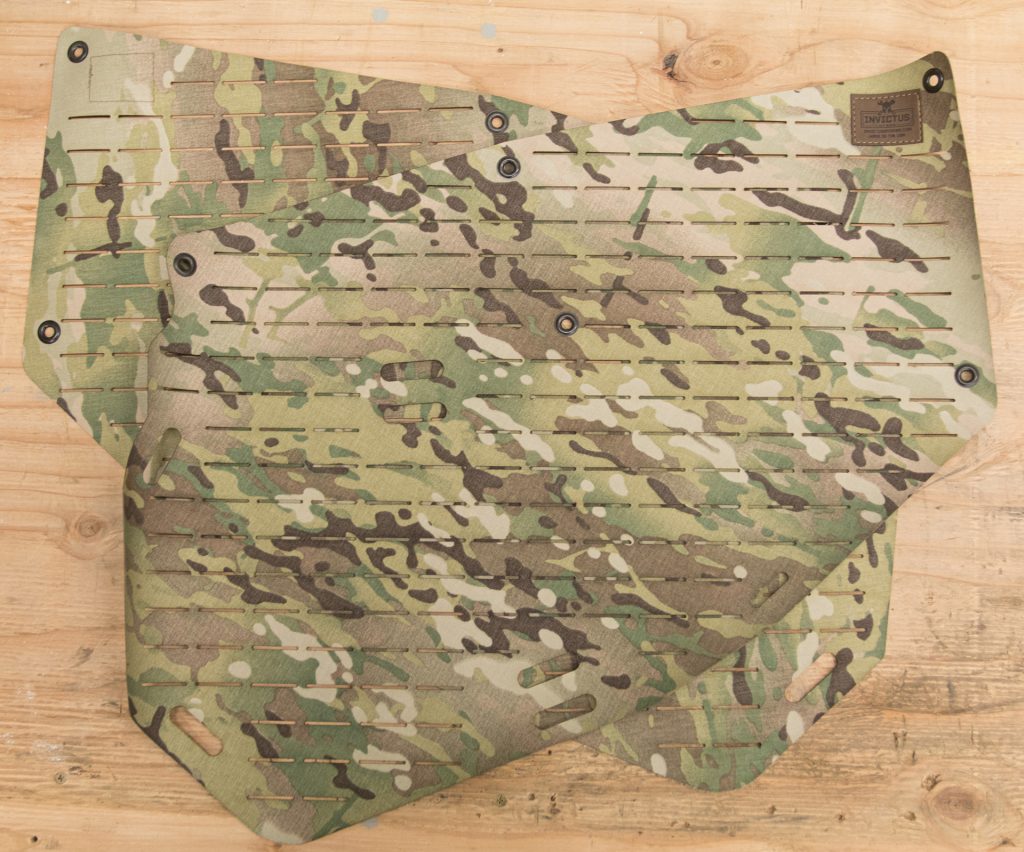 The Invictus Offroad MOLLE compatible door skins also come in full-door length. These match up exactly to OEM Polaris doors with the OEM lower doors. These feature all the same mounting points as the upper and lower skins but in one piece. The skins we received came one color… well two colors actually. One side is Coyote Brown with the reverse side in Multicam camouflage pattern. This means you get a two for one as they can simply reversed and installed on the opposite door.
MOLLE Behind the Seat Storage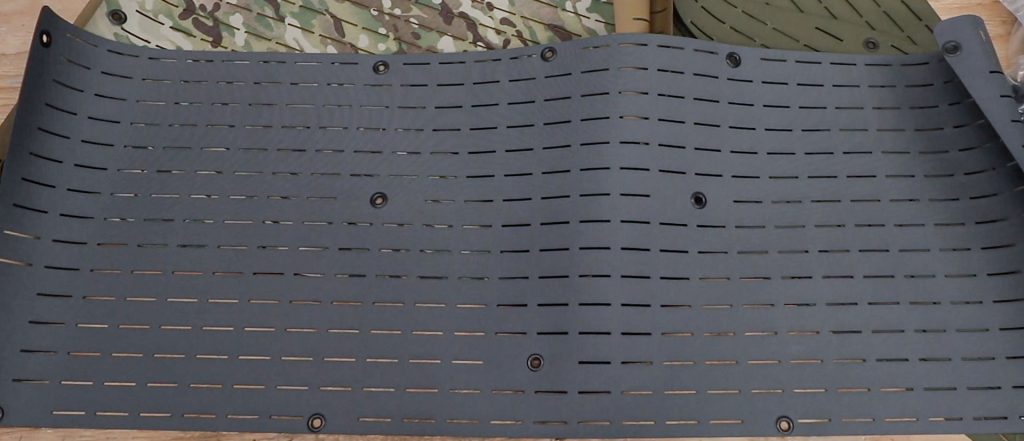 To compliment the door storage, or to stand on its own, Invictus Offroad has made a full-width, behind the seat, MOLLE storage skin compatible with all Polaris RZR XP 1000, Turbo and Turbo S from 2015-Current.
The behind the seat storage skin provides enough MOLLE compatible mounting surface to store multiple bags, tools and more. Consider this skin a canvas of your creativity. You can design and layout any PALS compatible accessories, in any order or orientation. You can really set this skin up however best meets your needs and riding style.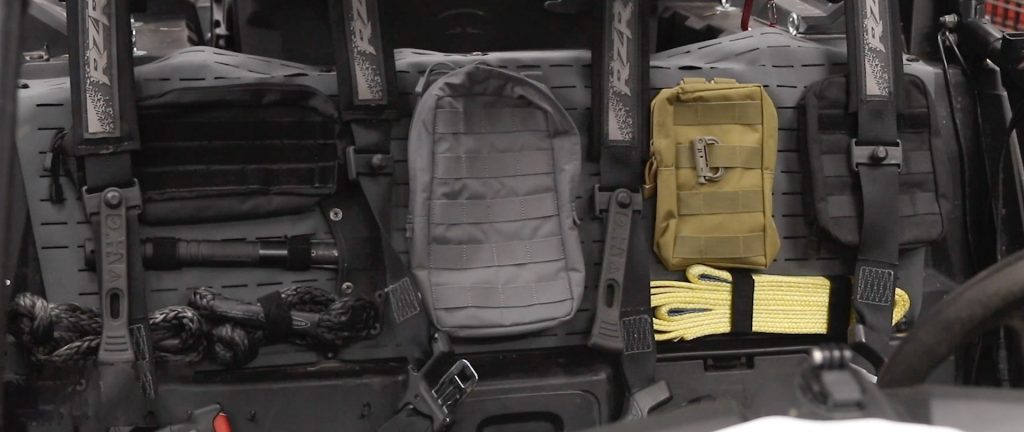 With all of these MOLLE skins, you can set it up with all creature comfort for leisure riding, or possibly recovery gear and tools for those that go hard. The door skins could hold cup holders, radio holders and a storage pouch for pocket things while behind the seat you could have toiletries, snacks, Fire Wipes, saw, axe, jack and shackles. The options are limitless.
Build Quality & Materials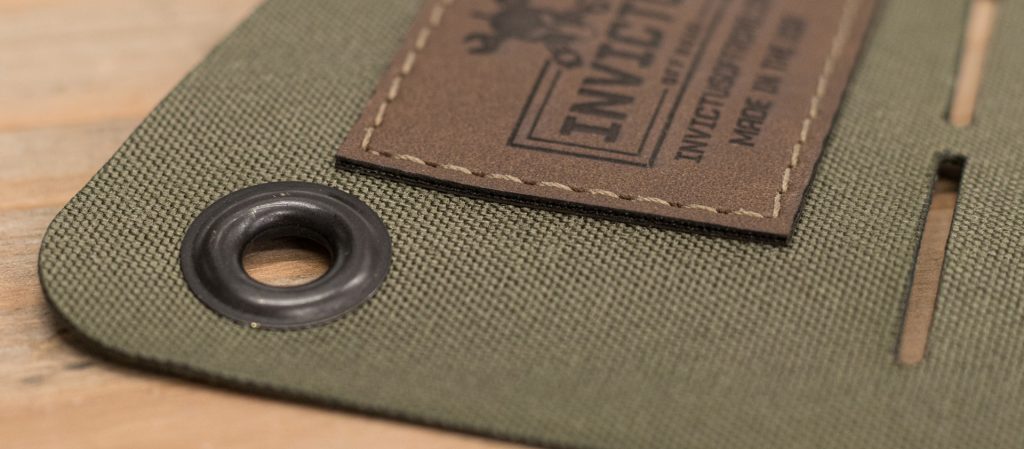 The MOLLE storage systems from Invictus Offroad are made from a wax pressed canvas like material that is extremely durable and flexible. Each of the slots and cuts into the material are laser cut and thus all fabric threads are thus fused together creating a smooth, durable edge. All eyelets are riveted and all skins feature a leather Invictus Offroad badge.
The durable canvas material is 1/32″ thick with 9/32″ eyelet openings allowing up to a 1/4″ screw. The PALS slots are 3/32″ wide and lower door velcro mount slots are 1/2″ thick; both allowing for ample room to pass straps through while retaining as much structural strength as possible.
These MOLLE skins for the Polaris RZR UTVs come in Ranger Green, Coyote Brown/Multicam Camo reversible, Black and Wolf Gray.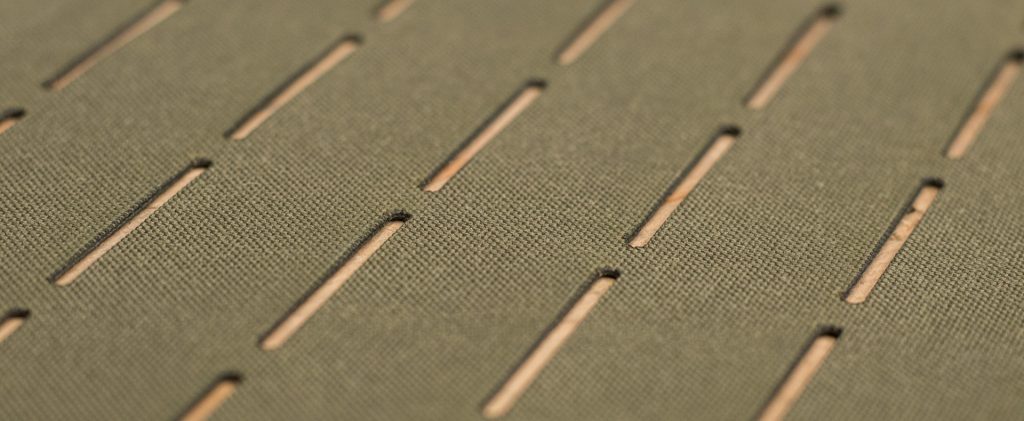 All required mounting hardware, minus factor door screws, are provided and allow for a quick and simple installation. Additional to the behind the seat skin, four OEM style push-pins are included for the shoulder of the Polaris RZR firewall. All mounts lined up as expected, though we recommend double checking the eyelet alignment with your rig to make sure you have the skin facing the correct way. There are some center T40's that are off-center and installing all of your MOLLE accessories before checking, to then find out you have it backwards, would be a bummer and time waster!
Mounting & Installation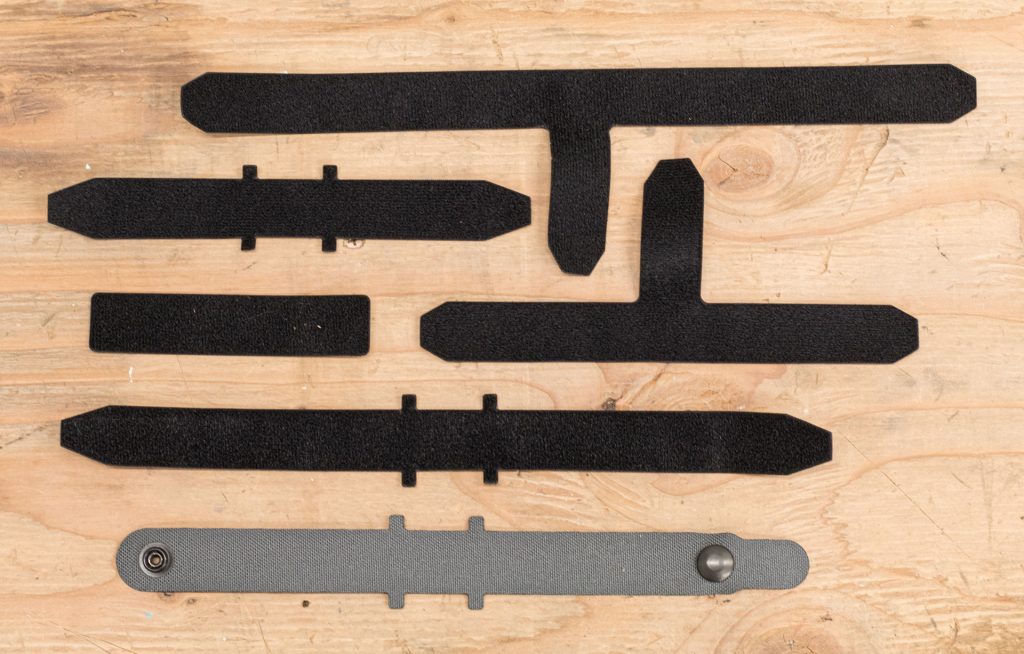 Invictus Offroad provides multiple types of velcro and snap style straps for mounting the MOLLE storage system to your doors and MOLLE compatible accessories to the door skins. The straight straps are great for mounting non-MOLLE compatible items and feature two sets for tabs to hold the straps onto the MOLLE skins so they don't fall out or behind the system. Velcro might seem to be a cost saver, but in our experience, they are a great and flexible option for this type of mounting. We recommend watching the Invictus Offroad Video Review at the top of this page for examples!
The other method of mounting accessories to the MOLLE door skins from Invictus Offroad would be to use MOLLE compatible accessories. They will usually come with two or more straps that run vertically down the height of the item. These will always start at the top of the item and hang down with multiple ribbon straps woven into the accessory.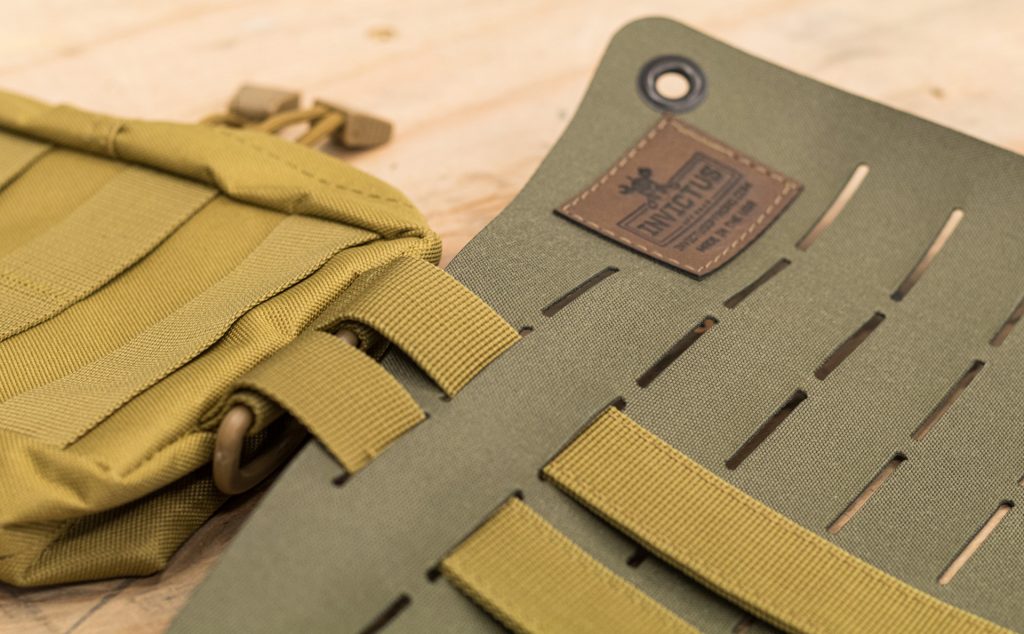 To completely install a MOLLE accessory to these door or behind the seat skins, you will want to weave the accessory's strap starting at the top of the accessory and through the topmost PALS slot of where you want the accessory installed. Then you weave the straps back through the skin and then through the corresponding ribbon on the accessory. You then repeat this process through the length of the accessory until you are at a point of finally snapping the straps closed.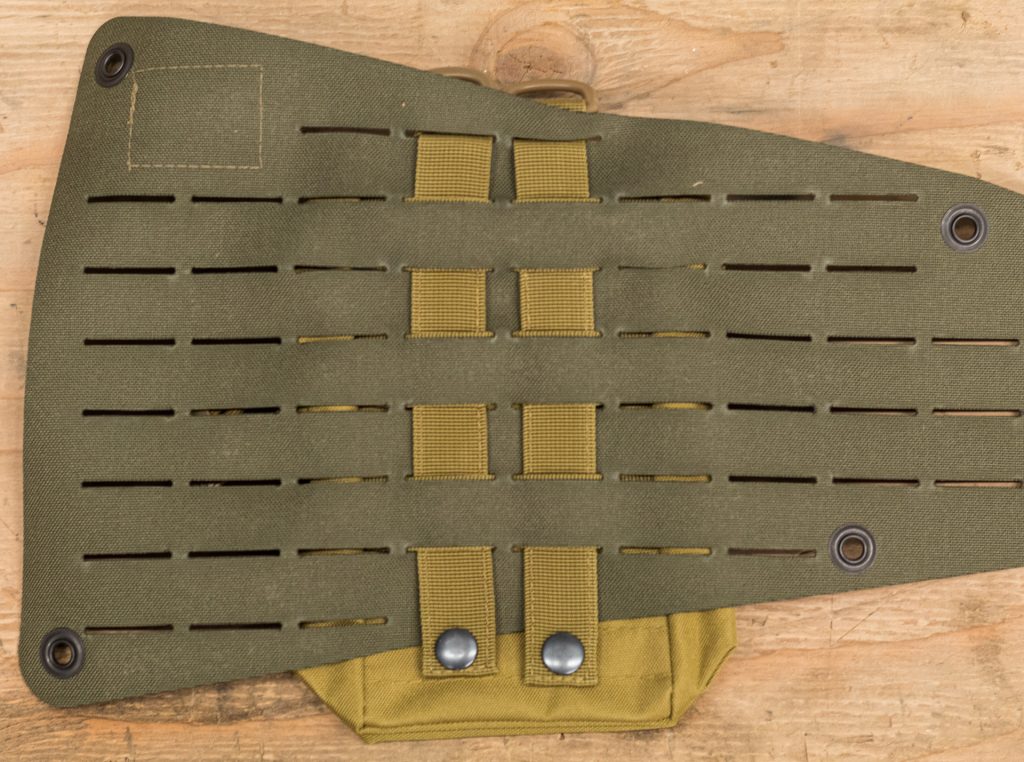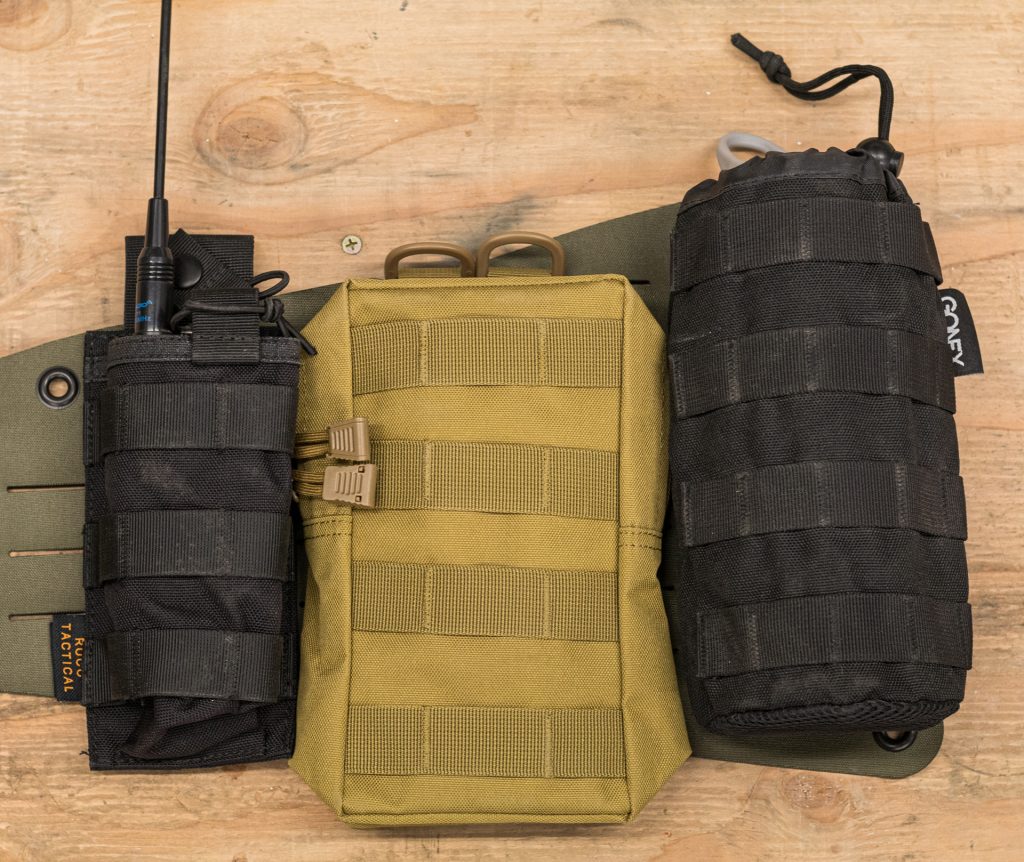 Installing multiple items onto the Invictus Offroad door skins is pretty simple and manipulating the skin to pass straps through is pretty easy and straight forward. We recommend using accessories with more stiff straps or SlickStick® style straps that allow you to retain a rigid installation, reduce accessory movement and allow for quicker re-customization.
When navigating the large surface of the Polaris RZR behind the seats MOLLE skin, you will find that the more you put onto the skin, the more difficult it is to navigate. We recommend using accessories with more flexible straps, if planning a large number of accessories, to reduce the amount of fiddling and wearing out your hands.
MOLLE Door Storage Installation
While installation of the Invictus Offroad MOOLE door storage systems was simple and straight forward utilizing the same five factory screw points that most door bags/pads use. There are some caveats though.
First: When installing these door skins on OEM Polaris RZR doors without any modifications or 3rd-party accessories, they have a perfect fit and cut-to-fit design that is top notch.
Caveat: While the skins fit perfectly, they did have a gap between the hinge-side mount point and center mount point. It's not huge but big enough we could slide our hand in/out. After talking with Invictus, they told us they will be reviewing that gap and seeing if there's an option for a possible fourth mount point to reduce this gap. It's always great to have companies in our industry willing to simply take that type of info and run with it!
Second: When installing full or lower door skins on OEM Polaris lower doors, the skins easily mount to the lower frame via the provided straps.
Caveat 1: When installing these door skins with OEM upper doors but 3rd-party lower doors that do not feature the OEM Polaris tubular frame, the lower door skins will not have anything to mount to. The only solution would be to use a double-sided zip tie mount. Not the longest lasting solution.
Caveat 2: 3rd-party lower doors may cover or make difficult to use, the upper door's required factory lower screw locations resulting in the door skin only being mounted at the top three screw locations.
Third: Using full door skins in conjunction with upper door bags/pads is a great option that allows you to remove the door bags/pads and still retain full door MOLLE storage.
Caveat: When using door bags/pads that use the same factory mount locations as the door skins, the riveted eyelets may stack up too tall to seat the factory screw. You might end up having to purchase longer hardware.
Behind the Seat Storage Installation
The behind the seat RZR MOLLE storage system is just as technically simple as the door skins, but with the additional inconvenience of having a car widths worth of accessories installed to pull it down.
We recommend removing all the T40 screws from the firewall plastics required for installation, outside of the top shoulder's middle screw. This top screw will hold the plastics in place. Then navigate the skin behind your harnesses and then use the four provided push pins to mount the skin at the top shoulder of the RZR. This will hand the skin and allow easier installation of the T40 screws. Once you're installed, then fold the skin back and remove the T40 screw found at the top-center of the shoulder; then reinstall the screw through the skin.
In Use it is important to understand that you only have ~8″ of usable space between the RZR seats. You'll really only be able to get one sizable MOLLE compatible storage bag or a couple bottle holders there. The rest of the accessories will be inaccessible unless you move the seats forward or remove them. If you're moving the seats forward, you'll be able to access any top mounted bags or items that attach/open from the top. Anything lower and you'll have to remove the seats.
If you are using bolted-down seats, you'll want to look for a different option as you will not be able to access 80% of the mounting point locations… that is unless you have the seats mounted further forward.
Durability
While using the Invictus Offroad MOLLE door and behind the seats storage systems, we pulled, jerked, pried and tortured the skins while accessory bags and tools were installed. There were no rips, tears or failures of any sort and everything performed perfectly. While there was some retained bowing and shaping to the PALS slots, they were not failures and they did not affect the performance of the system or the ability to mount/remove accessories.
Conclusion
Invictus Offroad MOLLE Door Storage
If you're in the market for a quality MOLLE storage system, and you own a Polaris RZR, and you have factory upper and lower doors... These are the perfect solution for storing easily accessed items on your Polaris RZR doors.
If you have 3rd-party lower doors, you might want to look at an alternative product unless those mounting points are compatible with allowing you to access the factory mounting points.
Invictus Offroad MOLLE Behind the Seat Storage
If you own a Polaris RZR and have movable/removable seats, the full-widths worth of mounting options allow for unlimited mounting customization. This skin is the perfect solution for those looking for quicker access to semi-frequently accessed tools or items. Unless you have bolted down seats, this is a solution that every Polaris RZR owner should own!
Can-Am X3 Owners!
Don't feel left out… Invictus Offroad will be rolling out Can-Am X3 doors early 2020 in both upper and full door variants with use with OEM Can-Am doors. Stay tuned!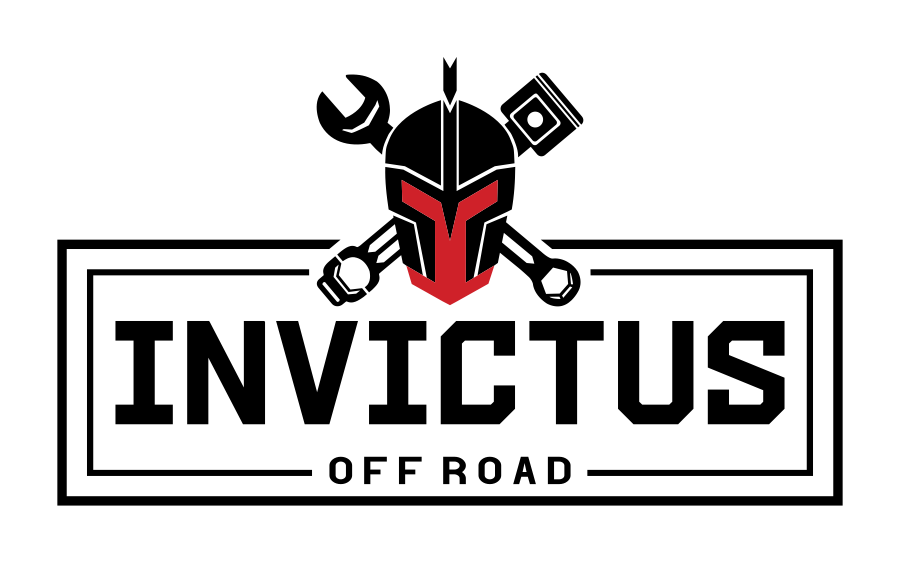 Applicable Links
Follow Invictus Offroad on Instagram and Facebook
Invictus Offroad MOLLE Storage Systems for Polaris RZR XP UTVs
Invictus Offroad Upper Door MOLLE Storage System – $95
Invictus Offroad Lower Door MOLLE Storage System – $135
Invictus Offroad Full Door MOLLE Storage System – $140
Invictus Offroad Behind the Seat MOLLE Storage System – $120
Pricing as of the time this review was published.
Special thanks to Invictus Offroad for supplying these products for review!
[wp-review id="1005″]
You might also like
---
More from Storage
---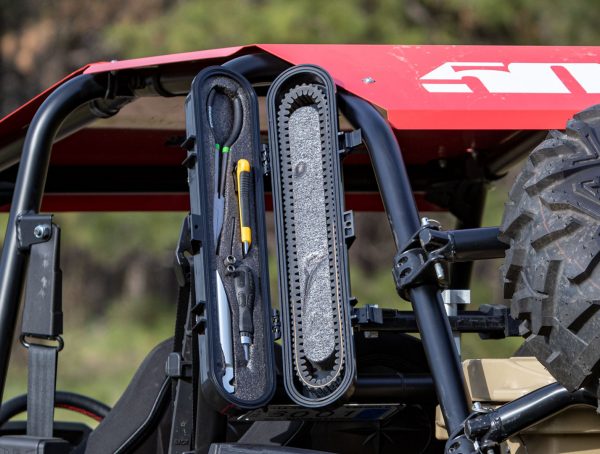 The Savage UTV Belt Case is a uniquely high quality product made in the USA. These cases provide the ultimate …
Editor Picks
---