In mid-2019 Honda jumped into the Fox Live Valve game (once held exclusively by Polaris and their Dynamix edition RZRs) with the launch of the Honda 1000X-4 Live Valve Edition. Ever since that launch, the community has scratched their heads wondering why there wasn't a 2-seat version launched at the same time. Today, Honda quietly pulled the covers off of their 2021 Honda Talon 1000X and 1000R Live Valve edition 2-seaters.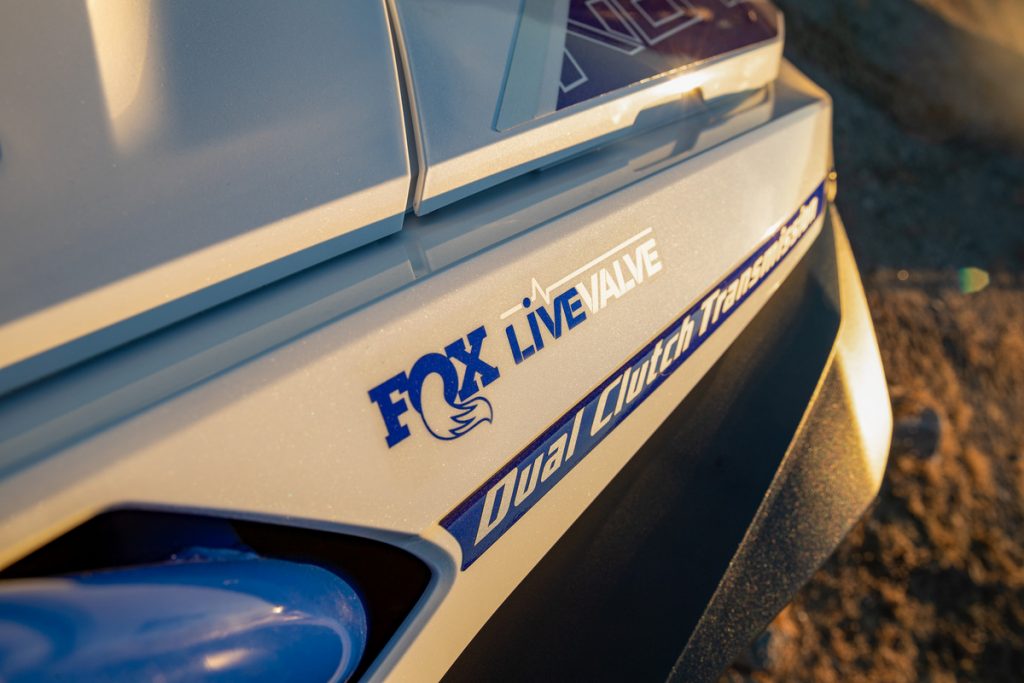 Available mid-2020, Honda's customers will be able to begin purchasing the Live Valve version of both the 1000X and, for the first time, the 1000R versions of the 2-seat Honda Talon UTVs. With the Live Valve comfort setting upgrades, you will also get the new Honda Launch Mode for rapid takeoffs. All other specs of the Talon models have remained unchanged.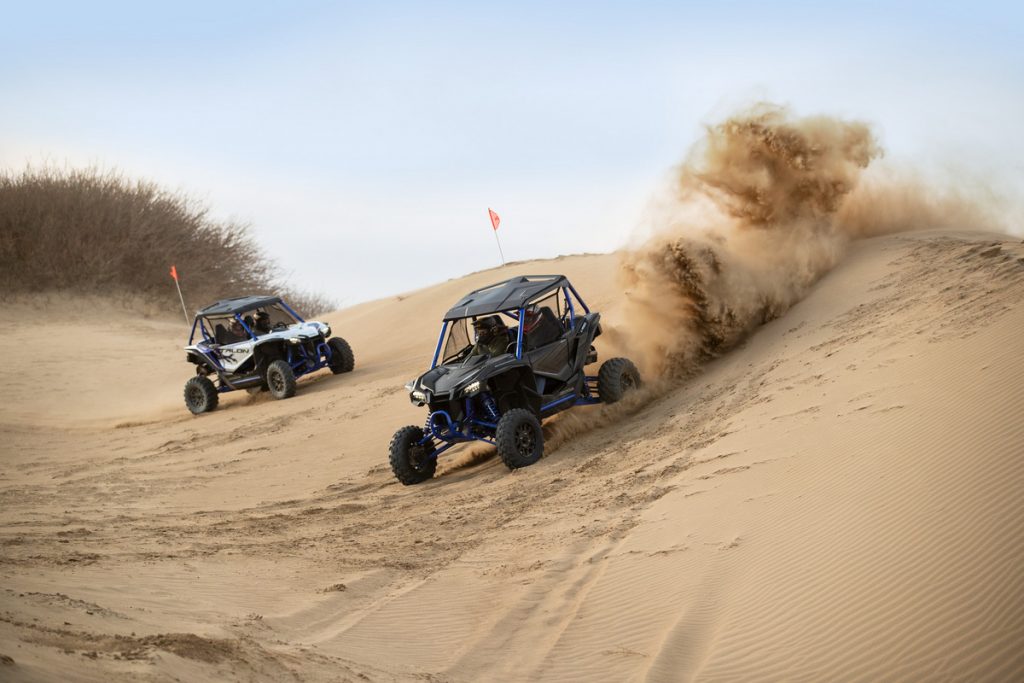 With pricing for the Live Valve versions left TBD at launch, the Honda website and dealerships have updated the Honda Talon 1000R Live Valve edition to $23,099; a $2,100 premium over the non-Live Valve edition. While pricing on the 1000X 2-seat Talon is still TBD, the four seat Honda Talon 1000X-4 is currently at a $2,000 premium over its own non-Live Valve version. We predict that the 1000X two seat vehicle will be at the same $2,000 premium.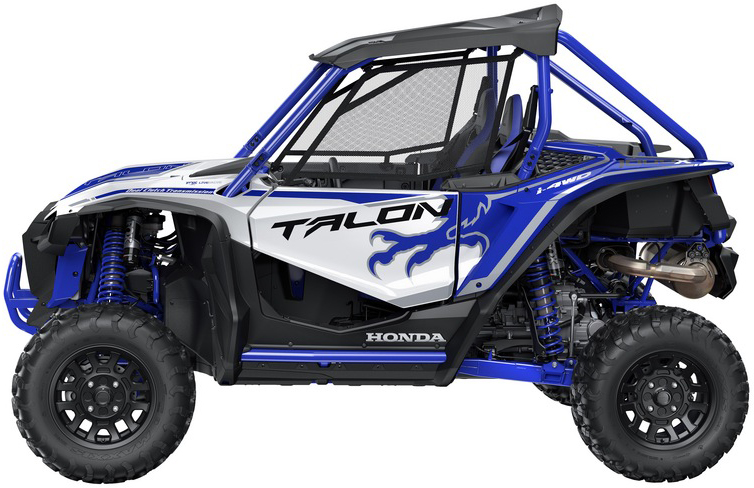 Honda Talon 1000X Live Valve Edition
Drivetrain
Engine: 999cc liquid-cooled Unicam® OHC twin 4-stroke, 8-valve
Bore & Stroke: 92mm x 75.1mm
Compression Ratio: 10:1
Induction: Fuel Injection (PGM-FI), 46mm throttle body
Transmission: Six-speed automatic Dual-Clutch Transmission (DCT) with high/low sub-transmission.
Drive Modes: 2WD and i-4WD
Shift Modes: Standard, Sport, Manual w/ paddle shifters
Suspension
Front Suspension: Independent double-wishbone
Rear Suspension: 3-link trailing arm
Front Travel: 14.4″
Rear Travel: 15″
Brakes: Dual 250mm hydraulic discs
Tires: 28 x 9-15 (front), 28 x 11-15 (rear)
Dimensions
Overall Measurements: 123.9″ x 64″ x 75.3″ (LxWxH)
Ground Clearance: 12.7″
Wheelbase: 87.6″
Bed Capacity: 299 lbs.
Turning Radius: 17.7′
Wet Weight: 1521 lbs.
Fuel Capacity: 7.3 gal.
Warranty: 1yr Transferable limited warranty
MSRP: TBD (est. $21,999)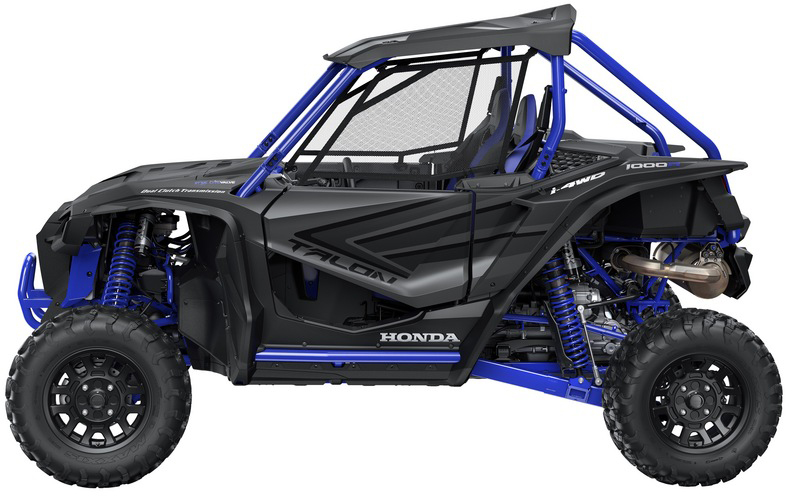 Honda Talon 1000R Live Valve Edition
Drivetrain
Engine: 999cc liquid-cooled Unicam® OHC twin 4-stroke, 8-valve
Bore & Stroke: 92mm x 75.1mm
Compression Ratio: 10:1
Induction: Fuel Injection (PGM-FI), 46mm throttle body
Transmission: Six-speed automatic Dual-Clutch Transmission (DCT) with high/low sub-transmission.
Drive Modes: 2WD and i-4WD
Shift Modes: Standard, Sport, Manual w/ paddle shifters
Suspension
Front Suspension: Independent double-wishbone
Rear Suspension: 4+ link trailing arm
Front Travel: 17.7″
Rear Travel: 20.1″
Brakes: Dual 250mm hydraulic discs
Tires: 28 x 9-15 (front), 28 x 11-15 (rear)
Dimensions
Overall Measurements: 123.9″ x 68.4″ x 75.6″ (LxWxH)
Ground Clearance: 13″
Wheelbase: 92.7″
Bed Capacity: 299 lbs.
Turning Radius: 21.3′
Wet Weight: 1556 lbs.
Fuel Capacity: 7.3 gal.
Warranty: 1yr Transferable limited warranty
MSRP: $23,099
Gallery
You might also like
---
More from Annoucements
---
Fox Factory, Inc. has just released their all-new ECS2 UTV Shock Cooler system! This is an after-oem upgrade and replaces …
Tensor Tire, most well known for their desert-focused DS "Desert Series" and DSR "Desert Series Race" tires, has today launched …
Today Kawasaki has launched what is, as many would say, the long-overdue 4-seat Teryx KRX4 1000! Let's take a look …
Editor Picks
---