While the UTV industry has recently seen releases from Can-Am with their Smart-Shox, new colors, and trims from Kawasaki on their Teryx KRX 1000 models and Yamaha yet to make a move… The most anticipated release of 2020 is arguably how Polaris will respond to increased competition in horsepower and suspension.
Polaris' forthcoming update to the RZR Pro XP platform is just around the corner! We've put together a complete breakdown of all of the rumors, eyewitness accounts, and insider gold nuggets to bring you a fully mocked-up visual and spec list for all the curious UTV enthusiasts out there! Again, we have no connection to Polaris to have any final line items, but these have all been details confirmed across multiple, non-related insiders.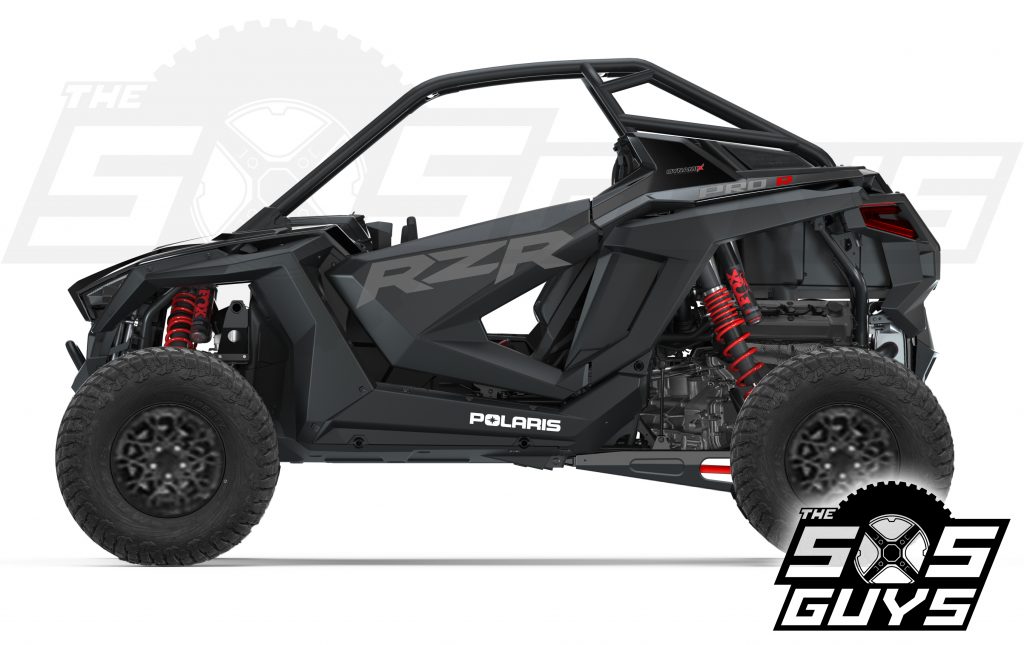 Above, you can see our attempt to mockup the rumors, eye witness accounts, and insider info passed onto us. While we've seen photos of these production-ready RZRs, we can't in good conscious share those against the good faith of our sources. We've tried to honor those people's willingness to talk with us with this render and to provide a glimpse into what to expect this August!
Powertrain
While this was a rumor for a long time, Polaris is expected to use the all-new ProStar 2.0L 4-cylinder engine just released in their 2020 Slingshot R autocycle. This block will probably NOT be the full two-liter block but will most likely be over 1000cc. This is a huge deal as most classifications for recreational off-road vehicles (ROVs) are limited to 999cc. We believe that Polaris is ready to break the mold and create a new class of ROVs; willing to spend the lobbying power to make sure these new powerhouse vehicles are accepted in the majority of desert and dune recreation areas. Additionally, these will do very well outside the U.S. market as they don't have these ROV classifications!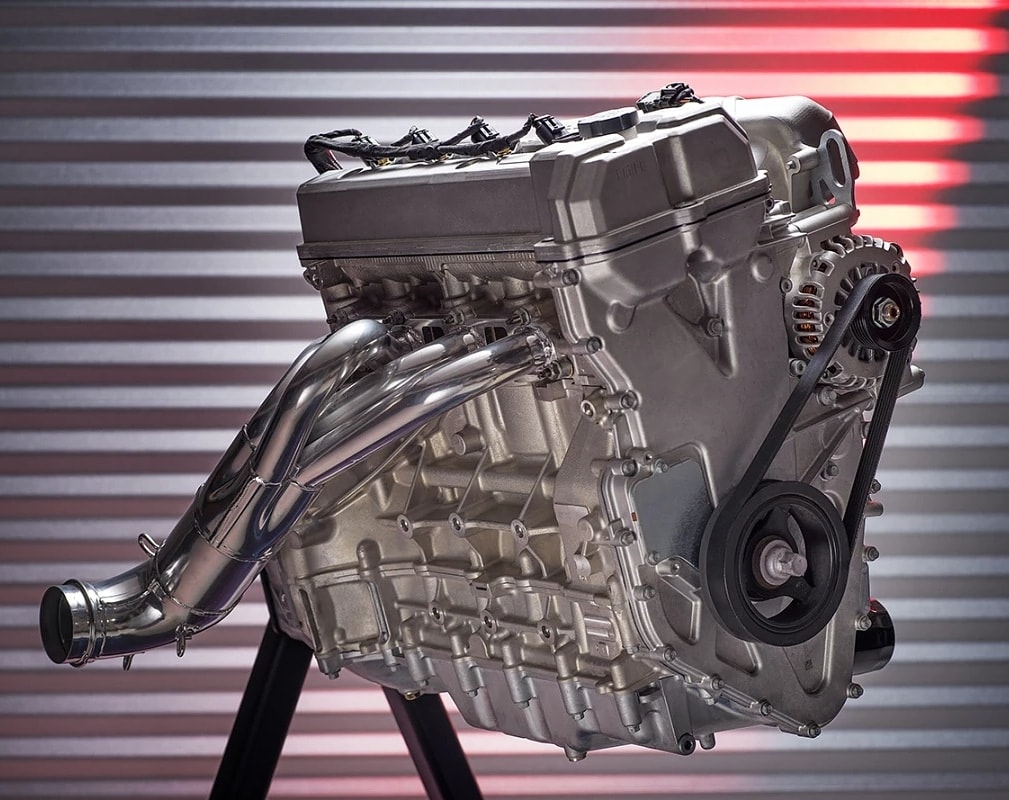 The 2020 Polaris Slingshot R's ProStar 2.0L 4-cylinder engine features 203hp naturally aspirated. The exhaust is also updated, to accommodate the 4-cylinders, with dual collectors on the header and 2-to-1 pipes at the muffler to which is a single exhaust tip at the rear-center of the machine; much like Can-Am and Yamaha UTVs.
Additionally, this block features a full-sized, belt-driven, alternator and plenty of future growth potential! From the pictures we've seen, this motor IS in the new RZR Pro R and will, sadly, launch without a turbo. With four cylinders, we believe it's not going to be possible to stay under the 1000cc limitations set by the national ROV classifications.
Transmission
We had initially reported that the 2021 RZR Pro R would launch with the 5-speed hydraulically shifted sequential transmission found in the 2020 Slingshot. We've been informed that this will be pushed to a Spring 2021 release and the "base" version will launch with a new CVT housing (first reported on our Facebook page) located BEHIND the seats!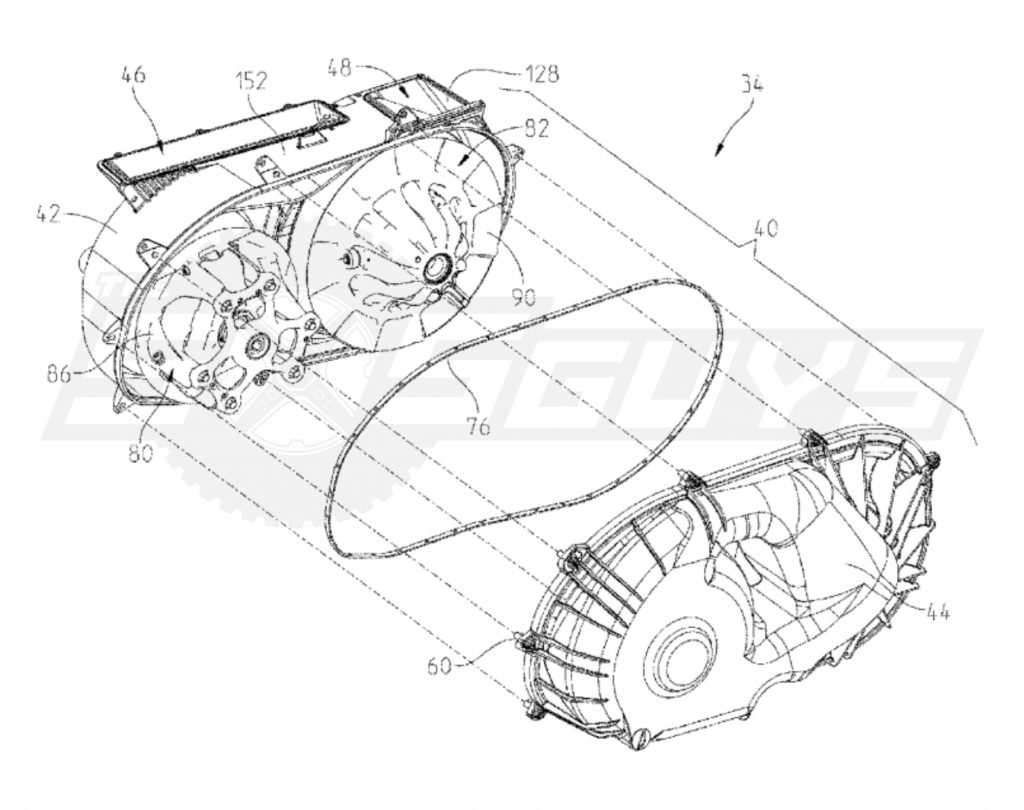 The new CVT housing will let all the belt-loving fans out there rest easy for at least an initial option that will be lighter and less complicated to maintain. It is still unknown if you'll be able to access the CVT from outside the cabin or if you will have to remove the seats and rear firewall to change your belts.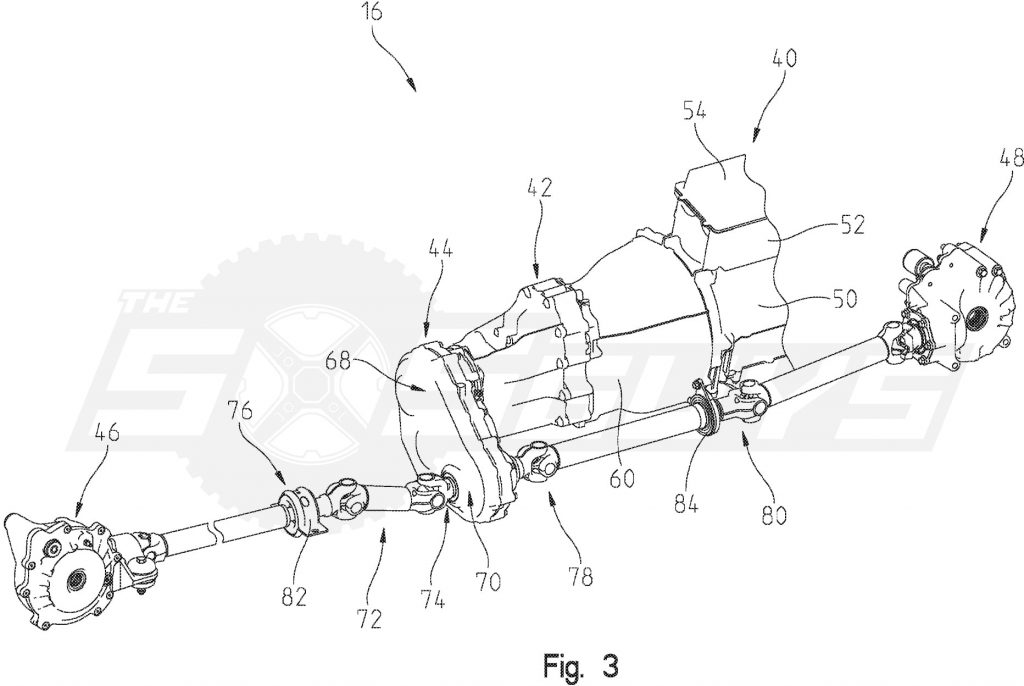 The power will be delivered to the wheels via a split-axle transfer case. The patents show that the RZR Pro R will eventually have the sequential transmission, but we haven't found a patent that covers an included CVT but we believe that it wouldn't be a problem to have a slightly elevated CVT above the driveline. The dual drive lines will then connect to dedicated front and rear differentials.
Suspension
The 2021 Polaris RZR Pro R will feature similar Dynamix shocks to the 2020 RZR Pro XP. From all the pictures we've seen of the Pro R, we believe the rear shocks may have been upgraded to 3.0″ Fox Podiums with both slow/fast compression and rebound controls. This would match the tech just released from Can-Am on their 2021 Maverick X3 X RS Turbo RR with Smart-Shox.
It's been said that the Dynamix 2.0 version that was put on the Pro XP was essentially just a new algorithm and new valve on the original setup. We're hoping that this update brings a "true" 3.0 update with much better handling as the current models are still somewhat squishy and easy to bottom out.
Additional suspension changes include larger trailing arms with an exposed stiffening rail and all-new front a-arms. The arms will feature a new U-shaped upper arm with space to allow the shock to pass through the arm to the lower arm for a much better race-inspired configuration!
Width
When the 2020 Polaris RZR Pro XP came out, everybody was astonished that it came out at only 64″ wide. Since that launch, we've all been longing for a 72″ or wider version for the desert and dunes. We're glad to say that it would appear that the RZR Pro R will be coming out at 74″ and possibly a wider version when the 5-speed version and/or a turbo version come out.
Tires & Wheels
The original "blue tarp" and desert spy photos showed a 5-lug 15″ wheel. We believe that, from the pictures we've seen, these are actually coming out and that we will be seeing a new era of OEM wheels featuring a 5-lug hub and 15″ wheels standard.
Mated to the wheels, it appears that the 2021 RZR Pro R will have Maxxis Liberty 10x32r15 tires. These tires are a great all-terrain solution. As these cars are going to be too big for many trails, the environments they will typically be found in will be desert and dunes, to which you would be installing paddles. Liberties are the perfect OEM desert terrain tire with the understanding that there's few OEMs like Maxxis out there to fulfill these types of OEM orders.
Cage
The included OEM ROPS cage will be updated from the 2020 RZR Pro XP cages. The c-pillars will now flow over the air intakes on the shoulders of the RZR and have a single b-pillar that connects with a couple cross-supports to the c-pillar. This is a much simpler and honest design. We say honest because the current version has dual b-pillars, but they connect at the bottom via a small cross bar that then connects to the frame. They are not true pillars. This updated design seems to be a direct transfer of energy which means safer!
4-Seater Options
As is usual with Polaris RZR releases, the initial launch will be made with the 2-seater option with the 4-seater following up a month or two later; extending the press coverage. Again, this will be based off of the current RZR Pro XP 4 chassis.
Release Dates
Typical RZR releases start with an investor call on a Tuesday at the end of July. The dealer meeting for all the following model releases happens the weekend after the investor call. With Covid-19 causing a lot of changes to large gatherings of people, we're assuming this dealer meeting will be virtual, but we believe the schedule remain consistent. This year's investor call on July 28th could mean that we will know all about the 2021 Polaris RZR Pro R that weekend of August 1-3rd. MSRP is not known at this time, but we assume it'll be in $33,499-$37,999 range.
Summary
This release doesn't fix the mustache light or the funny Aztec look the 4-seater has on the RZR Pro chassis… but what it does do is usher in a new era of power and growth to the RZR platform. We suspect that the 4-cylinder to be a Pro R platform motor and the Pro XP trims to be the dual cylinder motor from now on. We expect that there will eventually be a RS variant with a Turbo and the 5-speed transmission, but we'll have to wait and see!
Updates
As we get additional information, or updates to what we've already said, we'll publish those updates and keep this content as current as possible all the way up to release day!
You might also like
---
More from Annoucements
---
Segway Powersports launches the all-new 2024 Super Villain SX20T UTV platform including a 235hp gas-only and 330hp hybrid versions!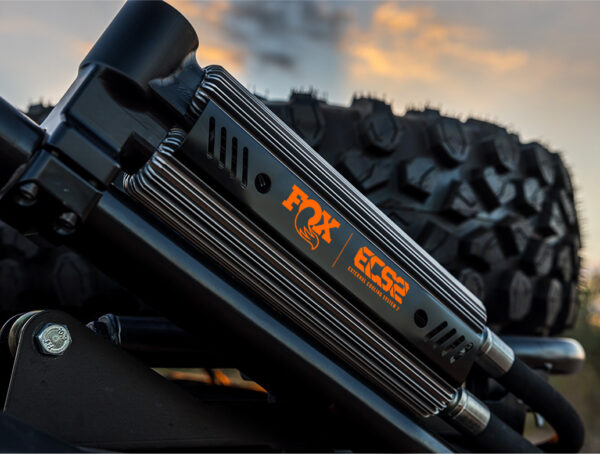 Fox Factory, Inc. has just released their all-new ECS2 UTV Shock Cooler system! This is an after-oem upgrade and replaces …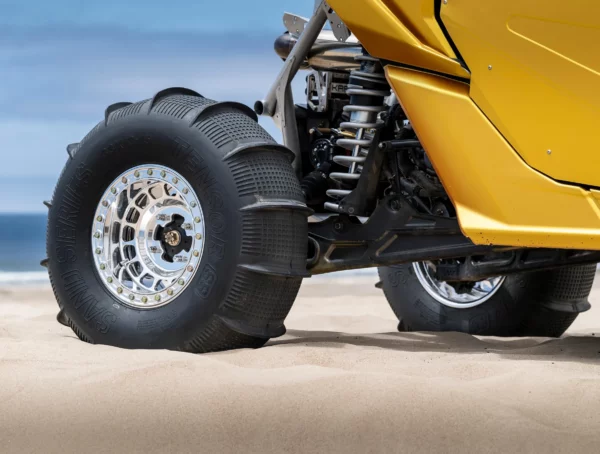 Tensor Tire, most well known for their desert-focused DS "Desert Series" and DSR "Desert Series Race" tires, has today launched …
Editor Picks
---