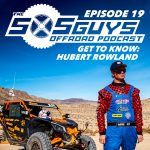 On this episode of the SXS Guys Offroad Podcast we have a very special guest joining us from the far reaches of Tennessee! From the garages of the Nitro Circus Pastranaland compound, join us as we "Get to Know" everybody's favorite redneck Hubert Rowland! We get to hear about his early years with dirtbikes, ramp building and the progression into UTVs and offroad racing. Stick around to the end for a special guided tour around the Pastranaland garage!
Quick link: https://sxsguys.link/episode19
Bonus Content: Check out the Episode 19 Extra content from this podcast!
Rundown
0:00:13 – Introductions
0:01:53 – Living at Pastranaland
0:04:05 – 2-Stroke Life
0:06:40 – In the Beginning
0:10:53 – The Compound
0:12:19 – Building Jumps
0:20:33 – The Trans-American Trail
0:37:13 – Road Worthiness
0:43:33 – TransAm Standout Moments
0:47:29 – East vs. West Coast
0:51:58 – Switching to Can-AM
0:56:25 – Rednek Racing KOH
1:08:43 – Maturity Level Balls
1:12:18 – Career Highlights
1:18:21 – Powersports Safety
1:26:03 – Upcoming Events
1:32:35 – Taking Over Gymkhana
1:34:27 – Wrap-up

Follow the SXS Guys
Social: YouTube / Facebook / Instagram / Twitter
Podcast: Apple / Google / Spotify / Stitcher
You might also like
---
Editor Picks
---