This video and written First Look has been sponsored by Westside Motorsports! Thanks to Westside for giving us access and drive time on this machine! Give them a visit for all of your offroad UTV needs.
The second half of 2019 was dominated by a busy release cycle of numerous 2020 pure-sport UTVs. Manufacturers like Can-Am dropped big horsepower updates and Honda jumped into the technology race with the addition of Fox Live Valve models. We also saw the evolution of the Polaris RZR platform with the release of the 2020 RZR Pro XP. In September of 2019, we were presented with Kawasaki's first attempt into the pure-sport side-by-side market; the Teryx KRX 1000. Today we're taking our First Look at the KRX, going over all of its specs and features. With the 2021 KRX models soon hitting the market, we'll see if Kawasaki's freshman attempt is something worth investing in!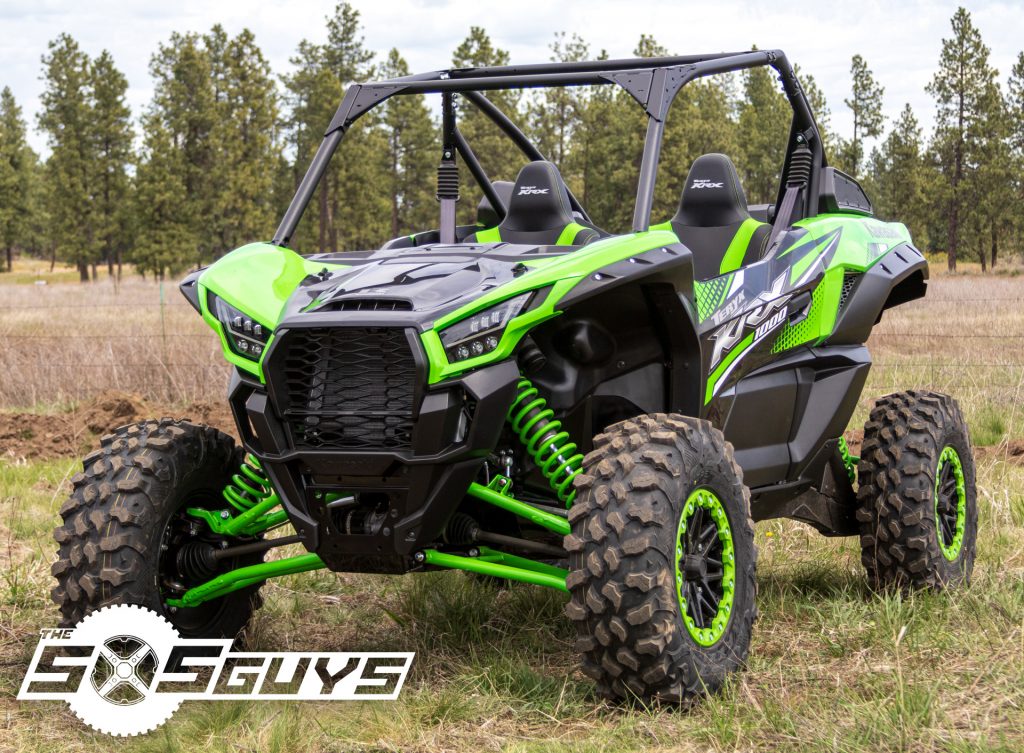 History
Kawasaki debuted the Teryx platform in 2007 for the 2008 model year. This was Kawasaki's adaptation of its already successful Mule platform for the emerging sport UTV market. At this time, the Yamaha Rhino was gaining popularity in offroading and racing scenes, and Polaris was quick to jump in with the first-ever RZR side-by-side; the most popular sport-focused side-by-side to date.
Over the years, the Kawasaki Teryx family of two and four-seat UTVs has quietly built a large and loyal fanbase. The Teryx UTVs have always provided great value in both sport and utility. While the current retail price of a Teryx starts at just over $13,000 USD, you are only getting a 783cc V-Twin power plant with 8.3" of dual wishbone suspension travel. Over recent years, competitors have come out with machines nearing 200 horsepower and two feet of trailing arm travel! Kawasaki needed to respond!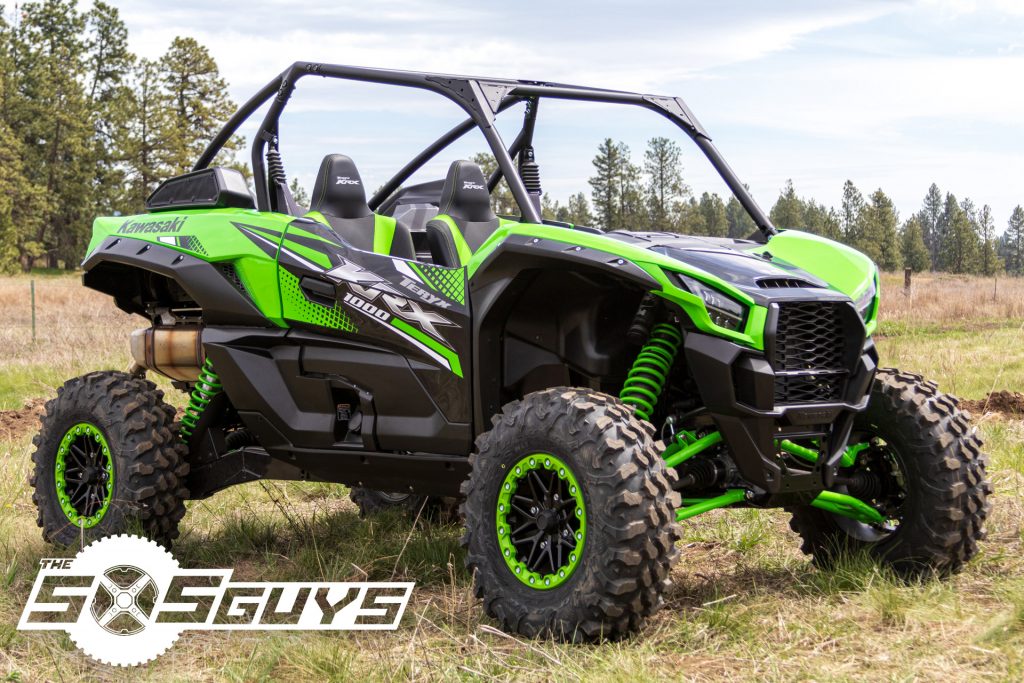 Overview
This is the 2020 Kawasaki Teryx KRX 1000, a complete rethink of what a Teryx could and should be. While the KRX also launched in a White color variant, the very first thing you notice about the KRX is the abundance of Kawasaki Lime Green! I can't remember a time when a model release from a manufacturer screamed that manufacturer so loudly. Even Honda's Red Talon didn't really scream Honda like this Lime screams Kawasaki. Combine exaggerated body lines with, what can only be called, the industry's best looking front end, the KRX is truly striking and we love it!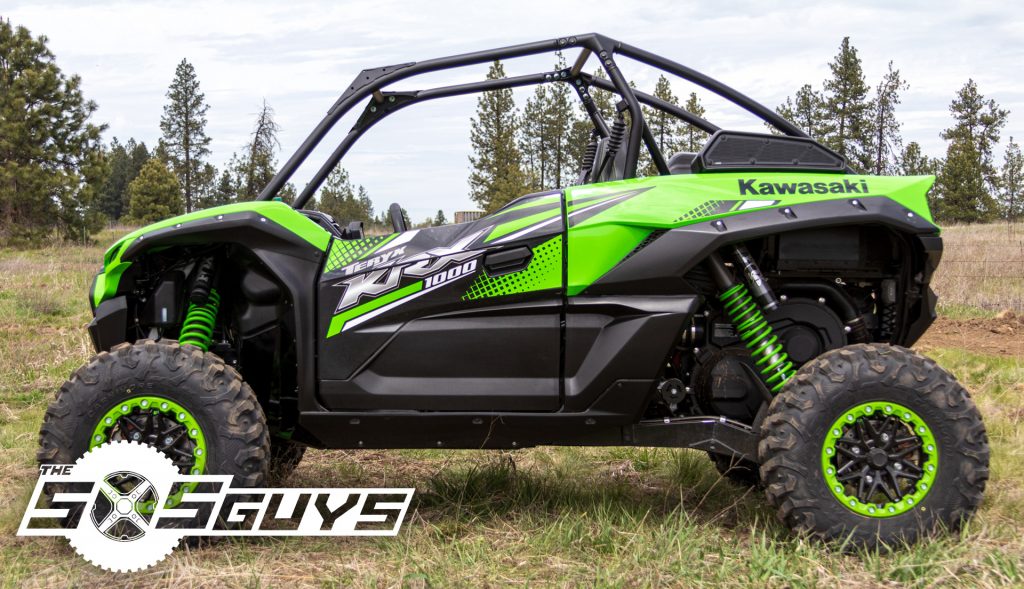 At 130.1" long, 68.1" wide and 75" tall, the Teryx KRX 1000 is 5" longer than a Polaris RZR Pro XP and 7.5" taller than a Can-Am Maverick X3. With a wheelbase of 98.8", the KRX's stance is 11.2" longer than the Honda Talon 1000X! This machine is a beast with a wet weight of just over 1896 lbs… almost 100 lbs. more than the mentioned Can-Am or Polaris and 400 lbs. more than the Honda Talon!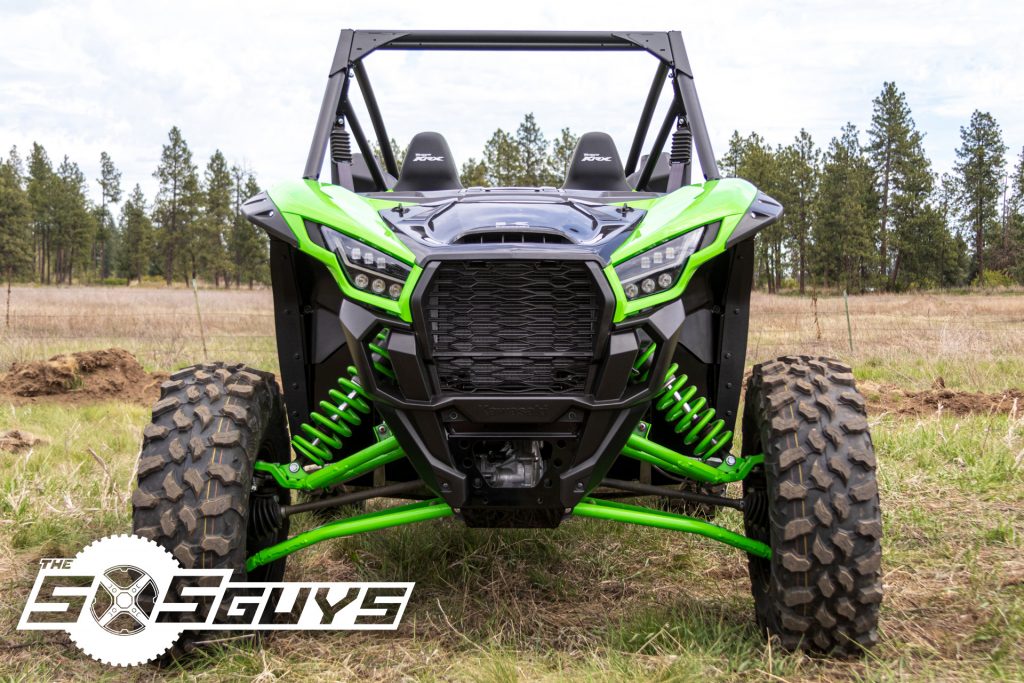 What you don't really understand from these specs on paper, is how much presence the KRX has next to other UTVs. The high doors, large open wheel wells, and aggressive styling all contribute to a big and tall package that you honestly have to stand in front of to appreciate.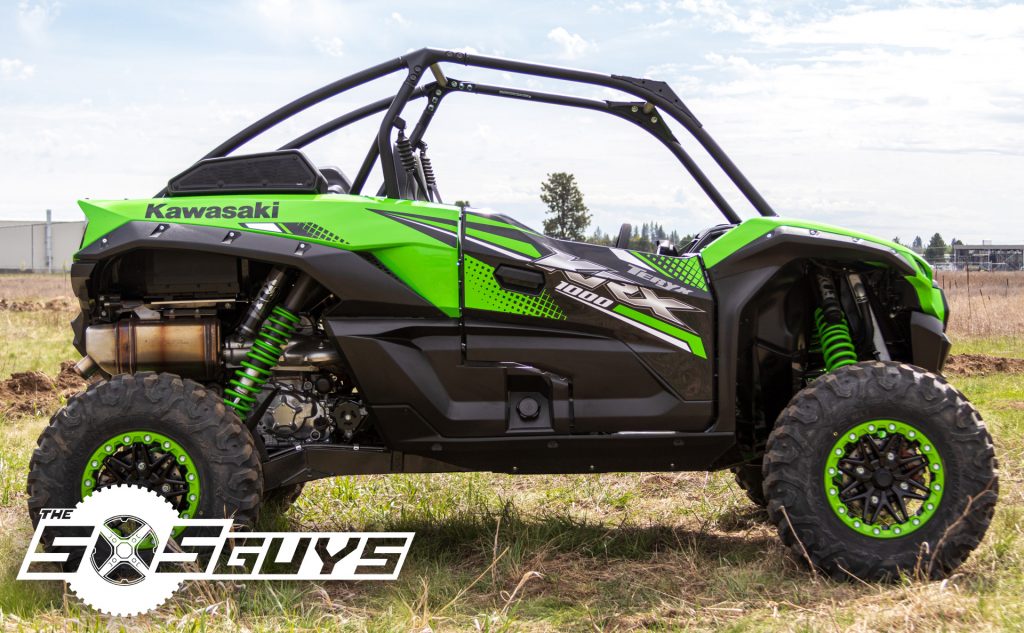 Wheels & Suspension
The 2020 KRX 1000 comes stock with 8-ply rated MAXXIS Carnivore 31x10R15 tires on Kawasaki 15×7 (5-2 offset) aluminum alloy bead-lock wheels featuring Lime Green rings. While Kawasaki could have gone full-blown 32" or 33" tire, going with a 31" tire provides a planted foundation and contributes to the KRX's 14.4" of ground clearance.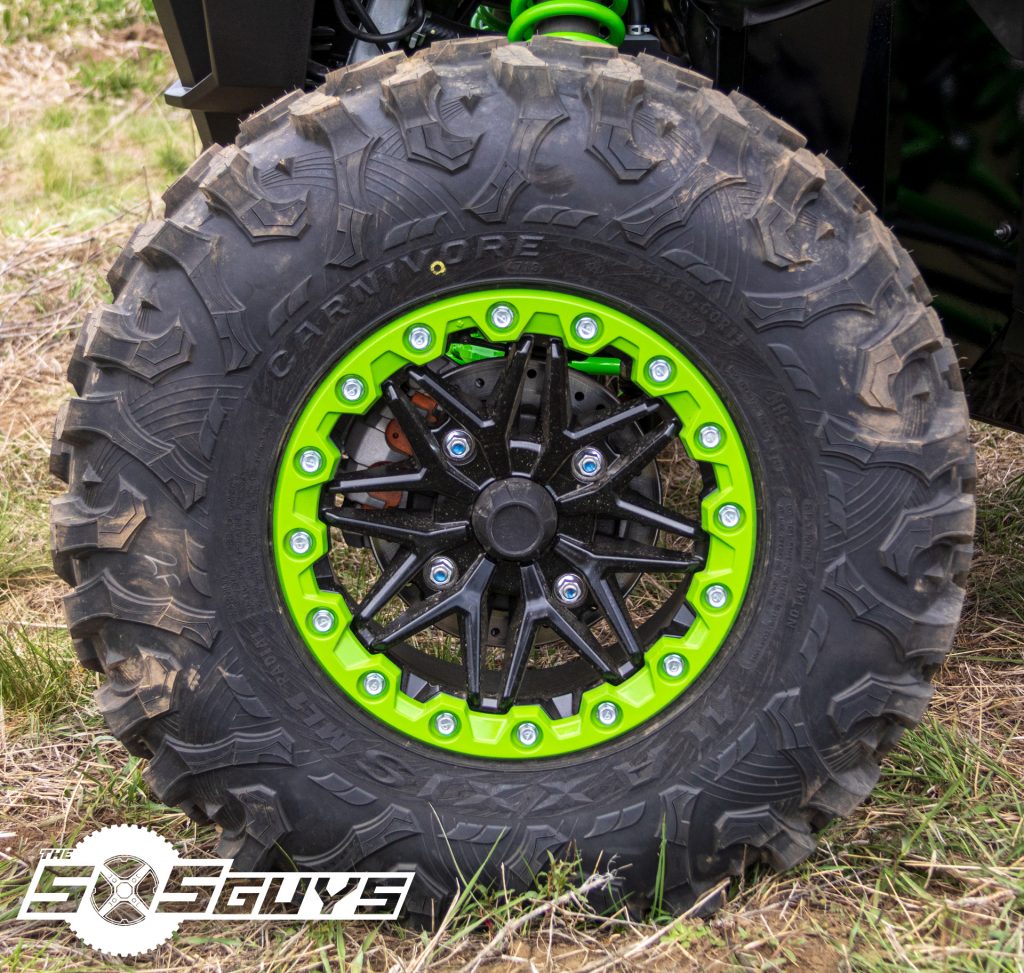 Hidden within the bead-lock wheels are a full set of hydraulic disc brakes with single-piston calipers in the rear and dual pistons in the front. Wheel scrapers and electronic power steering is also included.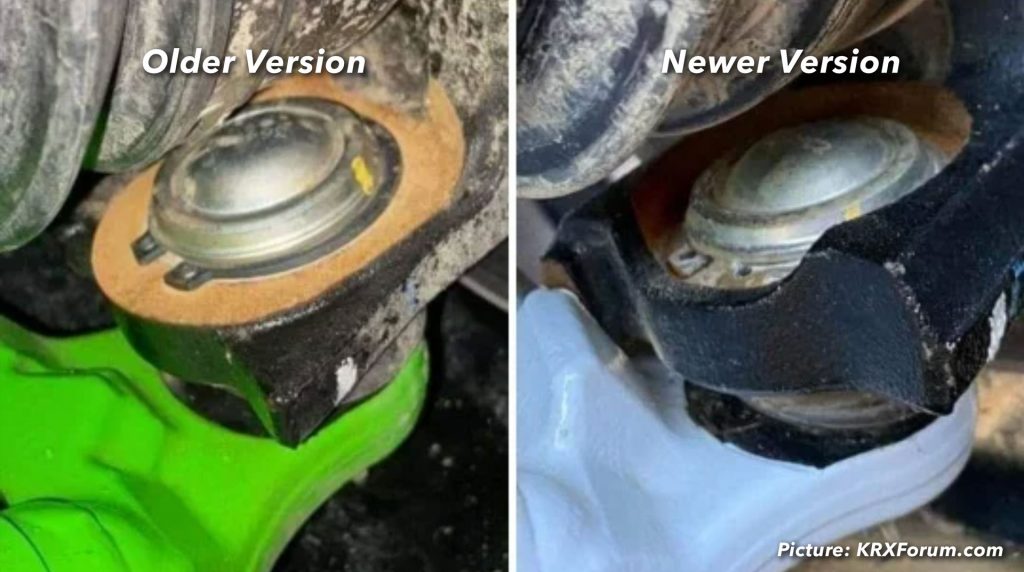 Linking the wheels to the chassis, the KRX 1000 brings the beef with thick, high clearance, reinforced front A-arms, and boxed rear trailing arms. Now that the KRX has been in the hands of the consumers for over six months, consumers have found a weak point in the cast knuckles holding the ball joints. These also act as steering stops against the lower a-arm. These cast parts were too thin and would fail under hard impacts. Kawasaki has already begun the recall process on these and any new model going out the dealership's door should have the updated parts.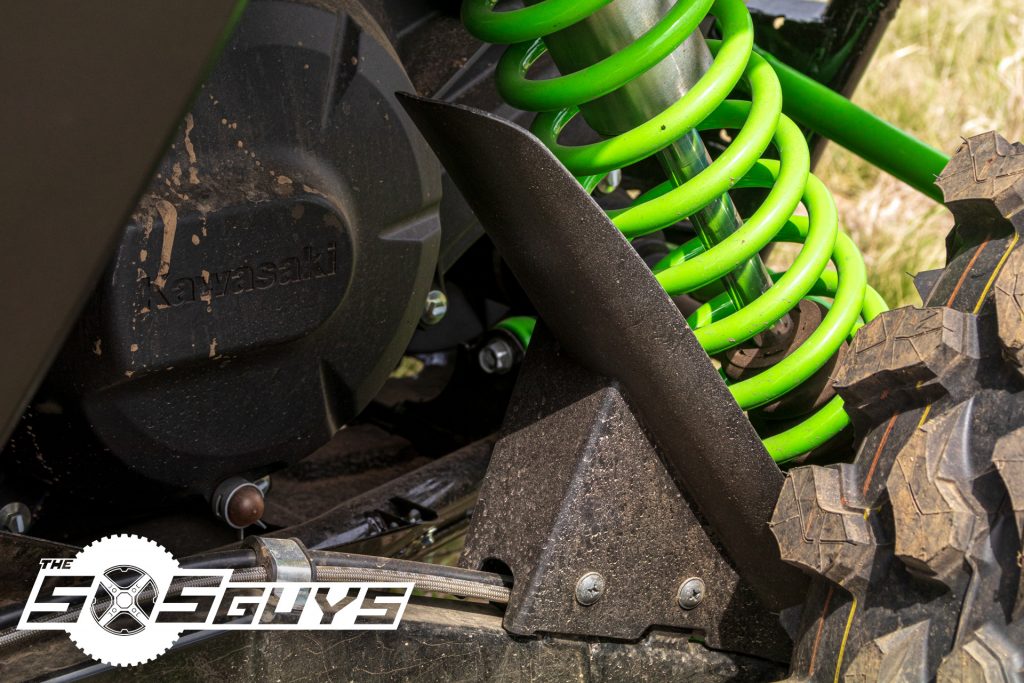 Additional protection of the chassis comes by way of a full-length UHMW skid plate with key components (battery, etc) protected by steel plates. Buyers coming from the RZR world will be appreciative of the steel front wheel well guards stopping rocks and tree limbs from compromising the firewall and your safety!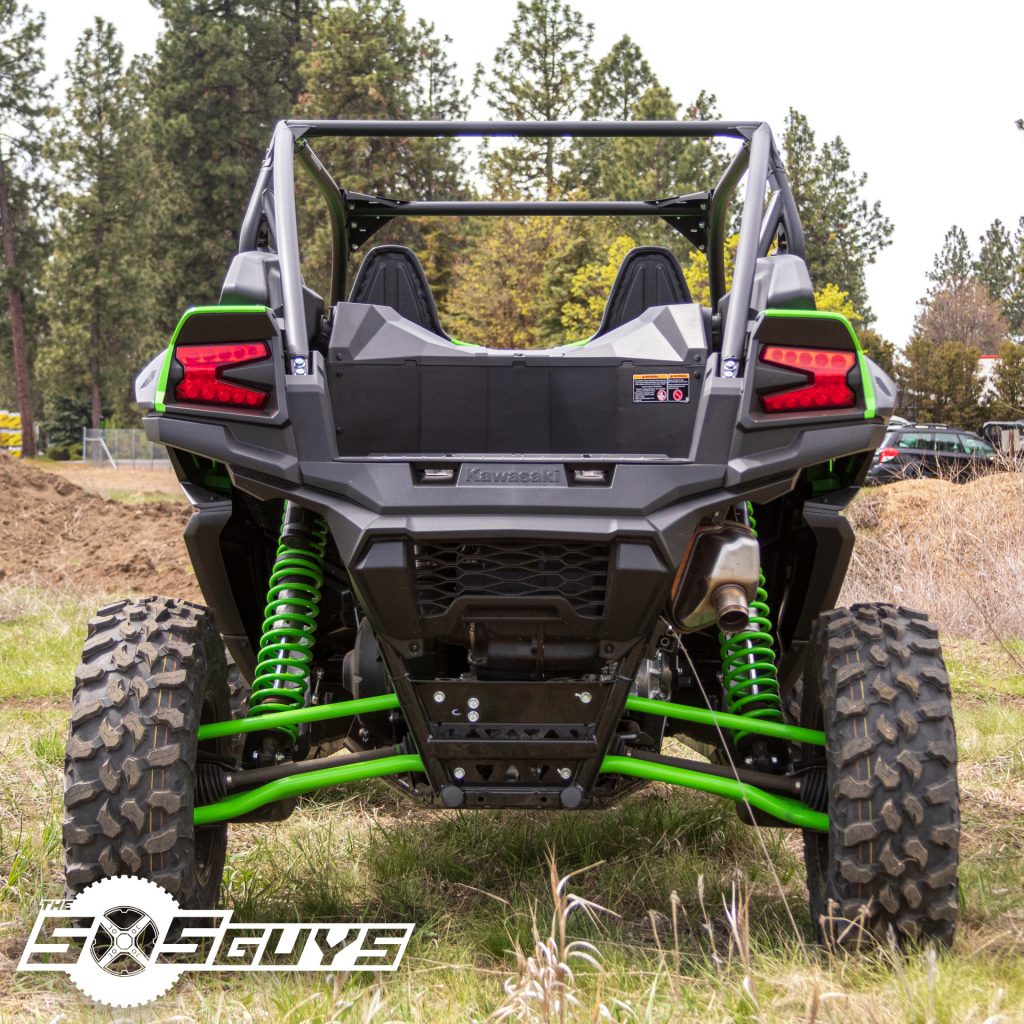 While the rear of the Kawasaki's suspension may look like the familiar dual radius rod setup of competitors, it actually does feature a third arm in front of the hub to create a full 4-point rear linkage helping reduce toe-in during droop. This is a huge benefit to tail-end stability during impacts and drifting.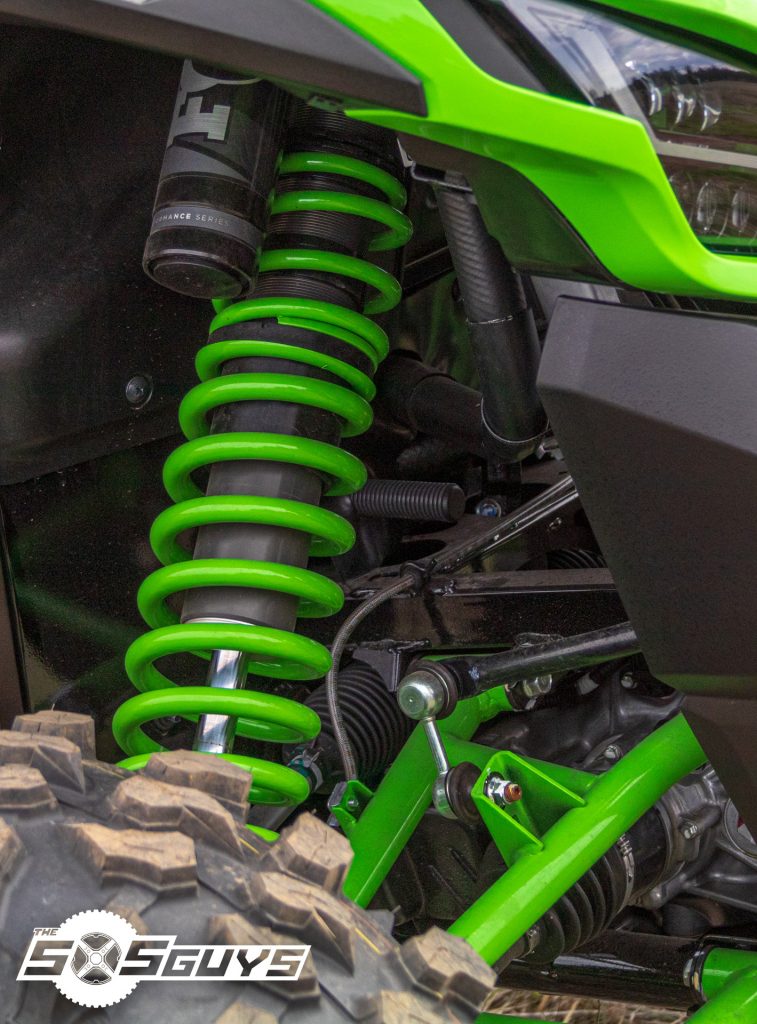 The KRX ships with Fox's Podium 2.5 internal bypass coil-over shocks featuring 24-position low-speed compression adjustment clickers. These industry-proven shocks have also been given stainless steel sleeving for enhanced durability when articulating the high and low-speed springs. Unfortunately, these springs are a custom diameter and upgrades down the road may require special ordered springs. Currently, upgrade shops like Shock Therapy are only doing them in-house and at-home upgrade kits are slowly being developed.
To assist in high-speed maneuvering, front and rear sway bars are also present. Driving the KRX through bumps and chatter was Cadilac-like and a joy to drive. One reason is due to the negative camber provided by the shorter upper control arms in the front and back. These provide less wheel scrub and better traction throughout the suspension's travel. We did not have an opportunity to really push the KRX to the limits on our backwoods trails or dune whoops, but this setup is competent enough for the majority of drivers out there.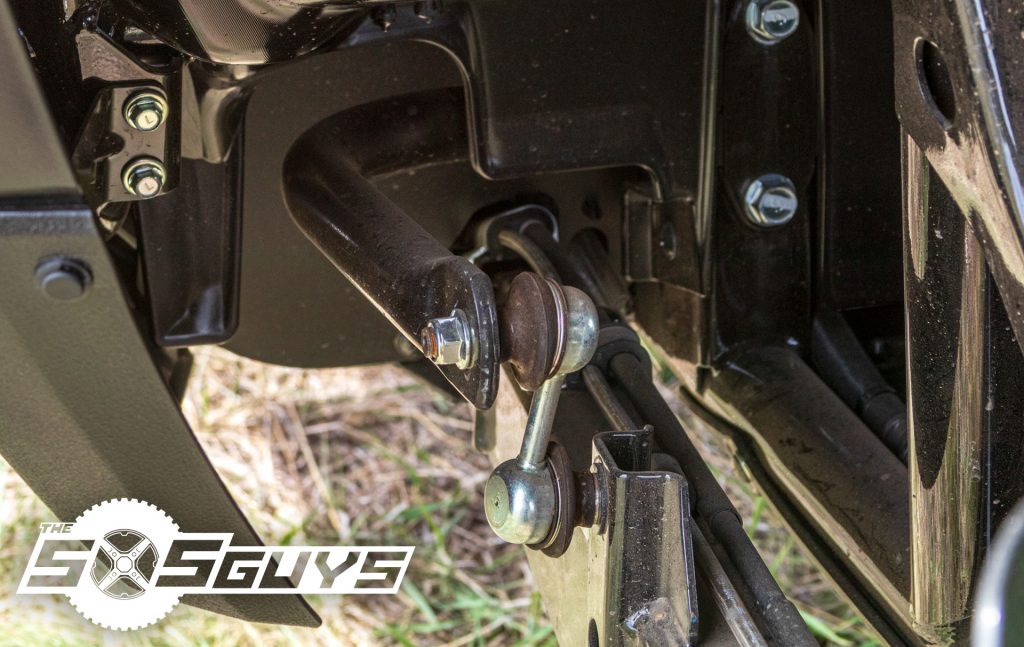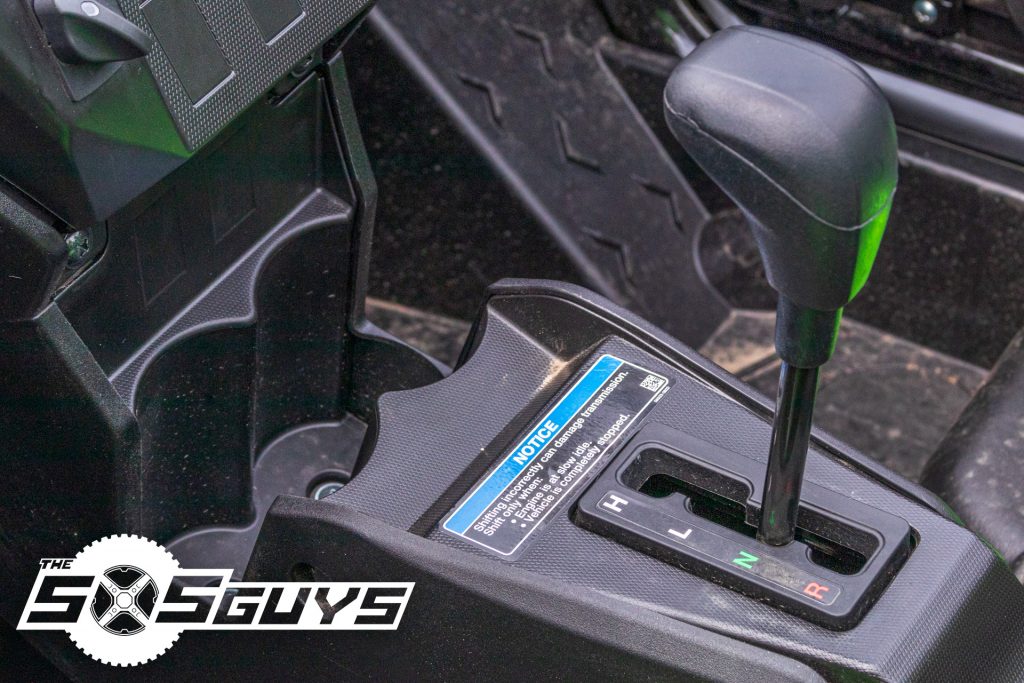 In the rear left wheel, you have something few other UTVs have; a parking brake! This is a manual leaver just like you would experience in a standard automobile. Why? Because the Kawasaki Teryx KRX only has a 4-way shifter: High / Low / Neutral / Reverse. While you can technically bring the KRX to a stop and get out of the vehicle in any gear, you're only really in Park when you have shifted into Neutral and have engaged the parking brake. Trust us when we say that this takes some getting used to if you've come from any side-by-side other than a Yamaha YXZ!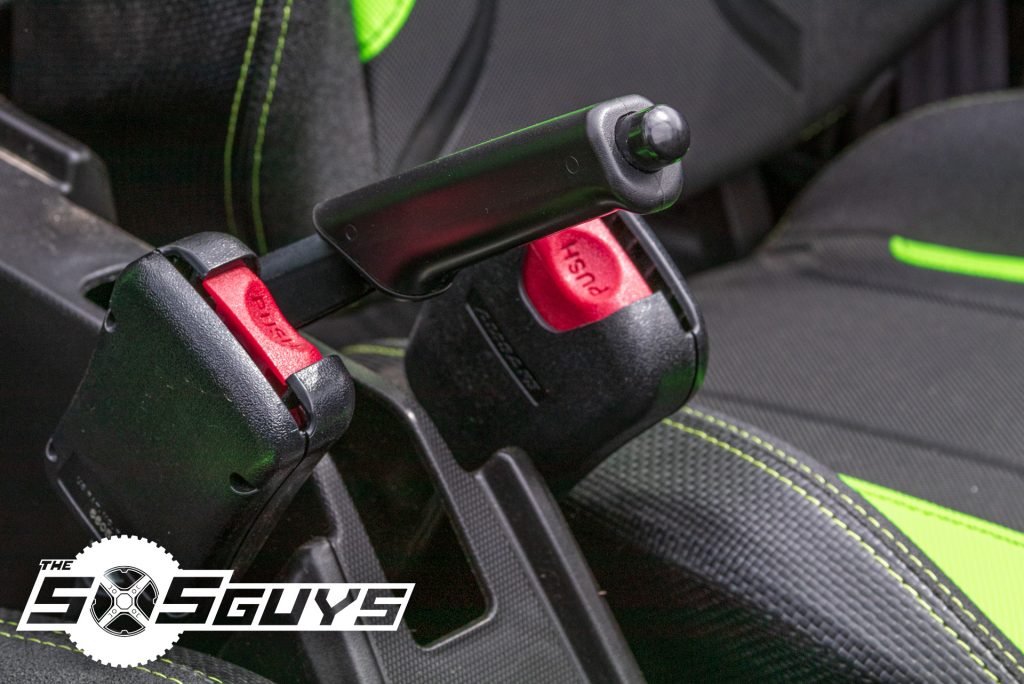 Drivetrain
The KRX has a two-speed transmission and is married to the engine by way of a large CVT (continuously variable transmission). This clutch belt is longer and thicker than most other common UTVs on the market, similar to the Arctic Cat Wildcat XX and forthcoming Speed UTV line of vehicles. The primary clutch features four large flyweights and combined with a near 3:1 CVT ratio, engagement of the stock clutch is just about the smoothest we've ever felt in the UTV industry.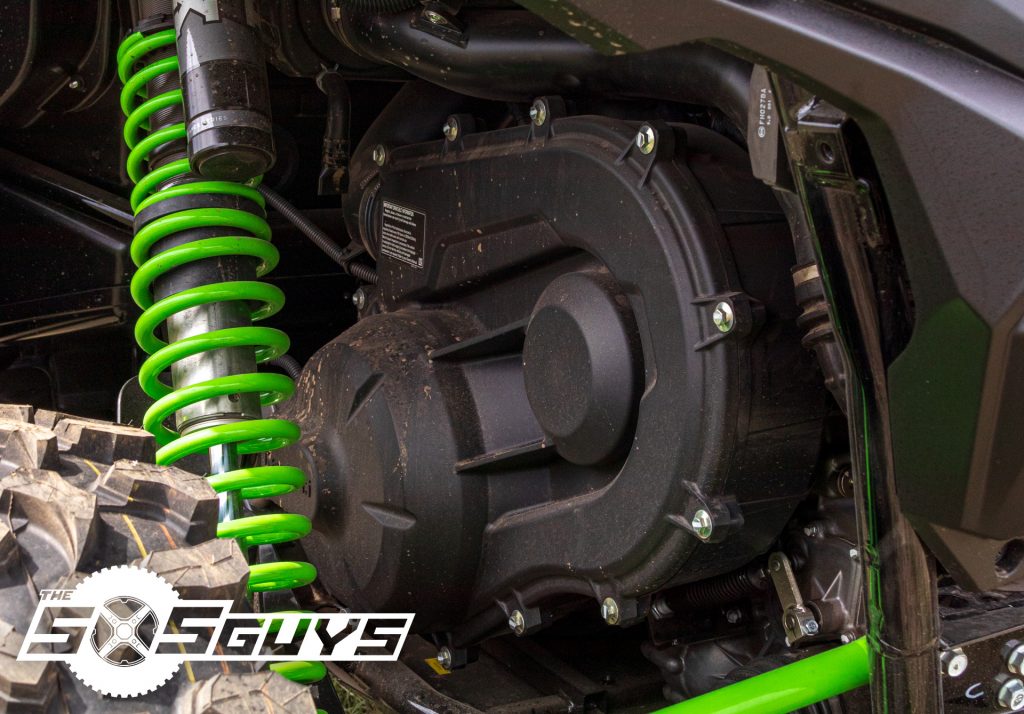 The Kawasaki KRX 1000 features a naturally aspirated, 999cc 8-valve 4-stroke, parallel-twin Kawasaki motor with a dual overhead cam (DOHC) and a large front-mounted radiator. Kawasaki hasn't published horsepower numbers (probably marketing reasons) but applications to California emissions councils calculate out to around 112hp at the flywheel. These numbers are right inline with base offerings like the 110hp Polaris RZR XP 1000.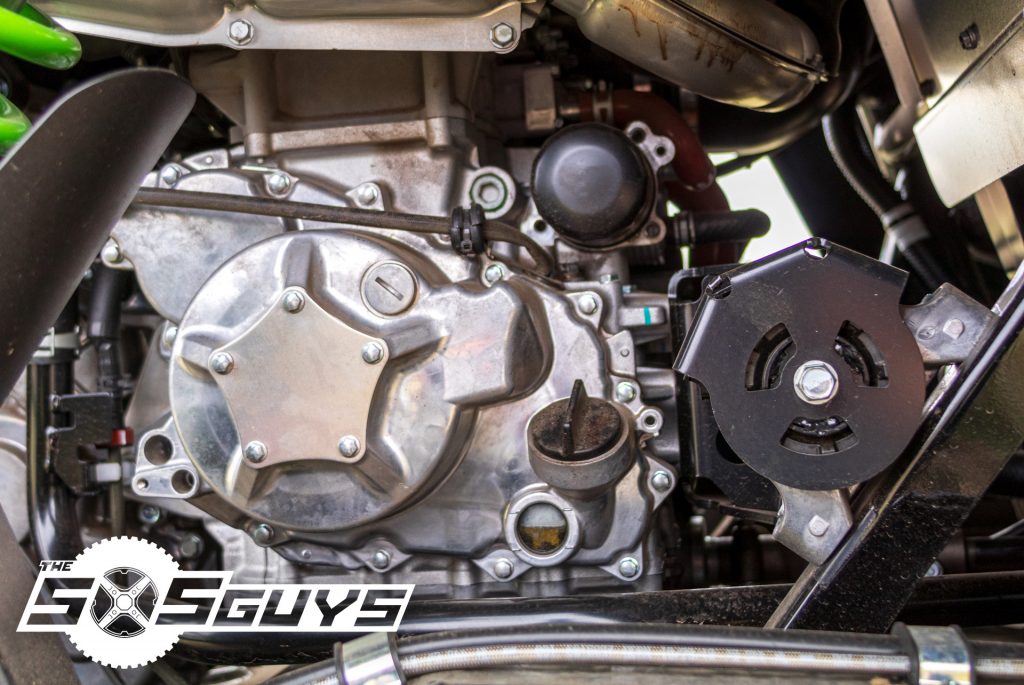 This powertrain is very smooth sounding and is complemented by a very smooth power ramp on the throttle-by-wire. The power delivery between hammering the throttle and feeling put back in your seat is very smooth and might be too smooth (or slow) for high adrenaline-seeking drivers. We would venture to say that it's perfect for a family rig or rock crawling enthusiasts.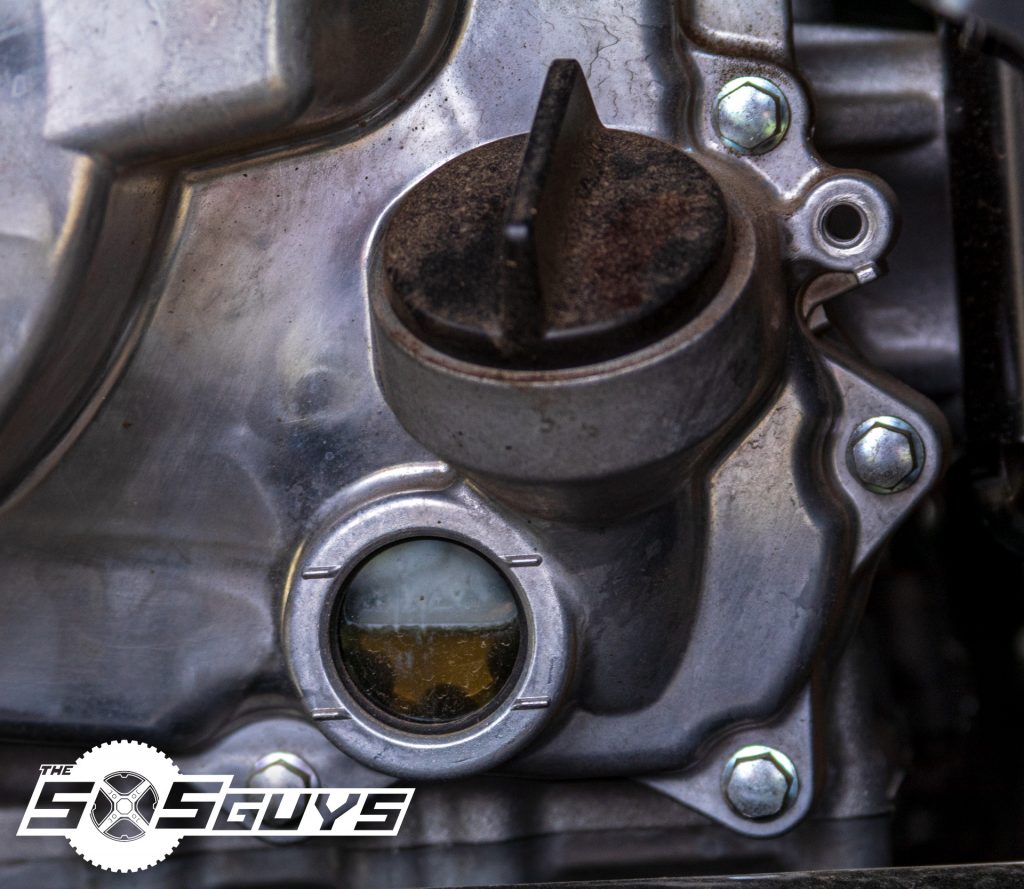 An interesting touch on this motor is that Kawasaki has chosen to include a sight glass into the oil pan. From the side of the motor, you can visually see the oil level and clarity without ever pulling a dipstick! This is a great usability feature until you visit the KRX forums! You'll quickly learn that this extra bit of owner knowledge has spurred a whole new repetitive discussion around color, air bubbles, viscosity, and more. Sometimes more knowledge can lead to more confusion!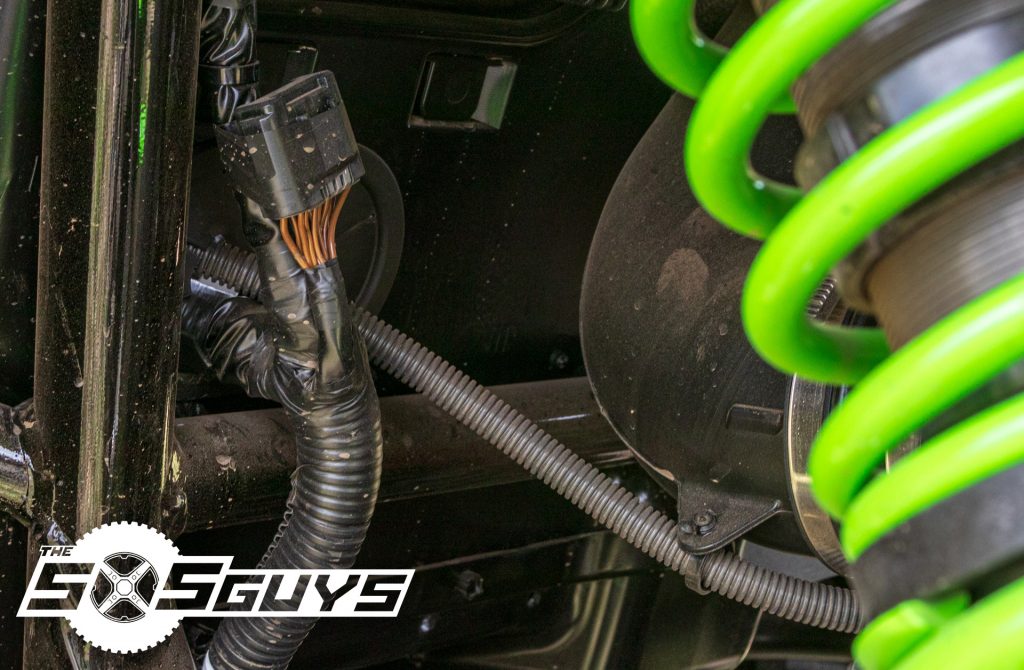 One thing we noticed looking around the engine bay is that there's no excessive wiring or cabling being exposed. The KRX 1000 has almost all of the loose wiring and cabling neatly tucked away from exposure to abuse.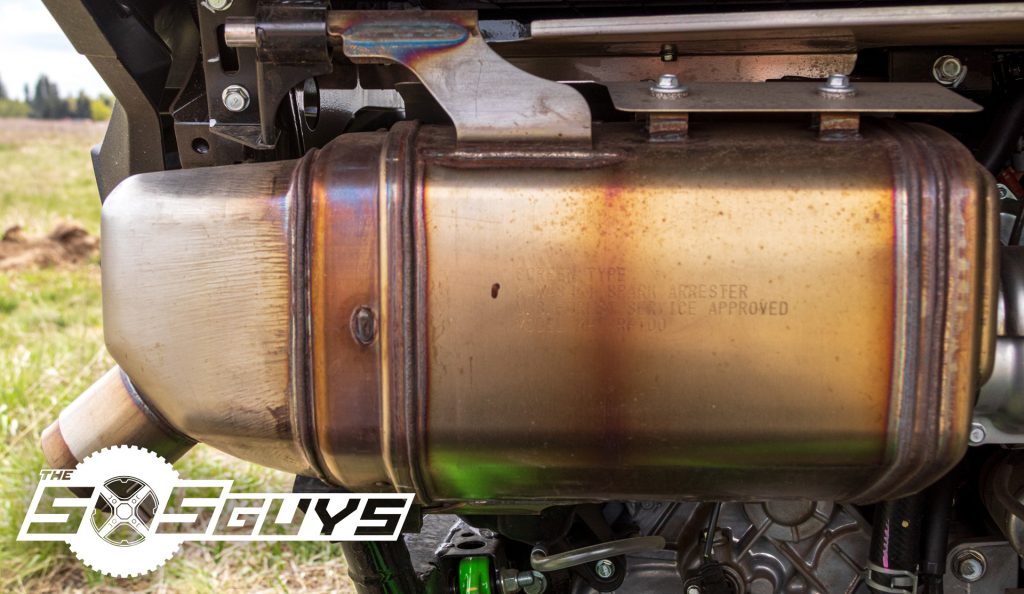 The short pipe exhaust on the Kawasaki KRX 1000 motor is side-mounted and reminds us of the Kawasaki moto and MX style systems. The muffler has a very tinny sound to it and we found the exhaust note to be a bit raspy. At high RPM this exhaust note could become fatiguing to some riders. Luckily there's a large number of third party slip-on exhausts now available for the KRX 1000.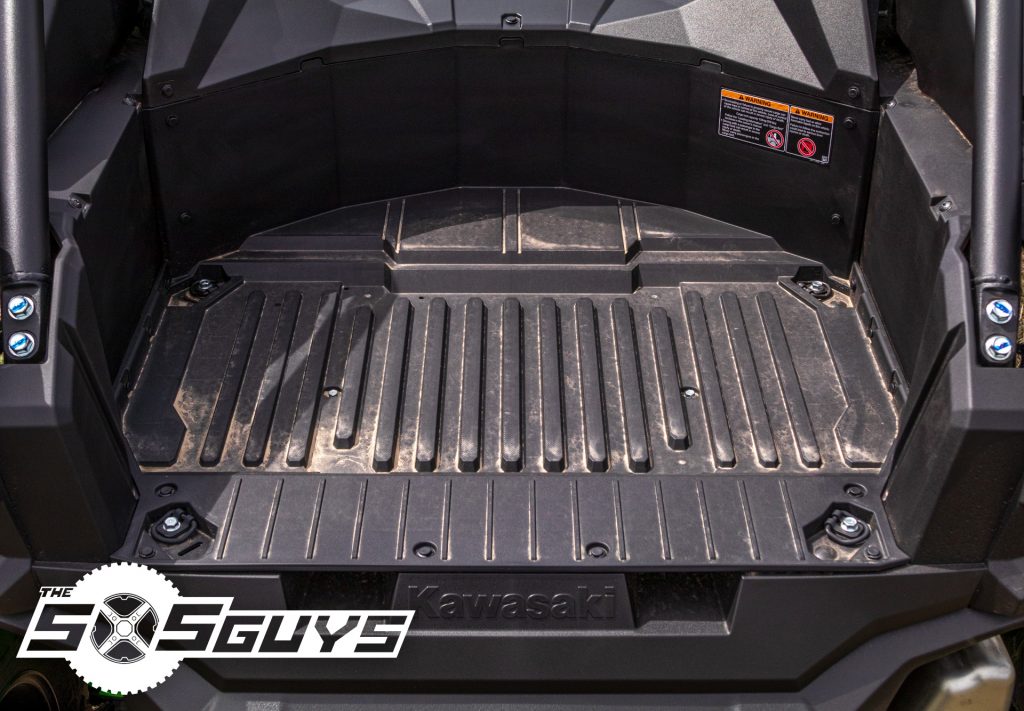 Exterior
Just above the motor and looking at the bed of the KRX 1000, you'll find spacious accommodations for most coolers and gear. You'll also notice that there is a curved shape to the wall of the bed to accommodate an OEM spec'ed (31x10R15) spare tire and wheel. The bed unit felt sturdy and well supported even while standing in it. Kawasaki has a large number of OEM accessories to finish off the functionality of the KRX bed including tailgates, elevated tire racks, and more.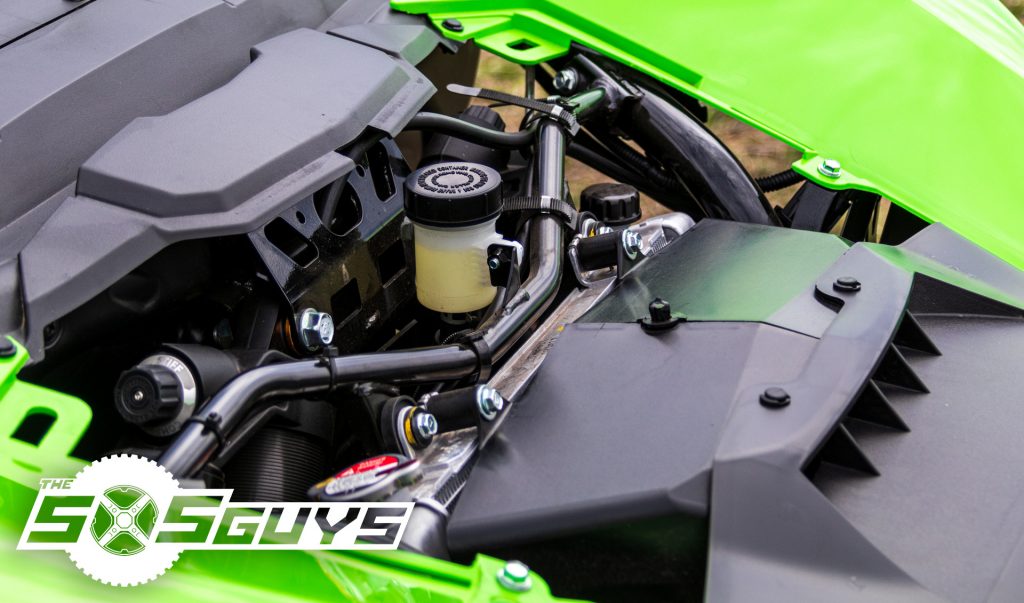 The front hood is easily removed with two turn-style latches but doesn't reveal much other than the upper shock mounts and fluid reservoirs. Below the passenger side door, you'll find the KRX's tethered gas cap.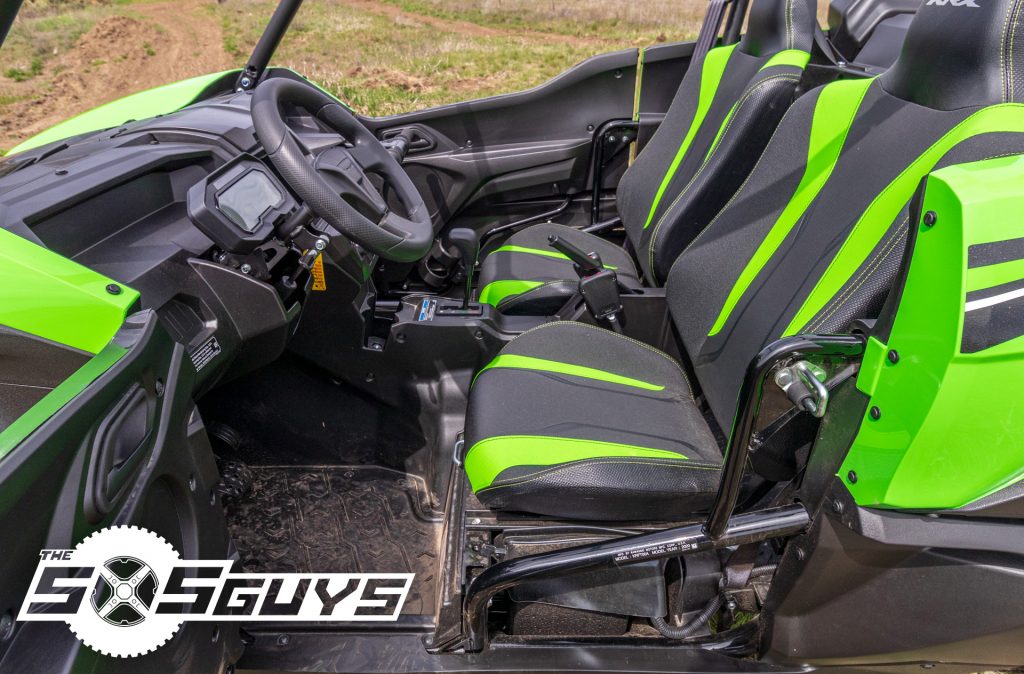 Getting into the KRX 1000 is a pleasure with the inclusion of exterior door handles and full-length, front-hinged, half doors. By far, we've found the KRX is one of the easiest UTVs on the market to get in and out of as long as the height is not an issue. The doors feel solid and well built with inner skins that feature armrests, interior door latches, a bottle holder on the passenger side, and impressions on the doors skins for optional speakers.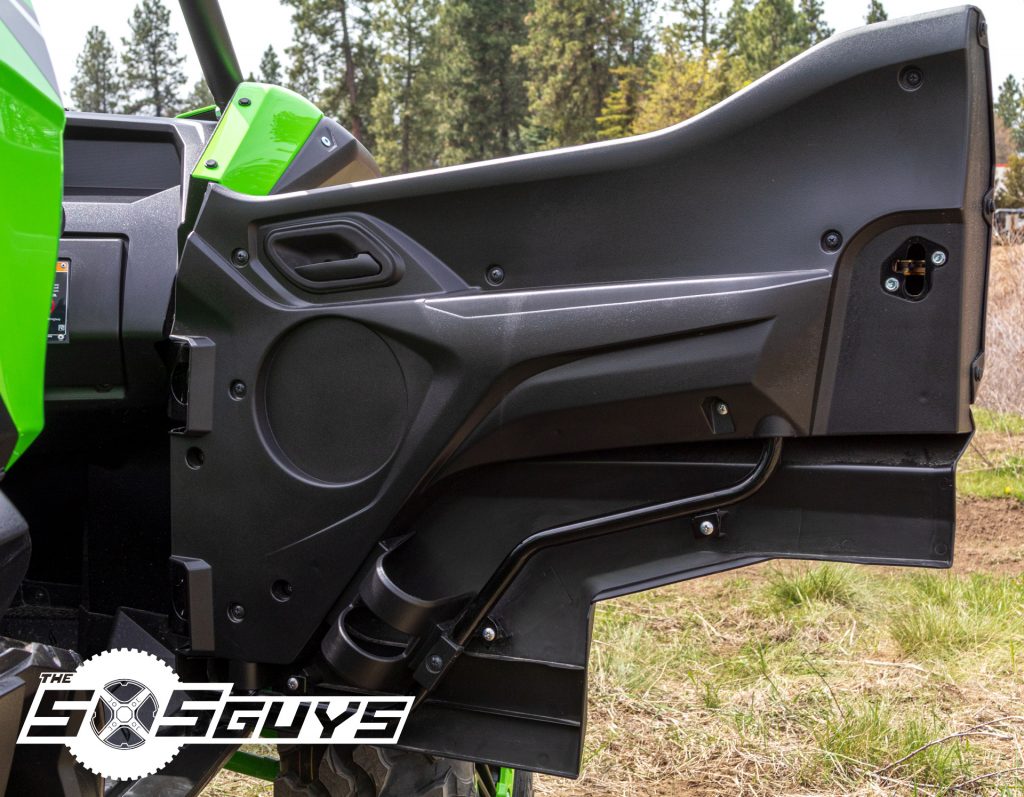 Interior
Moving into the cabin of the KRX, one of the first things we noticed was the simple amount of usable space behind the seats. With the seats all the way back, you still have a usable 6-8" of space for storage. With the seats in the forward position, you could fit a small cooler or multiple toolboxes; something that many trail riders will love!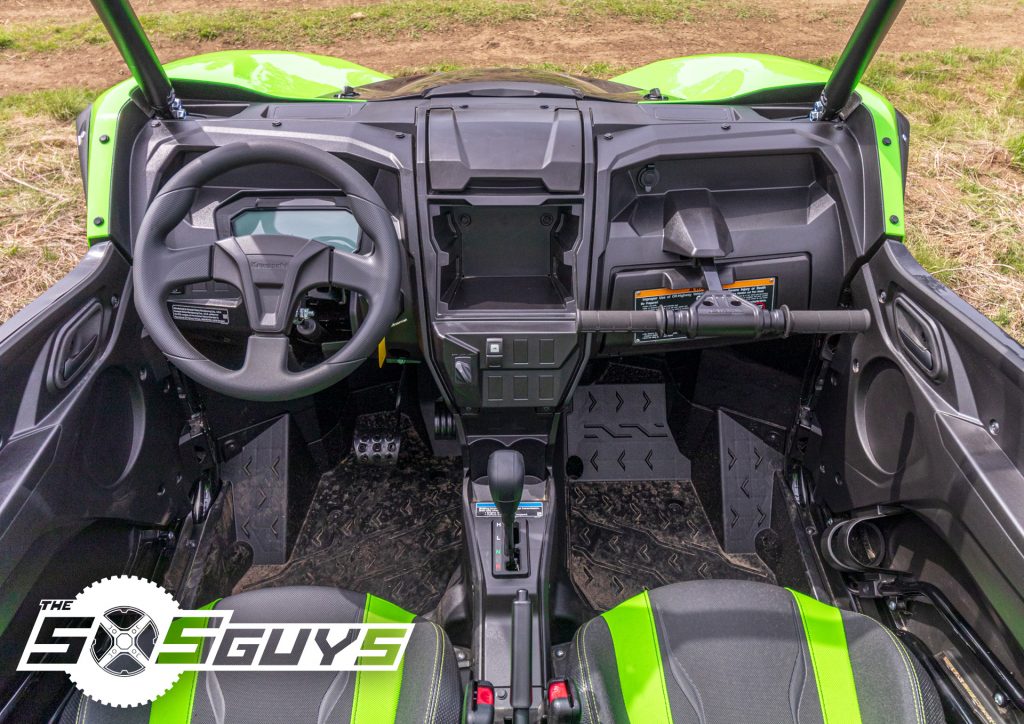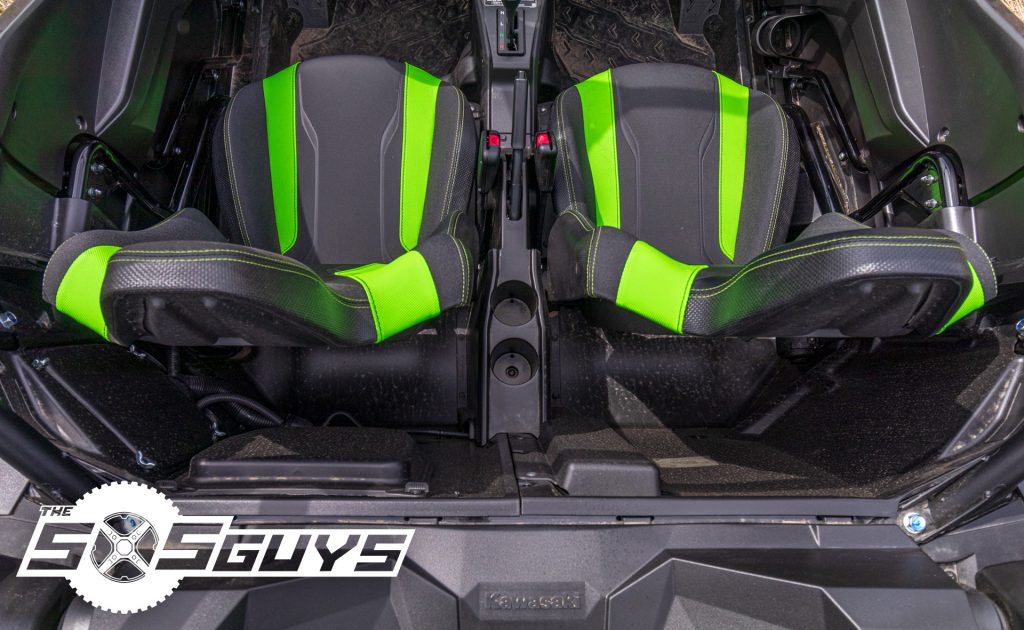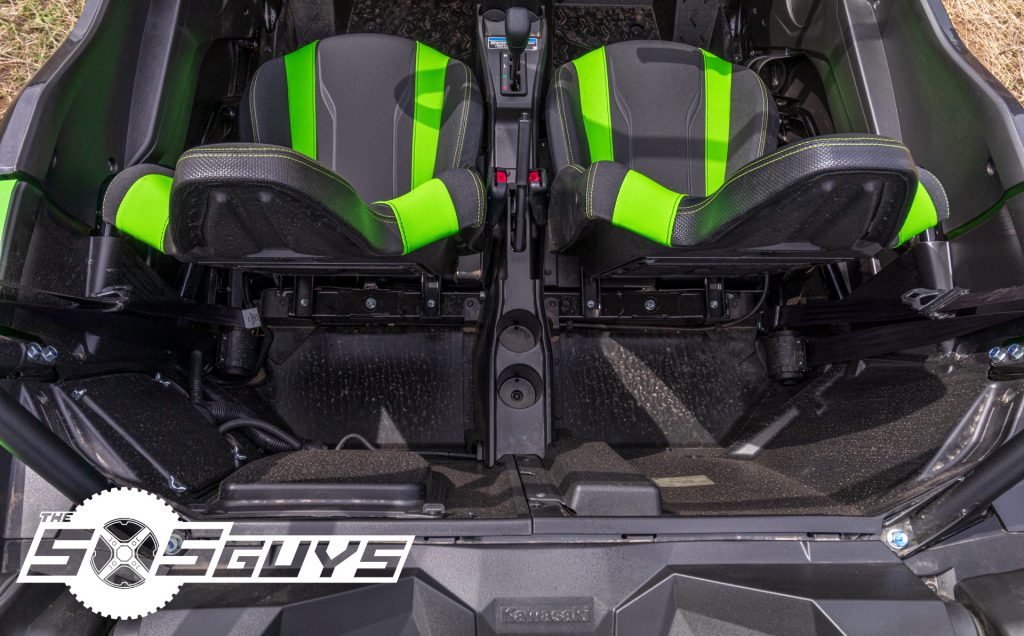 The Kawasaki KRX 1000 OEM seats are, by far, the most comfortable seats we've sat in. The grippy cover material is more like you would see on a dirt bike rather than a UTV. The cushion material is a rubbery compound which is much more supportive than other OEM's foam padding. These seats provided excellent support and all-day comfort; even for us big guys!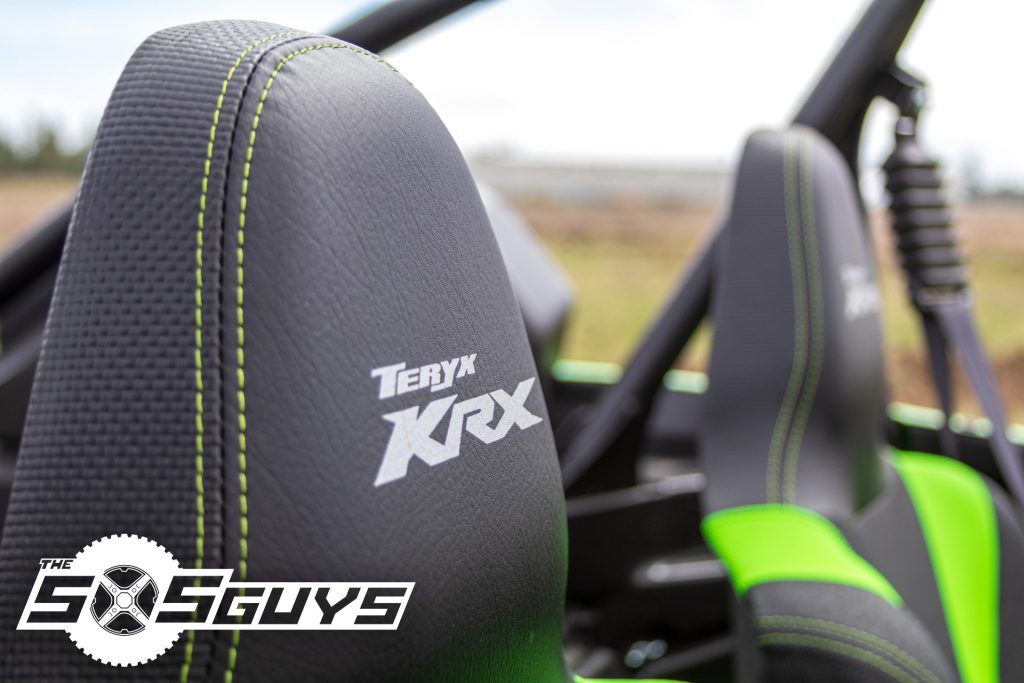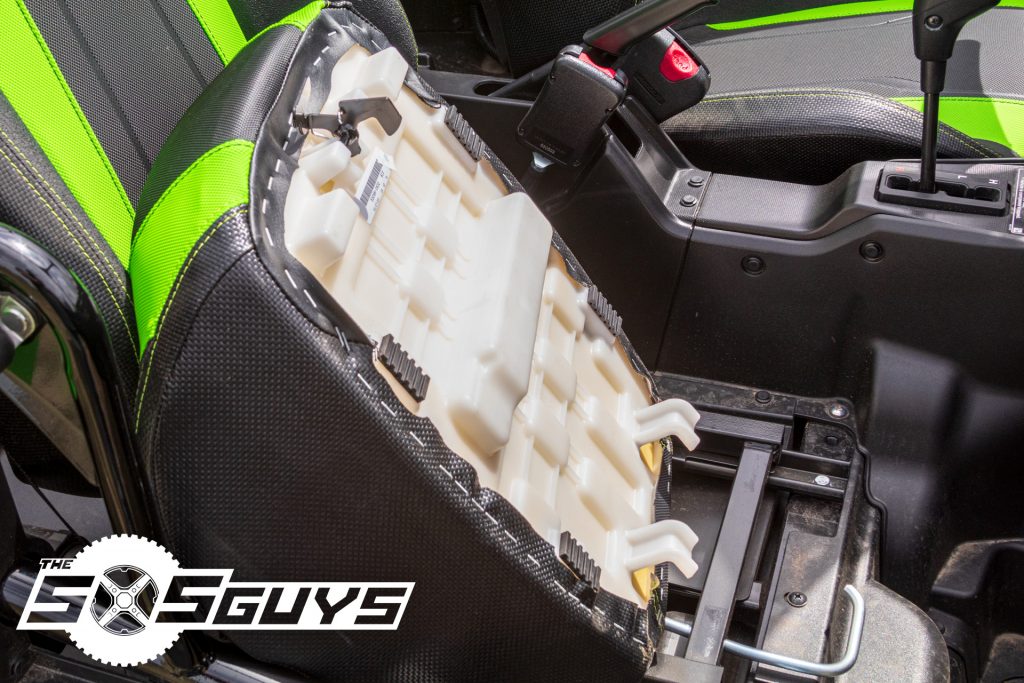 The bottom seat cushion comes out with a simple quick-release revealing the battery box and fuses, but the backrest is mounted to the seat frame and requires unbolting to be removed. While 3rd-party options might allow for a full seat removal, this is unfortunate considering the large amount of storage space behind the seats that you will otherwise have to reach over or around the seats to get to.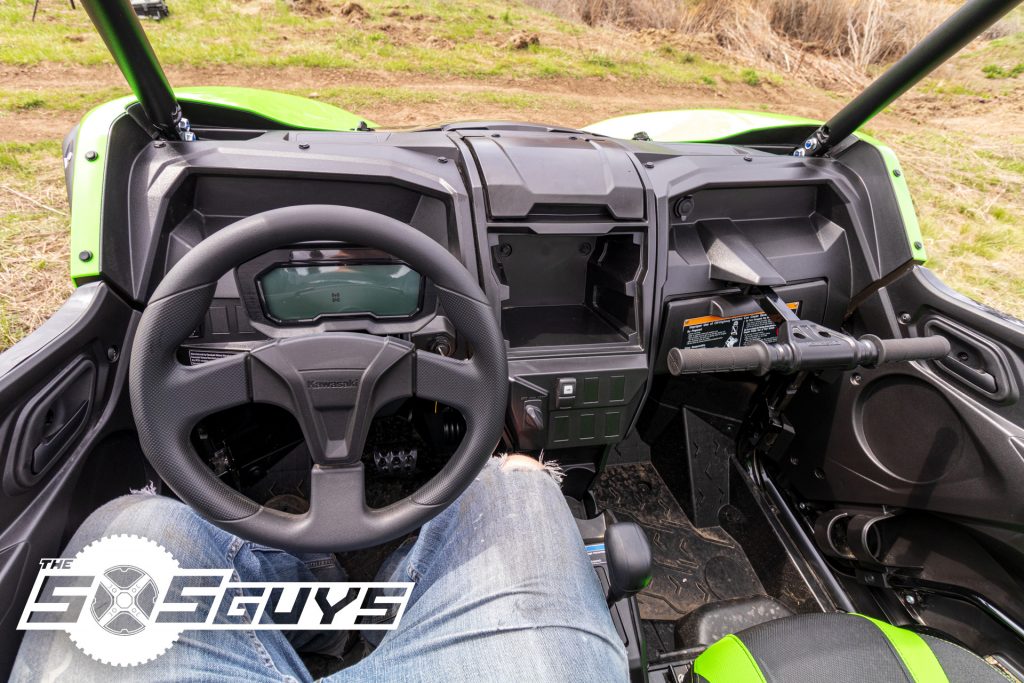 The KRX's driver position starts with a moderately large and comfortable steering wheel featuring tilt adjustment and attached digital gauge cluster. This cluster has all of the standard appointments including a rare and very useful CVT belt temperature gauge! The only two toggle switches on the KRX are for your headlights and LPM (Low Power Mode). LPM electronically reduces your throttle range to 57% and smooths out any throttle jerk caused by bumps or rock crawling.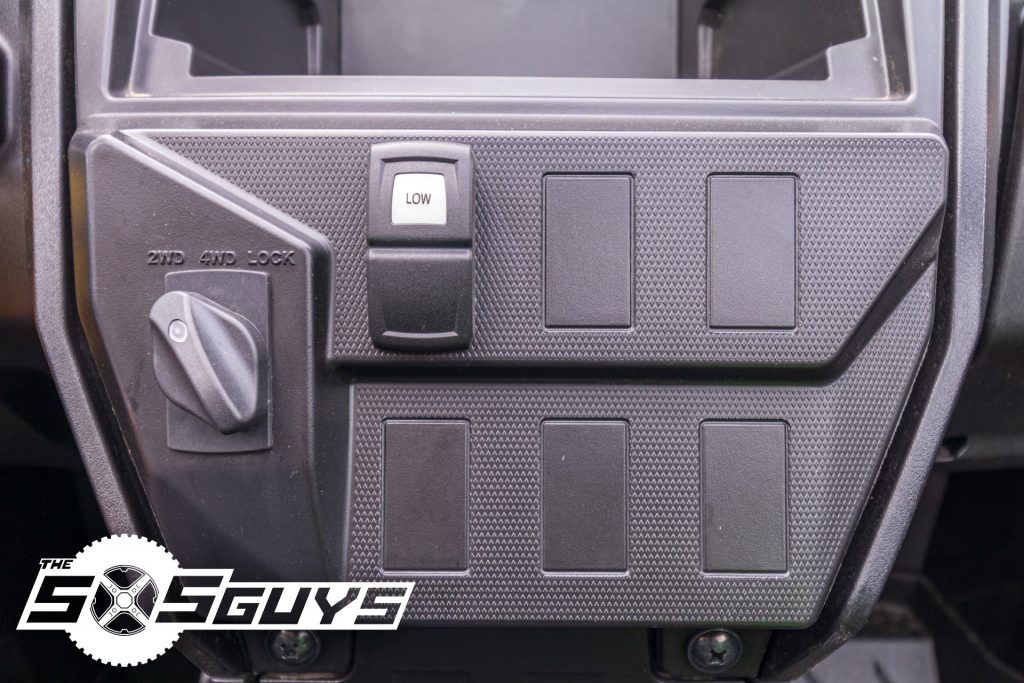 Next to the ignition key, there's a rotary dial to select between 2WD, 4WD, and 4WD + Diff Lock. That's right, an electronic front differential lock! There are an additional two blank switch mounts to the left of the steering wheel and an additional five blank switch mounts in the center console. This will allow for multiple accessories to be added without running out of places to install a switch.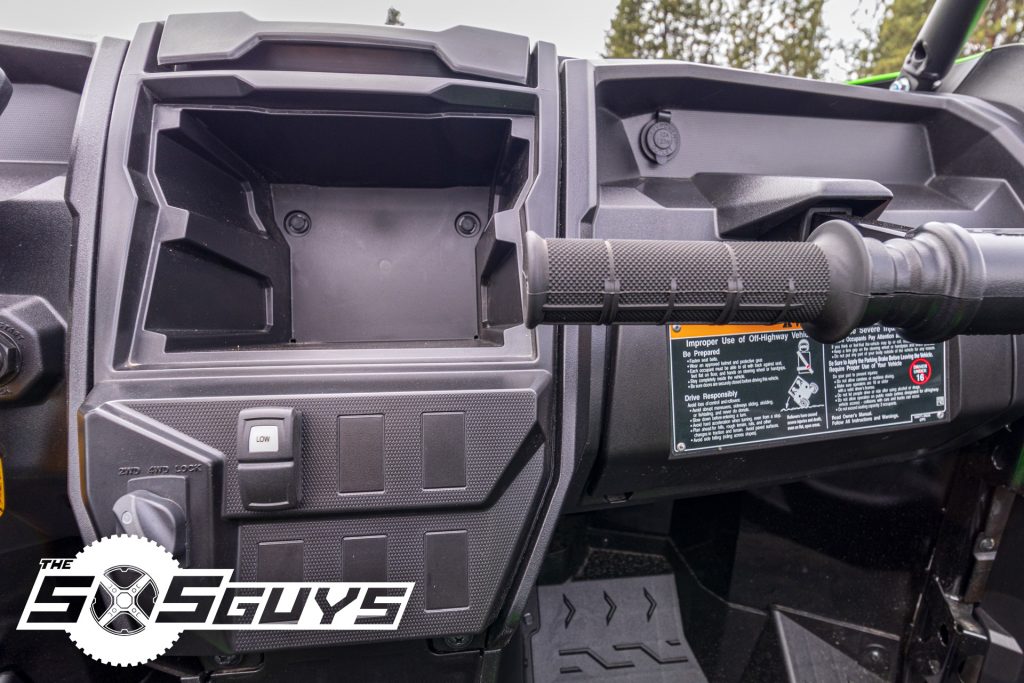 The center console features a large cubby that can be used to store your phone or handheld device at low speeds, but it is intended for housing the optional head unit for the Hifonics stereo system. This audio system includes all the modern features along with front and rear speaker pods and a bed-mounted subwoofer. Above the cubby is another latching storage area that really only has enough space for a set of sunglasses, wallets, or other small and flat items.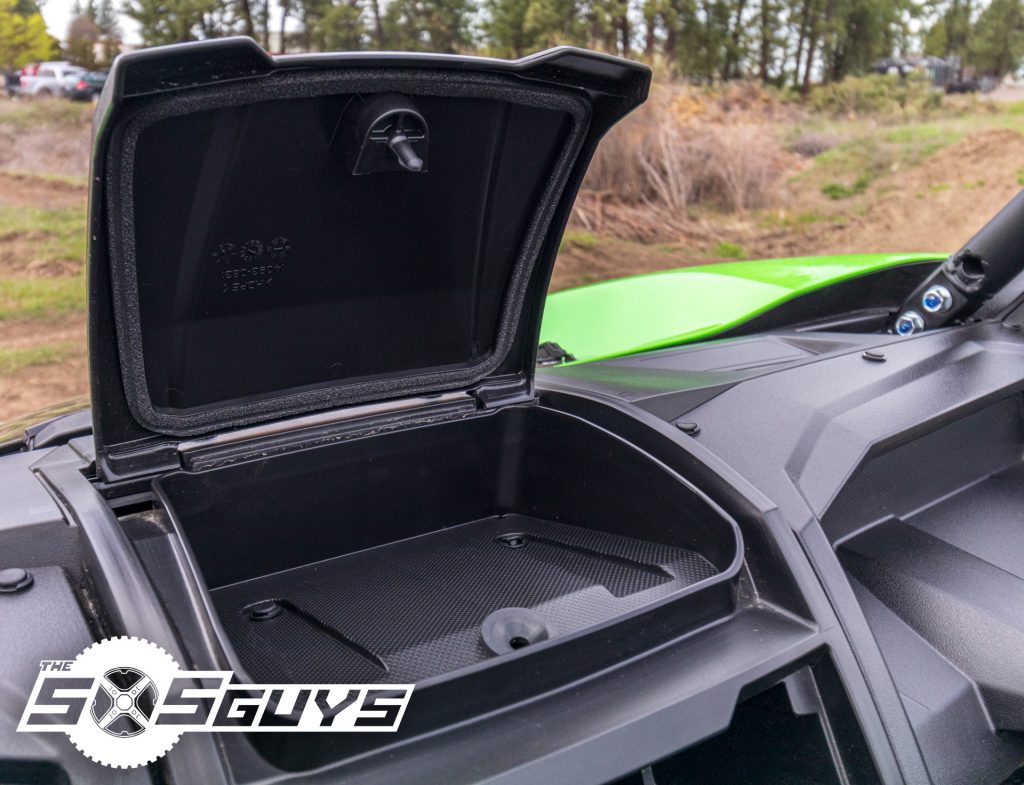 The glove box is somewhat smaller than other models on the market but usable. One thing to note is that the glove box door shuts with a pressure pin, not a latch. This means that it is not lockable and found that on rough terrain, the glove box could come loose and not be secured shut. Within the glove box, you'll find the pin to adjust the passenger grab handle. The mechanism to adjust the length of the grab handle works great, but it is a shame that you have to open the glove box to get to it.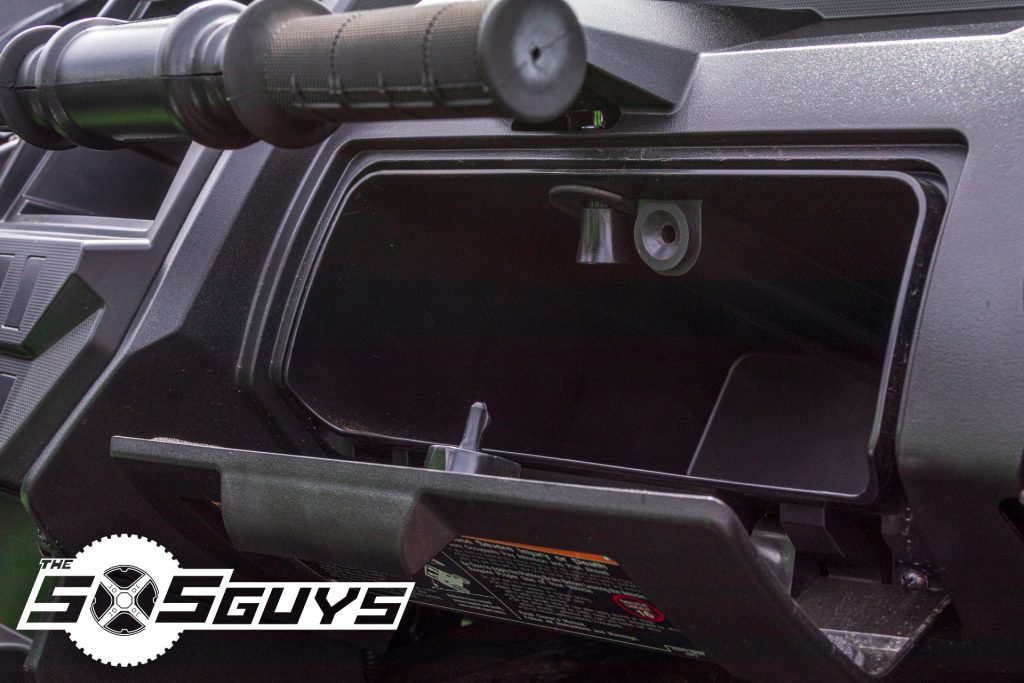 Handling
The Kawasaki KRX was a pleasure to drive. It's comfortable, spacious and handles well. The KRX does have a high center of gravity and does have prominent body roll. This would be one UTV we would not recommend disconnecting the sway bars on in any situation other than rock crawling.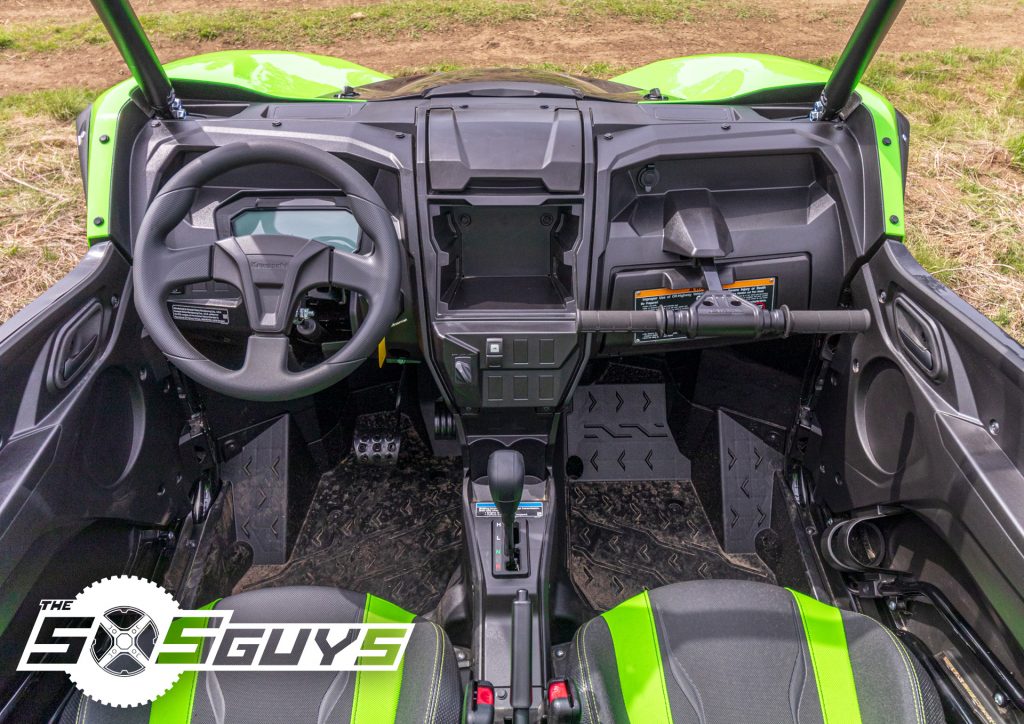 The KRX 1000 motor is swift and strong in our limited testing, but does not get there fast. The best way we can explain it is like a super long turbo lag. You build up power slowly until you're about halfway into the RPMs and then it takes off like a smooth rocket. The key point here is smooth. The KRX never felt jerky or over-anxious to get going.
At speed, the KRX handles well with very subtle steering feedback. Some drivers may find this too squishy feeling and not responsive. Others might find this relaxing and enjoyable. Because of a decent steering ratio, hand movement during chatter and whoops is to a minimum.
While we never pushed the KRX off large jumps, we can tell you its jump characteristics are wonderful but boaty. This machine can jump if you want, but it is at its best cruising the trails.
Cornering at speed with the KRX is a bit nerve racking if you're coming from another sport side-by-side. The high center of gravity, body roll and floaty steering can reduce your confidence going into sharp corners. Most drivers will find themselves slowing down on anything other than a moderate sweep.
The Fox Podium shocks really come in handy with their 24-click adjustments. With the weight and height of the KRX, we believe most drivers will have their machines clicked to the stiffer positions most of the time. Anything under 10 clicks from full-firm was too plush for our liking but would be great if you're just out enjoying the scenery at moderate speeds.
Conclusion
Kawasaki obviously did their homework designing and building the KRX 1000. This platform has huge potential in the years to come. Kawasaki knows their customer base, knows the expectations of their fans and has delivered on all fronts.
The KRX 1000 has huge potential for bigger power gains and knowing that Kawasaki has a supercharged lineup of motorcycles, we feel it's only a matter of time before they're first to market with an OEM supercharged option. With the throttle-by-wire being computer controlled, we also expect Kawasaki to also provide future model releases with more power and more aggressive throttle response.
The general consensus in the KRX community of owners is that it's a great machine with almost zero issues. The only issues being the already addressed front knuckles and gas tank pressure issues that can be remedied with a $5 roll-over valve installed on the vent tube. Most people are extremely happy with their investments and are already building large mud machines, killer portaled rock crawlers and capable trail machines.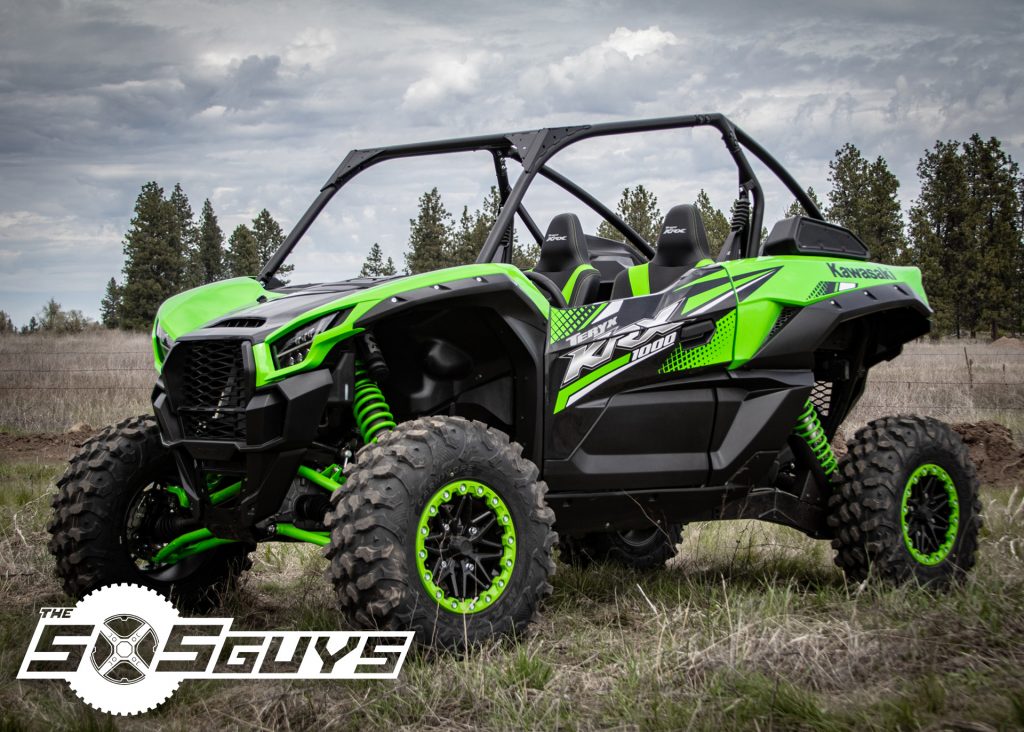 We have zero reservations recommending the 2020 Kawasaki KRX 1000 to any potential buyer looking for a smooth, comfortable, and capable machine… as long as you're not planning on racing or tearing up the dunes. Every potential buyer should know about the potential for body roll and Cadillac-esque driving experience.
Now as of publishing this First Look, Kawasaki is in the middle of releasing their expanded KRX lineup and we'll have to wait to see what they are coming out with for the 2021 models! So far we've only seen new colors for the 2-seater KRX, but the rumor is more seats and more power… so stay tuned to the SXS Guys and we'll bring you all the latest news and stories from Kawasaki!
You might also like
---
More from First Looks
---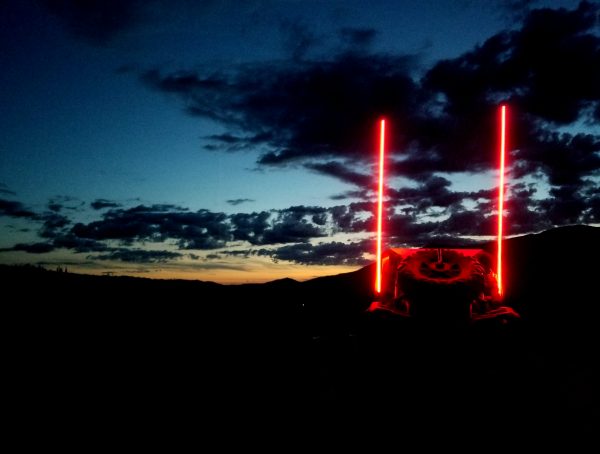 We've received the new Gorilla Whips Twisted Silver and Silver Extreme LED whips in for review. These are our first …
Editor Picks
---