Polaris adds a RZR XP® Turbo S Velocity and a RZR XP® 4 Turbo S Velocity to their 72-inch offerings!
Today, Polaris released details of their all new RZR XP® Turbo S Velocity two and four seat UTVs. These two ponies share much of the RZR XP® Turbo S platform including the 168hp, 72″ stance, 32″ ITP Coyote tires, reinforced frame and components, 16″ of ground clearance and upgraded cabin features. Where the Velocity series differentiates them selves is in the shocks and technology.
The Polaris RZR XP® Turbo S Velocity UTVs forgoes the second generation DYNAMIX Active Suspension System, which features the Fox Podium 2.5/3.0 shocks, and replaces it with Walker Evans Velocity 2.5/3.0 needle shocks. These Walker Evens shocks do not feature the Fox Live Valve technology but do feature low and high speed compression settings.
The second differentiator is that the Velocity series RZRs do not feature Polaris' RIDE COMMAND™ technology. This means that you will not have the 7″ infotainment screen and will be replaced with the standard 2019 center-dash cup holder.
The Polaris RZR XP® Turbo S Velocity series UTVs will be available at dealers late January 2019 in Metallic Gray starting at $25,399 for the two seat model and $28,399 for the four seat model. This new Metallic Gray trim will also become available for the already released RZR XP® Turbo S non-Velocity models (the best trim color so far in our opinion!).
You can read the entire announcement in the 2019 Polaris RZR XP® Turbo S Velocity Press Release.
You might also like
---
More from Annoucements
---
Fox Factory, Inc. has just released their all-new ECS2 UTV Shock Cooler system! This is an after-oem upgrade and replaces …
Tensor Tire, most well known for their desert-focused DS "Desert Series" and DSR "Desert Series Race" tires, has today launched …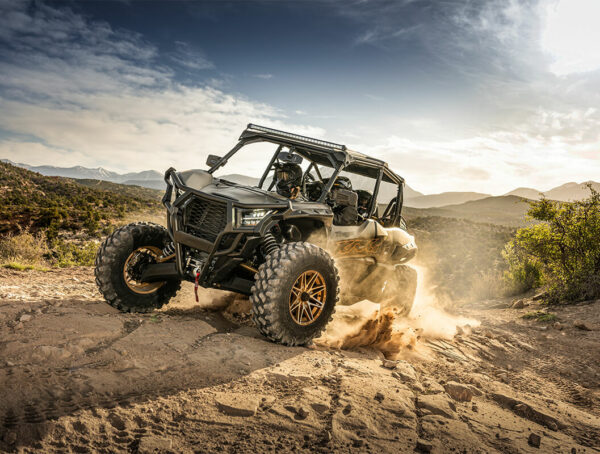 Today Kawasaki has launched what is, as many would say, the long-overdue 4-seat Teryx KRX4 1000! Let's take a look …
Editor Picks
---