The Red Bull OT3 Race Buggy
Along side of the 2020 Red Bull Junior Team announcement, Red Bull announced that they will be competing internationally with an all-new race vehicle dubbed the OT3 prototype. This completely custom, from the ground up, vehicle was built by Belgium's Overdrive racing team. Overdrive competes mostly with Toyota based rally vehicles internationally and this is the only side-by-side we've seen them build.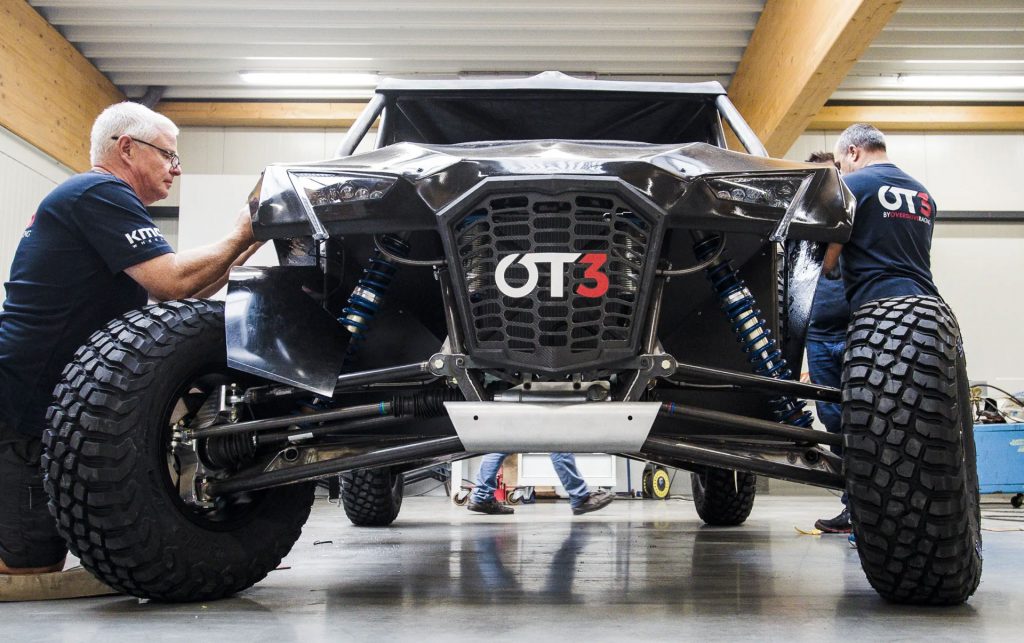 "We decided to build this pure prototype from a blank sheet of paper … with a special gearbox and a very light chassis…"

Overdrive Racing Director Jean Marc Fortin
Both Red Bull and Overdrive Racing are slim on details and has been advertised as, "…the first Side-by-Side (SxS) high performance prototype specifically designed for off-road racing in the world." Here are all of the Overdrive OT3 specs we know of:
Longer wheel base than the Polaris RZR XP Turbo S platform (possibly RZR Pro XP length)
Just under 82″ wide
1000cc Turbo restricted to comply with FIA regulations
177 horsepower at the crank
290Nm torque (~214 ft lbs)
30″ BFGoodrich KR2 Tires on 15″ 5-bolt KMC Wheels
Sparco race seats and quick release steering wheel
1,962 lbs (RZR Pro XP is 1,749 lbs for comparison)
6-Speed 3-pedal (floor mounted) manual transmission
Independent front and rear differentials
Dual a-arm front & rear suspension with hybrid lower a-arm boxed shock mount
Additional rear radius rod for stability
Front-mounted steering rack
Large dual rated shocks (possibly King) with piggyback radiators
Billet aluminum hubs with all double sheer mounts
Wilwood brakes on solid metal rotors
Dual radiators, one at the back above the transmission
Dual ram air intakes located to the side of the driver and passenger
Full carbon fibre and Kevlar bodywork
Full body and suspension skid plate
That list is quite impressive and we had to remove all the exclamation points from the end of each line! The body is very boxy and very wide using up all of the measured 82″ though the driver's seating position is much more inline with the position of a standard Polaris RZR or Can-Am X3.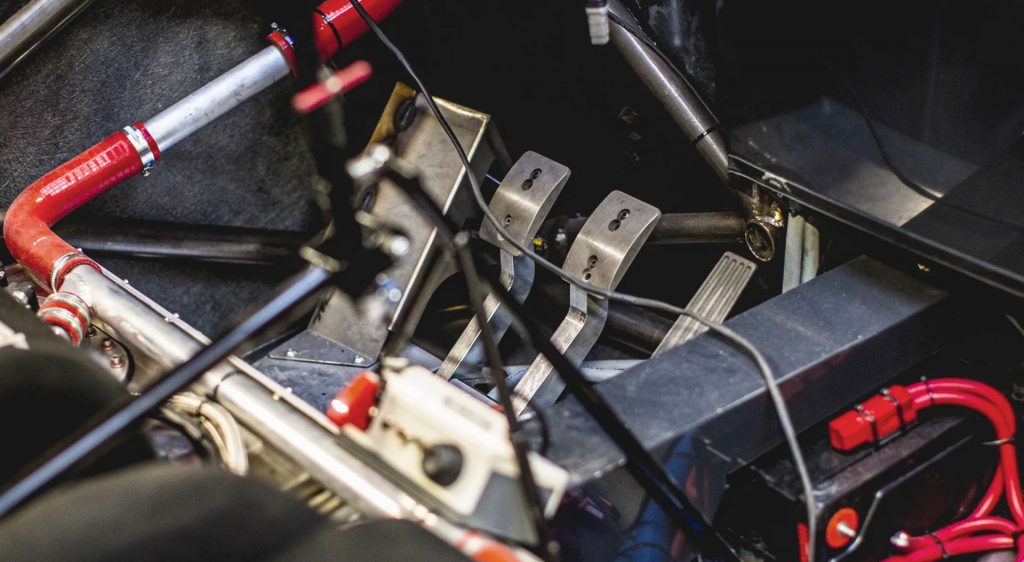 While there's no official RZR branding on this UTV, like there is on all their others, the OT3 features Polaris' RZR Pro XP headlights. Additionally, two of the Red Bull racers, Guthrie Quintero, are Polaris RZR Factory racers… Why would they include the latest version of RZR headlights and allow factory racers to drive the vehicle if there was no connection to Polaris?

Feeding The Rumor Mill
Now, bare with us, we're about to get deep into rumor territory… There are basically no photos or frames of video of the OT3's 1000cc turbo engine or six-speed transmission! Not once is there's any mention of brand or development partners. The best look we have is a close up of the side view via Red Bull's announcement and a screen capture of the rear provided by Red Bull's media materials.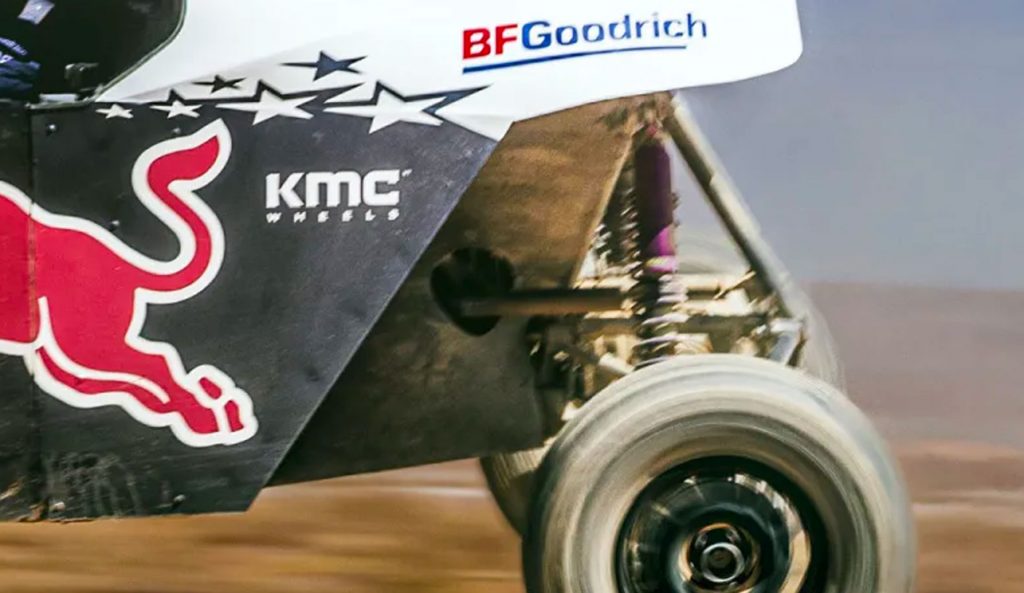 There are no good reasons to hide the engine compartment like this. The first reason is cooling. Everybody knows that an engine is best performing when the intake air and components are as cool as they can be. Everybody also knows that Turbos are the opposite of cool. While there are some large air scoops on the sides of the vehicle behind the passengers, above the spare tires and leading to the engine compartment, they do not have enough air routing to justify covering the engine. They would have been better to leave it open and introduce that air directly to the air intake.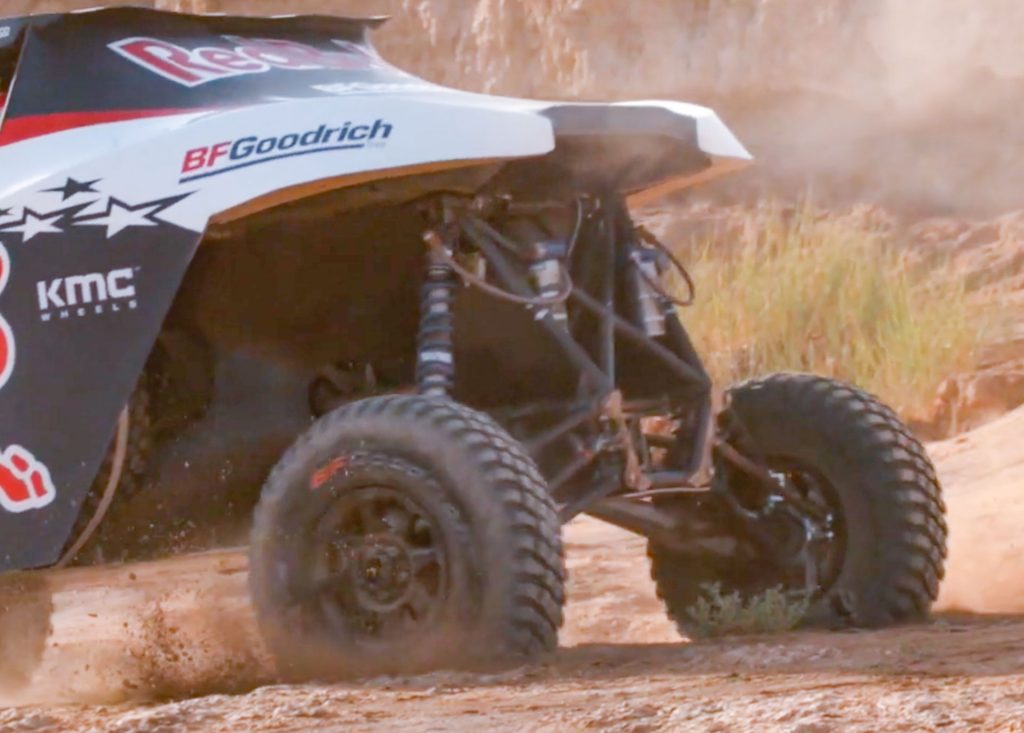 The second reason covering the engine and transmission is a horrible idea in a race scenario is that you do not have access to repair or diagnose the drive train. If your clutch is having issues, if your intake is clogged, if your leaking something… you're going to be fighting the vehicle the whole time and cursing the media folks and their NDA's!
Theory #1 – Possible RZR Pro XP S Coming
Could this be a modified Polaris XP Turbo 1000 NorthStar engine? We've driven XP 1000's for the last few years and are very familiar with their sound and these audio samples are very much like a 1000. With that said, the audio provided in the media releases are all very low RPM flybys and this exhaust note could be hiding something much different!
Could the hidden engine be a new power plant for all those 925cc Turbo owning fans calling their units 1000 Turbos? Is this the next step in pushing the Pro XP lineup replacing the already dominate RZR XP Turbo S? If the 2020 RZR Pro XP is marketed as being to handle like a 72″ machine and be everything it is but better and stronger… wouldn't replacing the Turbo S with a new Pro XP S featuring a turbo'ed 999cc motor make sense? The Pro XP features the same lower block of the XP Turbo S but with an upgraded top end. Is that top end just the precursor to moving to the 999cc motor? Hmmm… we'll let you send us your thoughts!
Theory #2 – Polaris is Developing a Triple Cylinder Turbocharged 999cc Engine
The rumors of Polaris developing a triple cylinder engine have been going around for about 18 months. There are people that claim to have seen test machines in the desert with a triple, new exhaust and, more importantly, no CVT! So if you take the hidden six-speed transmission, 1000cc motor size claim and the fact that all of the audio samples are at lower RPM, possibly hiding the distinctive sound of a triple, it's very possible that there's a triple cylinder behind those oppressive black panels!
So if you take those rumors, and consider Polaris is knee deep in a newly launched Pro XP product cycle that is begging for a new power plant, this would be the time of year you'd start wanting to prototype and test these vehicles in "real world scenarios." Additionally, these events typically have very little public attending the start and finish of the race reducing the liability of some prototype engine being exposed to those that might identify it.
Events like King of the Hammers, Dakar Rally, Mint 400, Morocco Rally and Abu Dhabi Desert Challenge etc. are all the types of events you can really showcase and brag about when ready to launch a product in the following year. This might explain the Polaris partnership with Red Bull, the inclusion of most of Polaris' top young talent in the Red Bull Offroad Junior Program and more.
Theory #3 – This is All Just Red Bull's Doing
Now, that we've discussed our tinfoil hat ideas, it is very possible that this is simply a custom built UTV to compete at the highest levels of off-road competition and Red Bull was willing to pay to have somebody build it. They could have even licensed the use of the Polaris Pro XP headlights just to bring some OEM rules into compliance etc.
…but that idea is just silly and not as much fun!
Updated 2019-12-18 10:30pm PST
Theory #4 – Volkswagen Power
Late information from multiple people around the community is that this is an OEM Volkswagen triple cylinder and transmission, similar to what is found in the VW Golf! Seems logical… can't wait to find out!
What do you think? Is this rally buggy indicating new products or features? …or is this all just avid UTV enthusiasts having too much hope? Let us know your thoughts!
More from Racing
---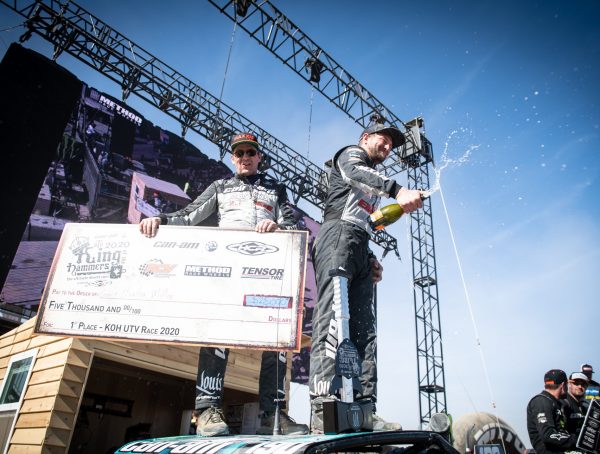 Source: Ultra 4 Racing PosNo.NameLapsTotal TmDiffClass1190Hunter Miller204:29:44.201 UTV2191Kyle Chaney204:32:24.93500:02:40.734UTV3944Phil Blurton204:36:17.55200:06:33.351UTV456Mitch Guthrie Snr204:47:14.38600:17:30.185UTV571Nathan Wolff204:55:05.22400:25:21.023UTV6222Trey Mckinlay205:07:21.64400:37:37.443UTV72Casey Currie205:08:49.99600:39:05.795UTV81910Jason Weller205:28:07.02900:58:22.828UTV9221Cody Miller205:30:34.24901:00:50.048UTV10922Nicholas Turner205:36:54.78001:07:10.579UTV111945Blake Van de Loo205:42:16.00301:12:31.802UTV124932Scott Lesage205:46:32.29601:16:48.095UTV13954Austin …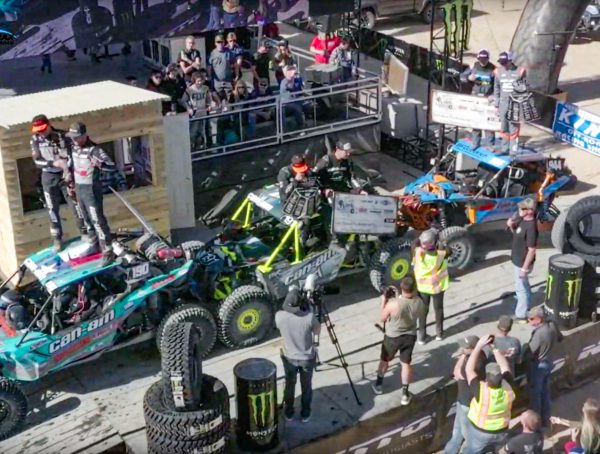 For the first time ever, Can-Am has won the King of the Hammers race. If that wasn't sweet enough of …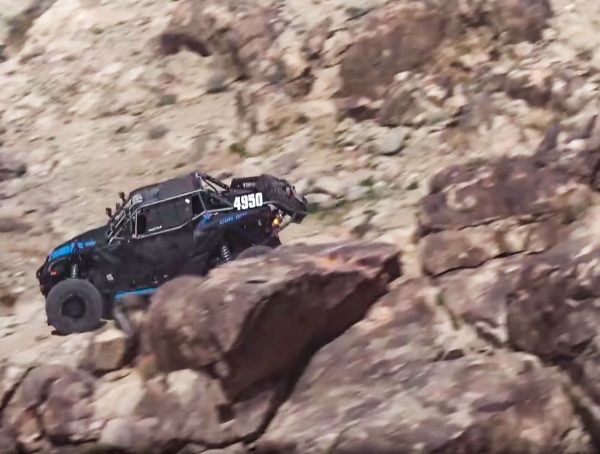 Today started the qualifying round for the 2020 UTV King of the Hammers race in Johnson Valley, CA. Racing started …
Editor Picks
---