In July of 2018, the SXSBlog guys scooped us all when they revealed that Kawasaki had filed for patent US 2018/0072348 A1 in which was detailed a curved roll over protective system (ROPS) and depicted a new off-road vehicle. Around this same time, Kawasaki filed for trademark of the "Teryx KRX" name. These two things dropped the UTV community's jaws wide open! Could this be the long rumored Kawasaki entrance to the sport side-by-side market; bringing their moto-track prowess to the offroad world?! Well, all we got was silence.

Later that year, in September, Kawasaki again filed for a trademark of just the "KRX" name and included a logo! This reinvigorated our desire to see a new Kawi UTV! In addition to this, in early 2019, we were all surprised with a Kawasaki application for patent US 10,384,726 B1 detailing out an almost production ready Kawasaki sports side-by-side!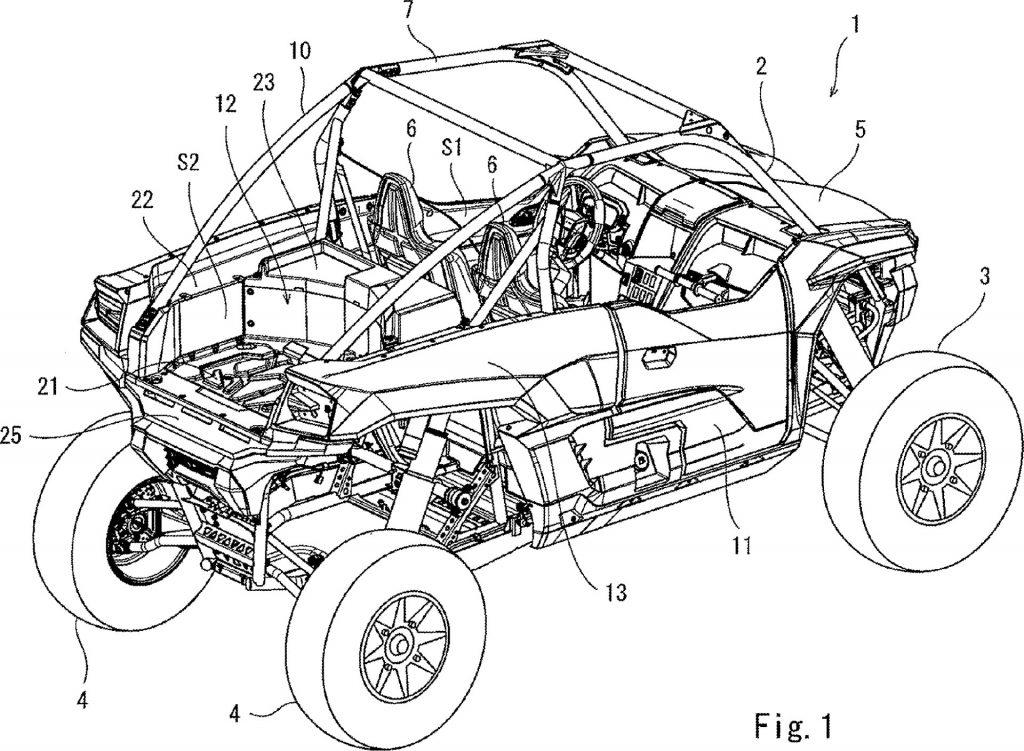 This patent gave us a lot of new detail about the new Kawasaki KRX sport side-by-side! We now can see multiple styling choices (albeit not the front) that pair nicely to the Kawasaki Teryx line of sport utility vehicles. This brings up the dual trademarking of both "KRX" and "Teryx KRX"… Which will they go with? We'll have to wait and see!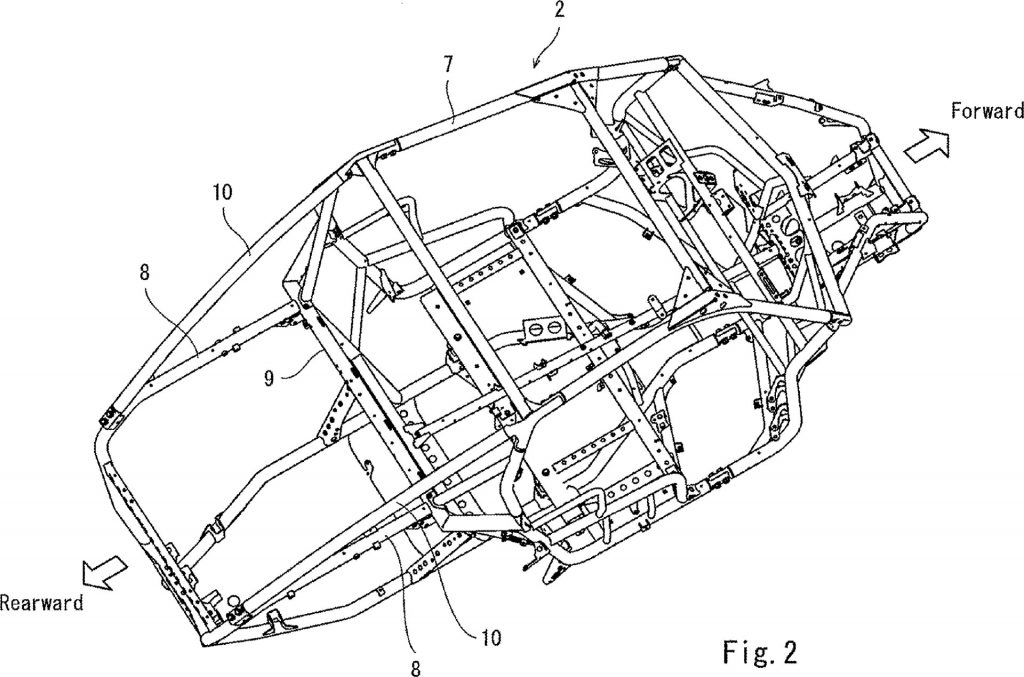 Structure
First, starting with the frame, we can see that the entire firewall-back will have a circular shape to it, allowing for easy rolling and additional protection. Kawasaki has had previous patents detailing the design around a cage system that would allow for easy correction of a rolled over OHV.
Second, we can see that the made chassis will consist of two main sections joining at the seat placement. Additionally, the eight-point ROPS will come in three segments; the front A-pillar, connected B/C-pillars and a radiused D-pillar. We wish that Kawasaki took a queue from Polaris on their new XP Pro single-piece frame design adding additional stiffness to the chassis.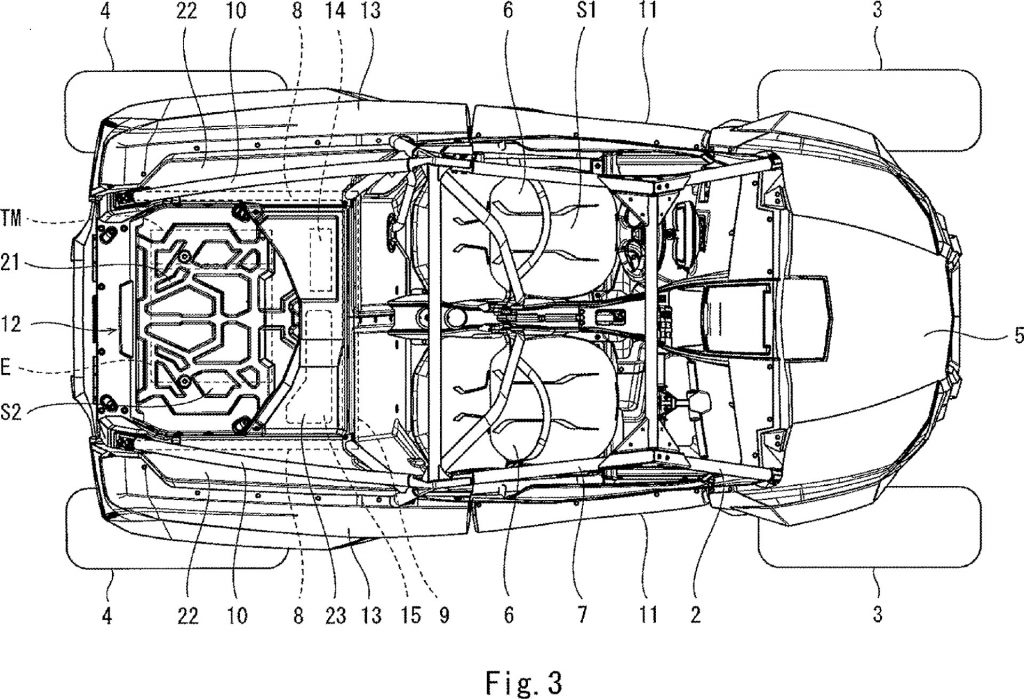 Tires & Wheels
While there's no mention of tire or wheel size, you can see from the top-down layout that the tires will be the first to contact at all angles! This means any off-road obstacle will first meet the tire's surface, not your radiator. This could very well change with final implementation and tire and wheel selection, though all the teaser silhouettes make it appear to not be the case.
As for wheel wells and flaring, Kawasaki will definitely be taking a play from the Honda Talon design book and be creating large cavernous wheel wells with little flaring to get in the way of wheel and suspension upgrades. From those that we've talked to familiar with the new unit, the styling is much more palatable than the Talon's. We think this will be mostly due to Kawasaki's tamer approach to aggressive angles and less jaring ROPS shape.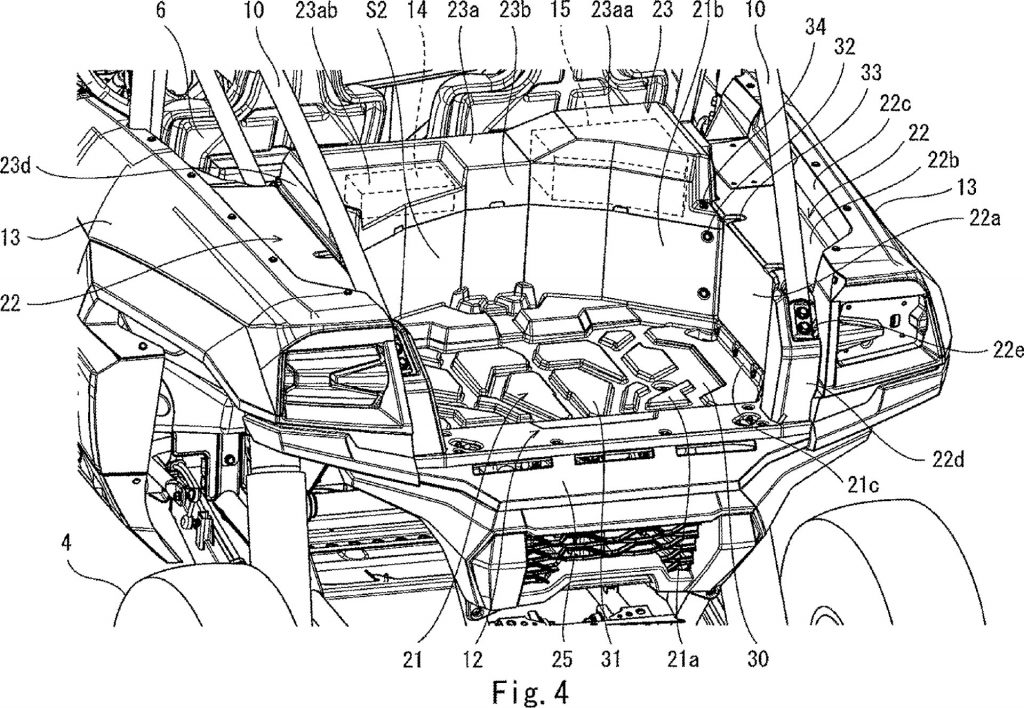 Storage
The bed of the new KRX will be similar to the Honda Talon and Polaris RZR Pro XP in that it will feature the ability to fit a spare tire horizontally in the bed. We don't know yet what size tire will fit in the bed, but what we do know is that coolers and tool boxes will have a hard time being secured to a round shape at the front of the bed!
The patent filing shows that the air box will be accessible via a push-pin removable vertical section at the front of the bed. This seems like a poor implementation choice as push-pins do not allow quick maintenance of the air filter as much as a lever design found on the Polaris RZRs and other vehicles.
Suspension
Suspension wise, we've not heard any details on the brand or size, but we expect to see the same Fox LiveValve 2.5 Podium Shocks found on the Honda Talon 1000X-4 FOX Live Valve Edition with similar travel numbers. It's possible they may go with the newly announced King Live Valve shocks, but we don't see Kawasaki moving away from their already established partnership with Fox.
The front suspension will feature a dual A-arms like most in the industry. There appears to be mount points for front and rear sway bars as well. The rear suspension will apparently feature standard tailing arms and three point radius rods, much like the Honda Talon without the fourth point.
Cabin
The cockpit of the new Kawasaki KRX, so far, looks pretty run-of-the-mill in that it will have two standard bolstered seats, three-point seat belts, cup holders between the seats (right where your elbows go, guh), instrument cluster behind the steering wheel and T-handle grab bar for the passenger and some center console storage. We've not seen anything in relation to a multi-media system or navigation, though Kawasaki does have some patents out for touch screen interfaces… something to hope for!
Something some may love or hate is the front-hinged doors; something most of the industry has moved to the rear of the door. With the doors being lower in the front and higher in the rear, this makes some sense in the vein of the Polaris General doors. Additionally, having externally placed hinges is a nice option for those looking to do an enclosed cab for winter days, or if you're racing with full window nets etc.
Engine
We've not seen any real specs on power being supplied for the release of the new Kawasaki KRX. What we do know is that Kawasaki is pretty comfortable with releasing units with less horsepower numbers than their competition. We're expecting horsepower to be rated in the 120-150hp territory.
With the launch of the new Kawasaki Z series motorcycles following shortly after the KRX launch, we're expecting Kawasaki to build upon a similar power plant. Kawasaki has already teased the Z bikes with superchargers and it wouldn't surprise us if they used this approach to differentiate themselves from the rest of the pack. We're guessing that the new KRX will launch with a variation of their 948cc inline four-cylinder or the next version of their Z1000 H2 platform and include supercharged options pushing the horsepower over 200hp. This is all speculation though.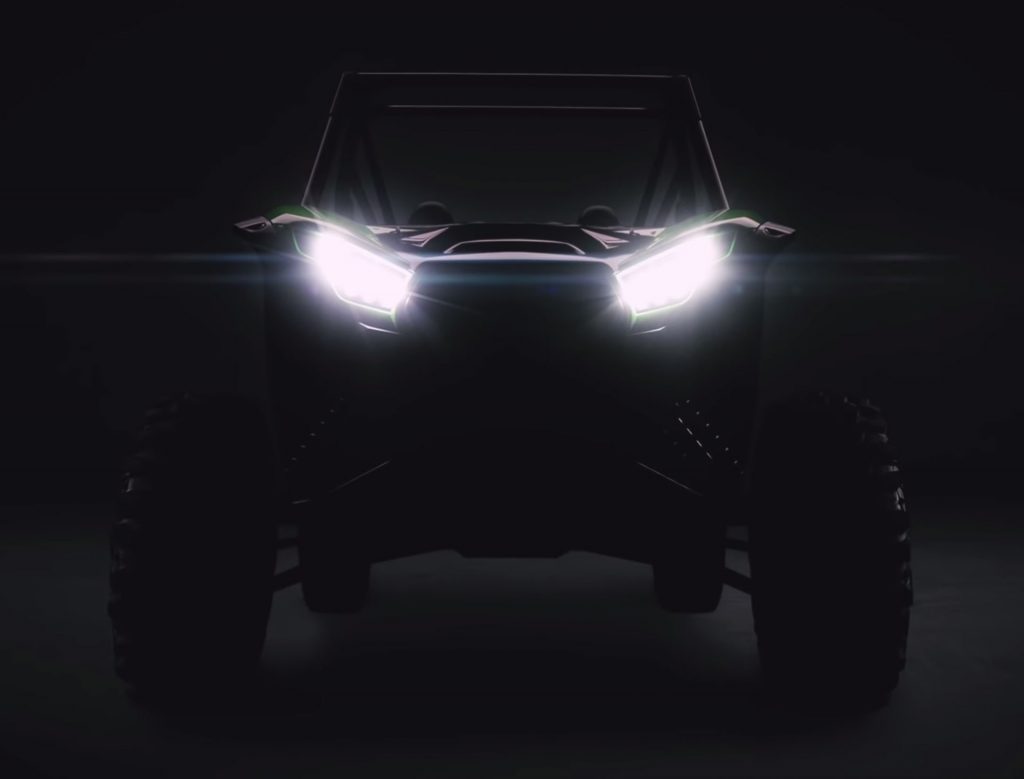 Innovation, new consumer options, industry competition and the relentless pursuit of performance are what drive our industry forward. We can't wait to see the new Kawasaki KRX and feel the power that they have been teasing us with for over two years!
Have any thoughts? Leave us a comment down below, or join us on social media (Facebook, Instagram, YouTube, Twitter) to discuss the new Kawasaki KRX with the community!
You might also like
---
More from News
---
Segway Powersports launches the all-new 2024 Super Villain SX20T UTV platform including a 235hp gas-only and 330hp hybrid versions!
Holiday UTV Sales Guide is back for another year of amazing deals and bargains to help your pocketbook survive the …
Segway Powersports launches the all-new 2024 Super Villain SX20T UTV platform including a 235hp gas-only and 330hp hybrid versions!
Editor Picks
---